About Us
MusicMedic.com is a world recognized leader in pioneering and changing the way people use and think about their band instruments through education, improved tools, supplies and techniques. A company founded and run by musicians, MusicMedic.com is rapidly growing, focusing on serving band instrument customers across the world, at every level of repair and production, and synergistically using all parts of our business to provide a quality customer experience. The three facets of the company are woodwind repair tools and supplies, woodwind pad manufacturing, and a professional saxophone repair shop. All three work together in a symbiotic relationship, resulting in innovative solutions and creative, new ideas.
MusicMedic
MusicMedic.com offers a wide array of repair tools and supplies, and is the sole distributor of Ultimax Lubricants, RooPads, Tech-Cork, Triumph Lubricant, SaxGourmet Pads and all MusicMedic Pads. Novice repair technicians and school programs who are doing some of their own repairs enjoy the articles, online support, low minimum quantities and free shipping at MusicMedic.com. Larger repair shops and instrument manufacturers use MusicMedic.com for our attention to detail, large quantity discounts, and fast, attentive service.
PadCompany
MusicMedic.com is proud to manufacture woodwind pads on-site in Wilmington, NC, USA. The MusicMedic.com PadCompany, in addition to making top quality pads for the woodwind repair industry, is the creator of RooPads ™ and Saxgourmet ™ Pads. The PadCompany is able to make custom pads for just about any instrument. Our Sax ProShop technicians act as in-house R&D, testing and playing new pad lines, and improving on our already extensive line.
Sax ProShop
Professional saxophonists worldwide rely on the Sax ProShop for the highest level work possible. The only assembly-line repair shop in the world, it was founded with the vision of improving saxophones through innovative and revolutionary repair techniques. The Sax ProShop itself has expanded to include a showroom, with a growing number of the finest saxophones for sale, including Theo Wanne, Antigua, Chateau and Saxgourmet. With the resources of the PadCompany and the Sax ProShop, MusicMedic.com can offer each one of these horns with a unique and customized set-up for the player. Most recently the ProShop has embarked on the exciting project of making a saxophone.
No matter how many instruments you repair or need repaired, MusicMedic.com is your first resource. MusicMedic.com is a hard working company of musicians and repair technicians working and playing together. It is our passion for music and for our customers that drives us. We empower musicians every day.
Please look over our site and contact us if you have any questions. We all look forward to hearing from you!
-The MusicMedic.com Team
Who's working at MusicMedic.com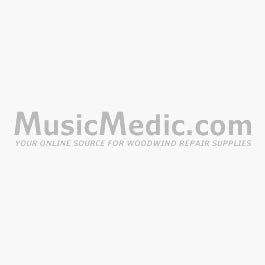 Curt Altarac is a driven and creative repairer. In 1999 Curt Founded MusicMedic.com with a vision that it would be a full line repair supplier and and he would be a repair Technician. That vision soon became reality and MusicMedic.com, the Sax ProShop and the PadCompany are all flourishing. -Somewhere along the way, he decided to innovate the woodwind pad industry and the PadCompany was born.

As a novice repairer confronted with many vintage instruments to repair for his classmates, Curt took an interest in tuning saxophones. Curt soon developed The Balanced Venting Method, the only method of setting Saxophone key heights, to help him and others set key heights on saxophones effectively after an overhaul. Soon after this, Curt developed a method, or series of methods for Tuning saxophones consistently and accurately no matter what the intonation problem is. More recently, Curt has spearheaded a project to design a Bass Saxophone that plays very well and very recently started the exciting project of making a Saxophone from start to finish completely in his Wilmington NC, shop.

At the same time that he was working to improve the tuning of saxophones, Curt has always improved the mechanical side of his repairs and so many others. With a goal of perfection, Curt founded the Sax ProShop not to improve his own work but to create a level of work he was unable to obtain alone in is shop. With the aid of specialists at every bench who focus on only one aspect of a saxophone overhaul, Curt's ProShop is producing repairs and modifications greater than he could alone in his shop and constantly works to improve it's the state of instrument repair through various educational venues.

Aside from creating a culture of learning in his ProShop, Curt ventures out into the world to educate players, technicians and factories. To this end, he has written hundreds of articles for his website, MusicMedic.com, as well as major and minor publications such as NAPBIRT Technicom, Sax Journal Magazine (where he is a colmumnist) and Saxophone Today (also as a columnist). Curt has given clinics around the US and around the world bringing the world of instrument repair together through education. Every year, Curt visits and advises repair schools in the US and hopes to use his influence to improve the way instrument repair is taught in the USA.
Credentials: Curt received his Masters degree in Saxophone performance at the University of Southern Mississippi, his Bachelors in Music Education from the State University of New York College at Fredonia and his Asscociates Degree from Onandaga Community College. Curt has studied Saxophone with Harwood Strobeck, Dr. David Abrams, Dr. Laurence Wyman, Dr. Lawrence Gwozdz and Larry Panella. Curt has shared the stage with players such as: Ellis Marsalis, Ken Coon (Rascher Saxophone Quartet), Don Menza and many others. Curt Continues to play his saxophone anywhere they will pay him and his passion for Music continue to direct his business.

Curt has taught on topic ranging from Circular Breathing, Advanced Techniques for Saxophone Overhauls, and Tuning and Toning at: Florida State University, The University of Florida, The University of North Carolina at Wilmington, State University of New York College at Fredonia, The University of Southern Mississippi, UNC Chapel Hill, UNC Greensboro, various High Schools including his Alma Mater in Cambridge NY, The US Navy Saxophone Symposium, the Rascher Saxophone workshop, and regional as well as national NAPBIRT Conventions (National Association of Professional Band Instrument Repair Technicians). In 2006 Curt was the winner of the Dick Rusch Memorial Award (to the outstanding clinician) for his clinic on Saxophone Tuning and Toning at the National NAPBIRT convention. Outside the US, Curt has taught or consulted several times in Canada, Mexico, Scotland, Throughout China, Vietnam, Italy, Germany, Holland and India. Curt hopes to be invited to teach in Hawaii or the Caiman Islands soon.