Wow, so much has happened since my last blog post! The good people of MusicMedic.com have literally been running around non-stop, keeping up with orders, helping customers, fixing horns... It's been wonderfully busy here at MusicMedic.com and I've just been too busy to post. Thanks everyone for all your great work!
So what's new? Rich and I went to Frankfurt in March for the annual Musikmesse. It was Rich's first trip to Germany and we had a great time. Thanks so much to Ken Coon for bridging the language gap by helping us translate at the booth.
The Messe in Frankfurt is always a joy. So many technicians from all over Europe that we don't usually see at Napbirt in the US. In fact, after all these years of going to the Messe in Frankfurt, I truly look forward to to the meetings with various technicians and notice when they don't show up! All of us love our extended European family!
The only problem is that there were so many of them at the show that we simply couldn't stop to take pictures of all of them. So instead you get a small selection below. Most of these were taken on the first day.
Right after we got home from Frankfurt Rich and I went to NAPBIRT. I recently gave a full day clinic on Tuning and Toning at the NAPBIRT training center but this was Riches first time there. What an amazing place, what an amazing facility, what an amazing group of people there, both in the organization and running the organization! BRAVO to everyone. Long live NAPBIRT.
If you attended my left hand clinic, which I performed very much under the weather, I apologize for being so sick. And to the person who threw the tomato from the back of the room: I know who you are!!
Since my last blog post we also have some new additions to the MusicMedic.com team. Christina is our talented multilingual graphics wizard. She is from Germany and has a degree in English and Film from UNC Wilmington. In the ProShop we now have Ryan, an exceptional all-around technician, who collects saxophones in his free time. Ryan has a degree in Music Education and Music
Performance from Virginia Tech. Ryan worked as a private music instructor and repair technician for years. I'm glad that Ryan made the plunge and moved with his family from Virginia. In the ProShop, Ryan quickly made his mark as a padder/finisher. With a ton of knowledge, enthusiasm and skill, Ryan's work is a welcome addition to the ProShop!
Right now I am getting ready to head to Australia and Vietnam. Australia for the regional NAPBIRT conference followed by a trip to visit the Tenon factory in Vietnam. For your information, in Australia "Flip Flops" are called "Thongs" -I learned that one the hard way...
Tomorrow I get all my vaccines up to date and I'm off!
Der Honig en Deutchland es Super!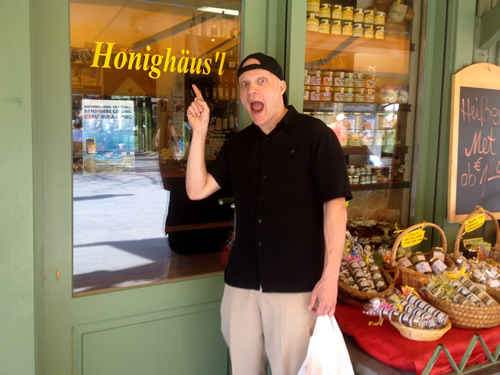 The German Rathaus. Which is, in fact, not a house full of rodents, but the local town hall.
While walking around the Rathaus I peered through a window and saw this flier. Pretty great to see my good friends in the RSQ so prominently displayed in such an amazing place! In the ProShop, we've had the pleasure of overhauling 2 of those horns!