-The first day of the Musik Messe was blast!
As I sit here in the cafe again this morning, I have to admit that no matter how tough the show was and no matter how much my feet hurt at the end of the day this tiny little German coffee and huge German baked good make it all worth it. If there was something I could bring home to the states it would be the German mornings! Guten morgen Deutcheland!
Today I had very little time to get out of the booth and see other things. It was just too busy at the MusicMedic.com booth! It seemed like we kept hearing the same things over and over at the booth. The comments were either, "yah yah Curt... I know we already use your pads and your RooPads are wonderful!!!" or "you were right, that tool is great..."
I have to say it just wonderful to hear so many truly happy people that appreciate what we do. I know we have many happy customers, but with our heads buried in the work we're doing every day it's easy to forget just how much what one does effects the lives of others.
Today, I have several appointments and lots of people to see but I'm going to try and get around the show (or at least the hall) and take a few pics, let you all know what's new and be social.
I snapped a few pictures and some friends took pictures for me as well. The pictures that are yellow come from my Blackberry. You know, back in the day they used to use pinhole cameras.... It's nice of Blackberry to bring that same quality to the 21st Century!
It was so busy and so many people stopped by, I wish I had more time to take more pictures throughout the day. These are literally all the pictures I had time to take!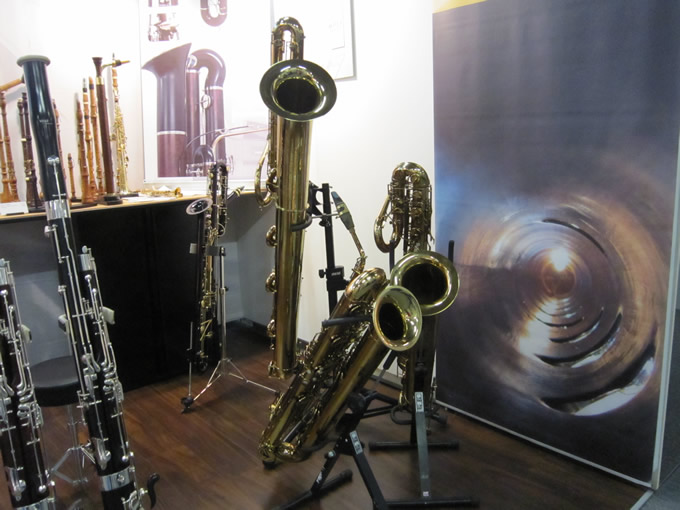 As I said, I didn't get out of the booth much but I did cross the hall way on the way to the coffee to see the Eppelsheim instruments.....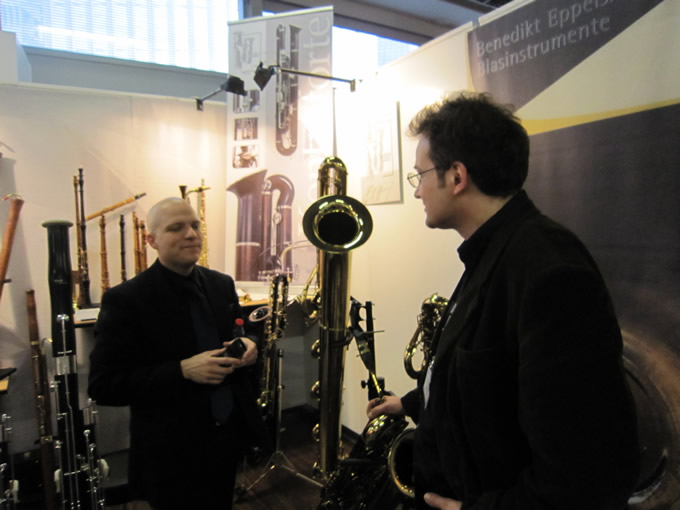 And chat with Benedikt a bit...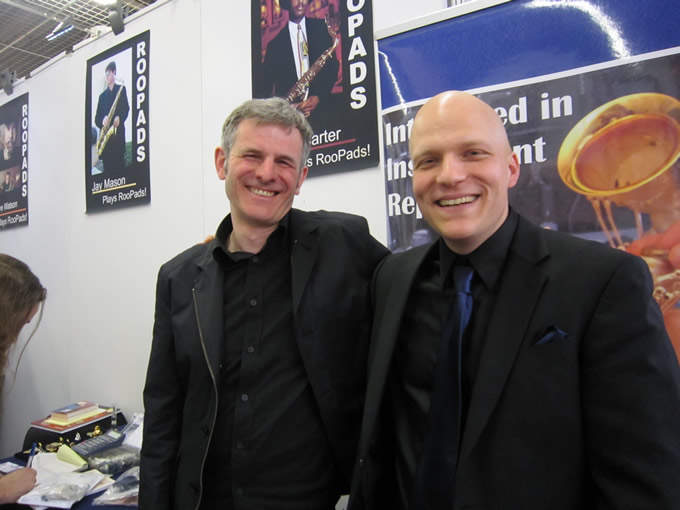 Bruno Waltersbacher stopped to get some tools and chat about instrument repair. Bruno is a wonderful technician and a very cool cat. If you're in Lahr, you should stop and see him. Or, check him out on the web...
http://www.sax-o-phon.de/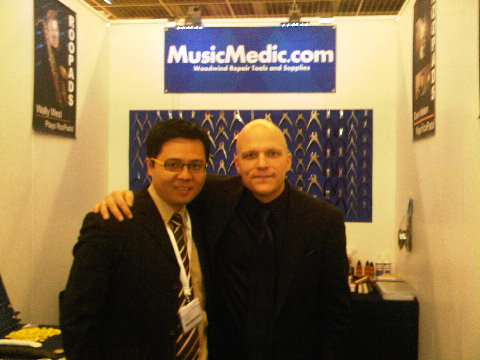 I was honored to see Yap Yoke Lim, from WindWorks. A great and knowledgeable tech. I really enjoyed our conversations about the factories he has visited! Here is how I was greeted... "Hi Curt, I want you to know that we have switched to your RooPads for Clarinet! We were using GoreTex pads but our customers want the RooPads for Clarinet and the pads are superior!" -Thanks!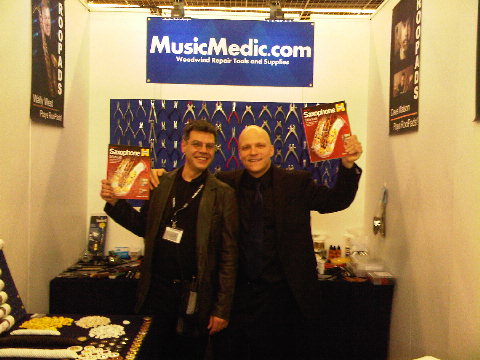 Finally Stephen Howard stopped at the booth to chat. What a outstanding guy Stephen is. I really enjoy talking with him. Of course I got a copy of the new Haynes Manual and I'm preparing to read it. I found time after dinner to check it out a bit and it's (as Stephen would say..) Absolutely Brilliant! Read more about Stephen Howard and his Haynes Manual on his site: http://www.shwoodwind.co.uk/
Thank for reading, -I'm running late for day 2 of the show... See you there!
-Curt