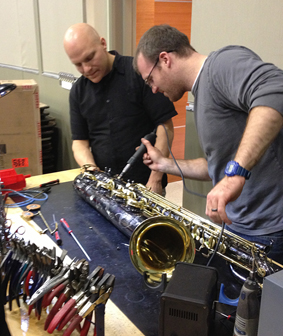 Last weekend all the Sax ProShop technicians literally packed up shop and went on a roadtrip to Virginia to attend the Saxophone Symposium. And what a success it was! People started calling and messaging before they had even arrived!
After setting up their benches on Friday afternoon, the guys spent all of Saturday evaluating, fixing, and improving countless horns while meeting new and old friends from all over the country.
While the technicians were gone, we took the opportunity to clean the ProShop floors, which needed attention badly... We're glad to have th guys back now and the ProShop running again! All the tools and benches are where they should be and the guys are busy Uberhauling numerous saxophones that were brought back from the Symposium.
Hopefully, we can repeat the fun next year!