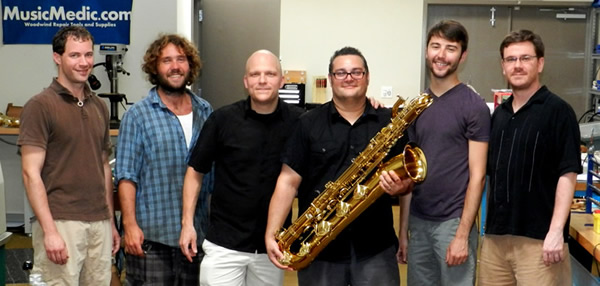 You know, we see a lot of great Saxophonists in the Sax ProShop. But when someone as talented and just downright cool as Wayne Leechford comes to town, we all want in that picture.
RooPad endorsing artist, Wayne Leechdford plays everywhere, on every instrument (but the zydeco), and with everyone including Aretha Franklin, Clay Aiken, the New Century Saxophone Quartet and even with me in the North Carolina Saxophone Ensemble! When he's not playing, he's teaching. Wayne's students at Leechford Music Teaching Studios are some of the finest in NC and certainly in Cary, North Carolina where Wayne hails.
We Uberhauled Wayne's Keilwerth SX90R Baritone at the shop a couple of years ago. He dropped by on Friday to change a few pads, replace some materials, and address some intonation issues. Wayne wanted his horn in tip-top shape before heading across the pond for the World Saxophone Congress in St. Andrews/Scotland, which is just 2 weeks away. -See you there Wayne!
The congress is taking place from July 10th to July 15th. If you are able to attend, you can hear Wayne LIVE on Friday, July 13th at St. Leonard's Auditorium from 1:30-1:50pm.
If you can't get to the Congress, you can hear Wayne on his rave review CD Works of Art. It is available through his website atwww.WayneLeechford.com.