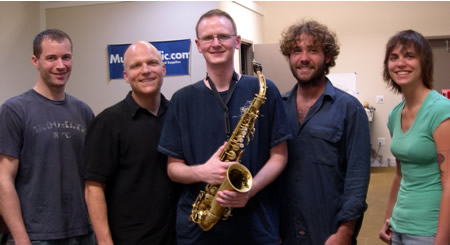 One of my absolute saxophone heroes, as well as closest friends, was in the shop last week and we had the honor and privilege of Überhauling his horn. I met Chris when I was in grad school and he was an undergrad at the University of Southern Mississippi. Chris was already one of the killin'est alto players I had heard and he was right out of high school! Since that time, Chris has performed frequently as a soloist, chamber musician and soloist with orchestra throughout the US, Belgium, Canada, France, Germany, Italy, and the Netherlands. In grad school at FSU, Chris won 1st prize in the MTNA National Chamber Music Competition. After FSU he went on to study with Arno Bornkamp at the Conservatorium van Amsterdam. Needless to say, we're all very proud of our good friend Chris Condon! Currently, Chris is a member of the 282nd Army Band at Ft. Jackson, SC.
Yesterday, Chris left after a two-day visit to pick up his horn after his Überhaul. We did some cool modifications to it, as well as got to see some old modifications I had done many years ago. Chris' horn is one that I overhauled when I had my little card table repair bench in grad school. Chris was one of the first players ever to trust me to do an overhaul on his horn. Although the work I did back then isn't as good as the work we do now (there are a lot of improvements that have been made at the Sax ProShop since then) it was still holding up and the horn was doing great!
As of late, Chris has been recovering from surgery to his leg, but that didn't stop us from celebrating his birthday! We had a great time during his visit, and he hobbled along on our trip to Flaming Amy's and out on the town.
Chris, we can't wait for you to get better, happy birthday, and please come back and see us soon!!
Here's what Chris wrote about his Uberhaul:
Curt,
I'd like to take this time to thank you and the rest of the MusicMedic team on the Überhaul of my Buescher Aristocrat alto that is nothing short of spectacular. I have never played a horn as smooth, in tune, and balanced tonally and mechanically as this one. I owe this completely to the precise and thoughtful repair that consistently permeates your work. I am especially impressed with the RooPads in this horn. These top quality pads combined with your expert installation and leak work have allowed for an ease of response throughout the range of the horn I never thought was possible. What your team is doing has brought overhaul to a new level. It has truly renewed my joy of playing this saxophone.
Chris Condon
282nd Army Band