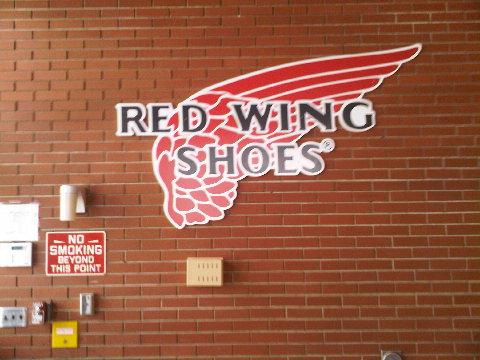 Every year I make a pilgrimage to Red Wing Minnesota, home of the Red Wing Repair School and the location of a NAPBIRT Regional clinic. Every year it's snowy and beautiful and I'm caught off guard by the program and the people in Red Wing. This year was no exception.
I am just returning from three days of talking about, learning about and sharing ideas about Band Instrument Repair. I would like to share a little bit of the great time I had these three days with you.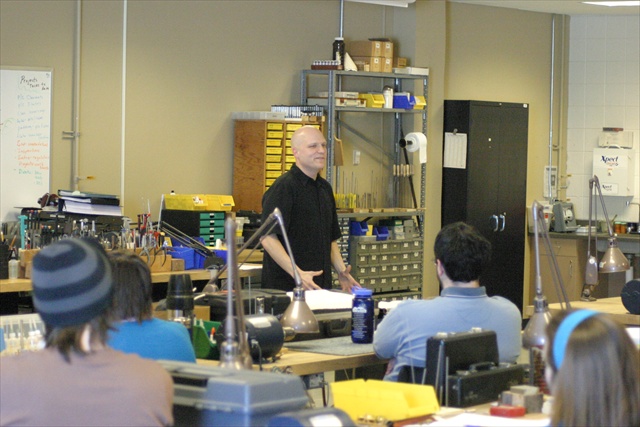 Day 1. Talking to the students.
I flew into Red Wing Minnesota with only a light wind breaker and my sunglasses to keep me warm. I drove straight from the Airport to the College, where Professors Lucas Pemberton, John Huth and Greg Beckwith asked that I talk to their students while in town.
As soon as I rolled in the guys greeted me and asked me to get started.. The students were really receptive and had lots of questions. I could tell at a glance that this group of students really knows their stuff and the guys are doing an excellent job with them. The students surprised me with their knowledge of repair and an amazing positive attitude geared toward learning their trade.
Night 1: Gathering with new friends
After speaking with the students, a group of us went to take a drive ON the Mississippi. Dodging ice fishing houses, sliding, spinning and getting stuck on a frozen river is pretty cool. It was a total blast and I will not forget it. Guys thanks for taking me, YOU ROCK!
Then came the night owls. For a small town the night life scene in Red Wing is pretty great. We continued to talk about woodwind repair and all other matters well into the morning. You people (and you know who you are) are super hosts and didn't let any time slip by when we weren't learning and having fun. Thanks!
Day Two: Some Curt Time and Advisory Committee Meetings
The second morning I spotted a Bald Eagle. I was surprised to see how massive the bird was in person.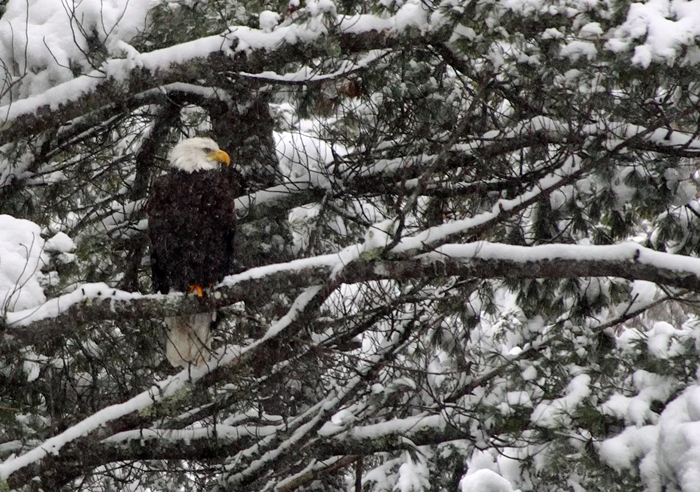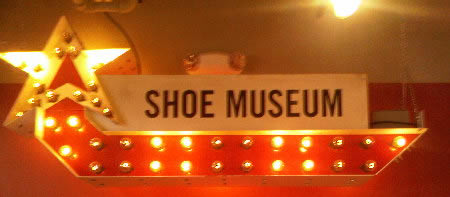 What a great town! I decided that my email could wait and took off driving around Red Wing. I tried to get into the shoe Factory but the guard (nice lady) at the door said there were no factory tours this time of year. Later that night I broke into the warehouse and gave myself a tour and picked up some really nice sneakers.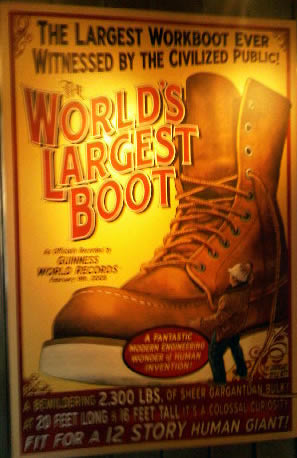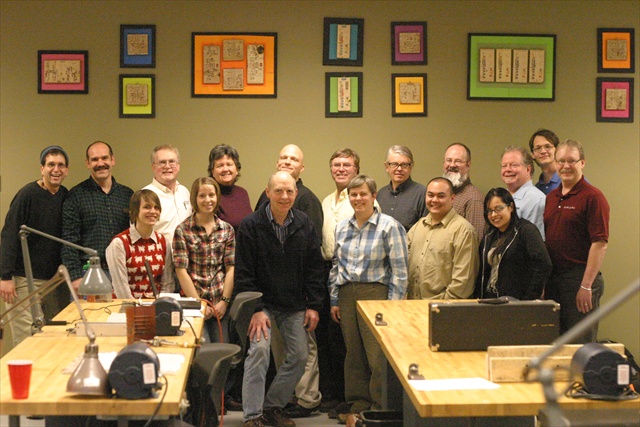 Later in the day I went to the advisory committee meeting at the Red Wing Repair School. It's an outstanding experience to sit on a board with so many talented technicians and business people. The committee advises the school on all manners of their activity. The teachers at the college take this meeting seriously and try to get as much out of it as they can. They push the board to help evaluate past decisions and they seek direction for future decisions. These guys and gals are very open minded and insist that we be honest with our evaluations.
Students looking to attend a repair school are in very good hands if they choose Red Wing. The professors either know the answers, or are in search of the answers. The school seems to be growing and thriving. A few years ago, they had a major expansion and the place went from good to 'oh my god'. The students and professors at Red Wing are taking full advantage of the facility and the vibe there is electric.
Night 2: The night owls return
After the meeting we all enjoyed a fine dinner downtown then, the night owls were out again. Thanks for a killer time everyone! To the night owls, who I'm sure are sleeping as I type this on the flight home, thanks so much for a first class hang!
Day Three: NAPBIRT Regional Clinic
Coffee was the solution to the previous nights endeavors. Every year Red Wing hosts a regional clinic the day after the advisory committee meeting. It's great for me because I get to stay another day and attend or present the clinics. This year I attended 2 clinics and they were outstanding.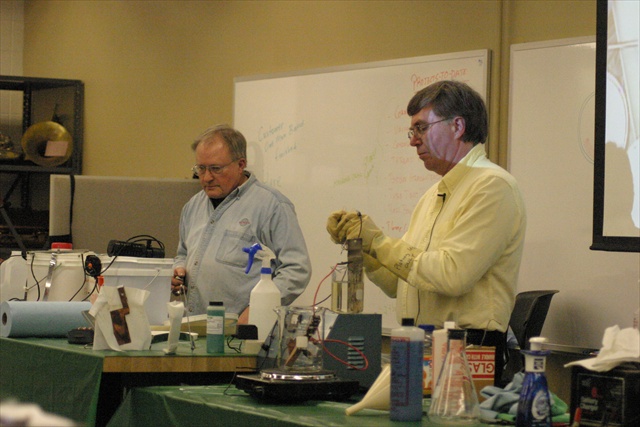 First Jim Thomas and Ken Skitch did a hands on clinic on plating. These guys learned plating from the repairers point of view and they're not messing around. They both have different, compact and working plating set ups. Combining their knowledge on plating was a great idea. Between Jim and Ken every (green) plating set up I know of was not only discussed but shown. We were able to plate keys from start to finish. The Technicians all got to try the various plating set ups, get an idea of the cost of each and make educated decisions about what set up they might want in their own shops.
Jim and Ken: You two are so cool, kind and helpful, thanks a lot. Your openness and desire to help and share anyway you can are contagious! I knew walking out of your clinic that staying for the clinics was a good idea. What I got from the first half of your clinic alone made the trip to Red Wing worth it!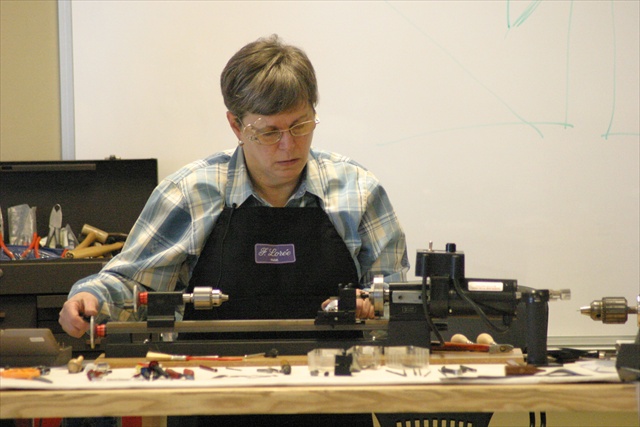 The Mood changed quickly when Cindy Budd started her Oboe clinic. When I heard that we were going to pin a crack on an oboe, and build a tone hole replacement insert on an oboe, I really didn't think it would all happen. Cindy was awesome, what a great lady to learn from. She has a no nonsense attitude toward her repairs that is nearly Zen like. When Cindy's clinic was over, I found myself wishing it was just starting!
Thanks for sharing your great ideas and your craft Cindy! I wish I played Oboe so I could send it to you for repairs!
Night 3: Night Owls Last Stand
With the Clinics done and all the meetings complete us night owls tried one more time to tear it up! Once again, thanks everyone for a great night!
To my friends at NAPBIRT and the entire staff and students at Red Wing, thank you so much for an outstanding time! I can't wait to do it again next year!
-Curt