The Saxophone Smackdown was great! Clinicians came from as far away as Chile to be part of what may be the biggest, and certainly the best, saxophone repair clinic of all time!
I'm completely amazed at how wonderful everyone was! If you're not a NAPBIRT member already you should consider joining. NAPBIRT is a one of a kind organization consisting of a bunch of friendly and knowledgeable technicians anxious to share their ideas.
I've been a NAPBIRT member for years and given clinics for them many times, so I knew that having a bunch of NAPBIRT techs here would be cool. But, none of us knew just know how much NAPBIRT fun we would have!
NAPBIRT rocks and technicians involved are outstanding! Here are some highlights from the MusicMedic.com Saxophone Smackdown....
Enjoy!
-Curt
Here is a letter I received from my Friend Sid this morning:

Wow!
I rolled in about 11pm last night. My wife and kids greeted me gleefully and then wife and 16 yr old daughter were off to bed. However my 20 yr old son hung out and asked a bout the clinic. When I finally shut up, he said... " Wow Dad, I don't think I've ever seen you this excited about what you do."
Thanks Curt. To You, the clinicians and your staff for an outstanding day.
I have no doubt that the investment in this trip will pay dividends in spades.
Very Best Regards,
Sid Marlin
Curt Altarac explaining the unique layout of the new MusicMedic.com sax-facility.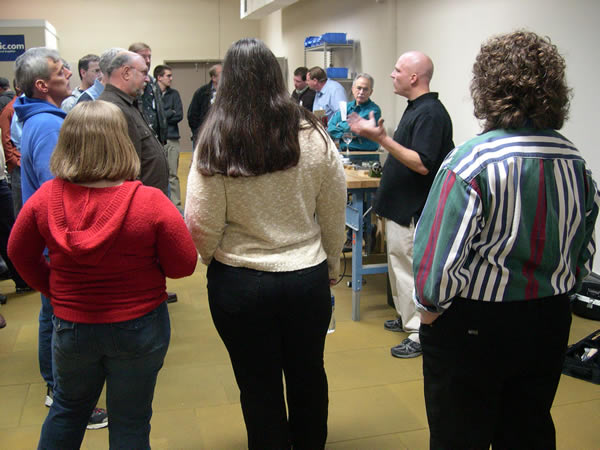 Jeff Peterson (Yamaha) and Steve Goodson (Saxgourmet) got into some great debates about saxophone design and manufacture.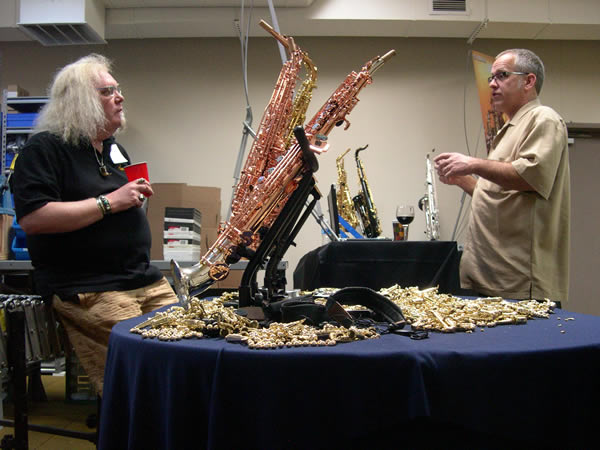 That's Matt Scott (MusicMedic.com) mobbed by technicians wanting to learn about leveling tone holes.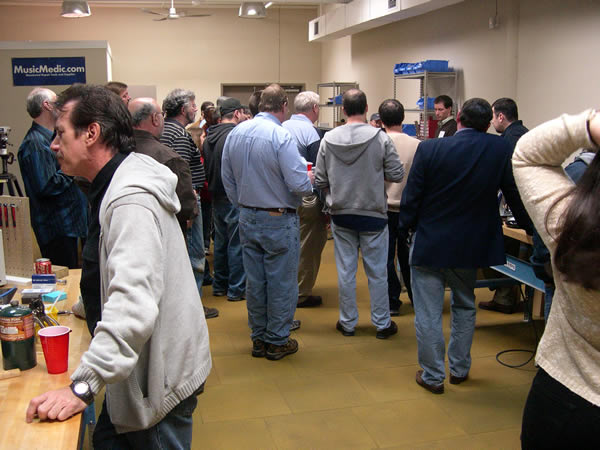 Rich Zimmerman (of MusicMedic) shows Don Millhouser (San Francisco CA) and Ray Petro (Greensboro NC) how the new Vortex Air Torch™ works.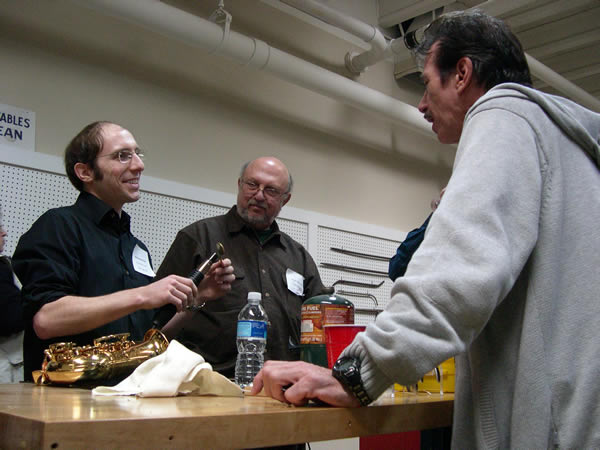 Curt Altarac (of MusicMedic) explains his octave pip experiment to a full house.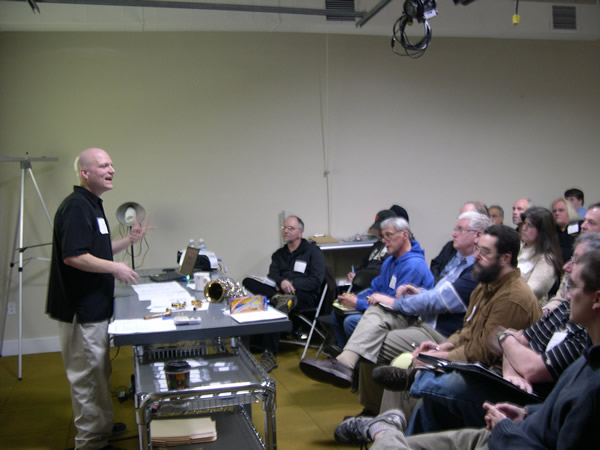 The Benny Hill Trio wowed the group with some outstanding playing. Benny is a RooPads endorser right here from Wilmington North Carolina.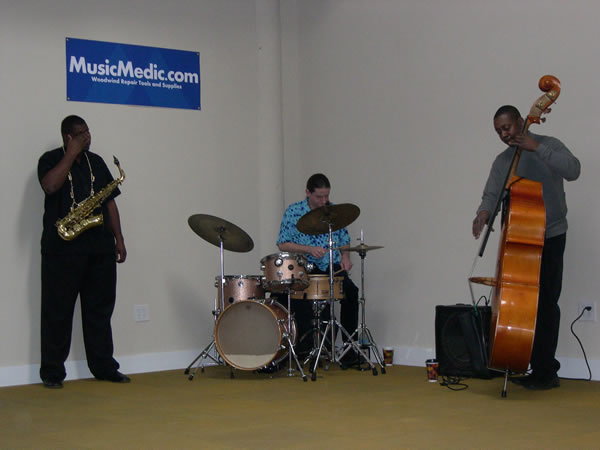 Our friends Nicolas and Frances came all the way from Chile to share their ideas and learn from others!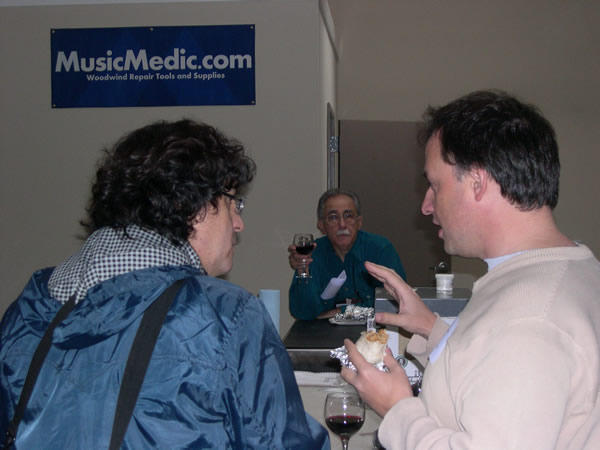 From Left to Right, Fred Melk (Milwaukee WI) Mark Farmer (Olathe KS), Bob Frushour (Fredrick MD) and Jon Mills (Charlotte NC) enjoying some Flaming Amy's Burritos at the Key Work Bench.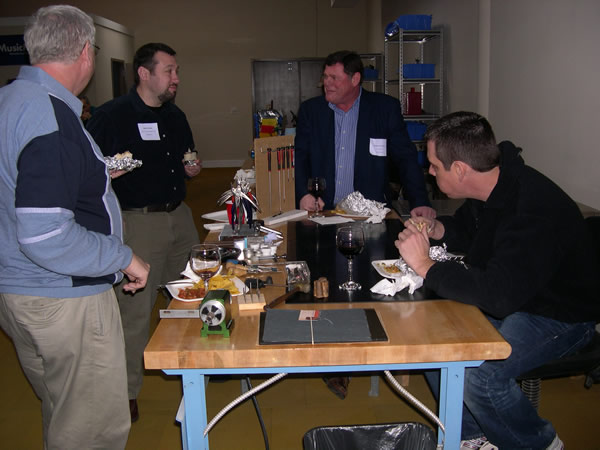 Steve Goodson (New Orleans LA) Jeff Peterson (Buena Park CA) Curt Altarac (Wilmington NC) and Matt Stohrer(NYC) share their knowledge with the group durring an open Q&A session.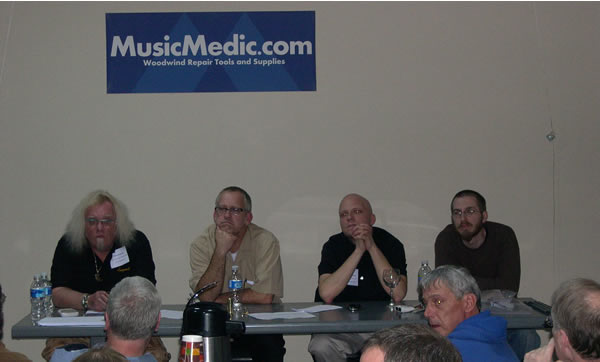 Dinner was a time to relax reflect and drink just a bit more....
Brandon Johnson, Melvin Benjamin, Pablo Lugones (Pacifica CA)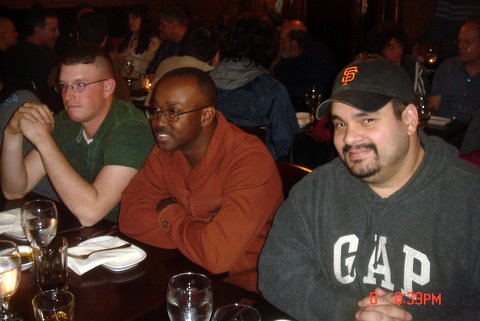 Matt Stohrer sharing ideas with Don LePage(Shelby MI), Jon VanBuren(Winston Salem) and Jeff Reitz(Eau Claire WI) over an excellent dinner.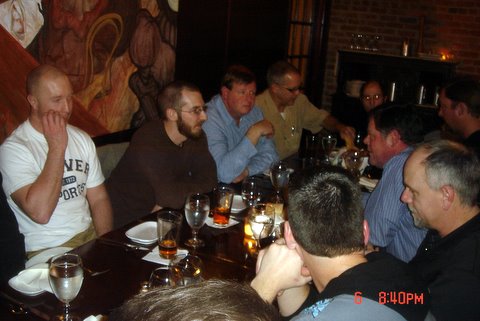 Curt Altarac in a heated discussion with Lee Kramka(San Francisco CA) and Steve Collins (Birmingham AL)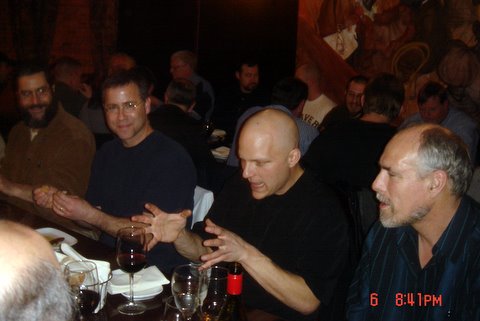 Even Matt's Baby Claire has a tall drink.