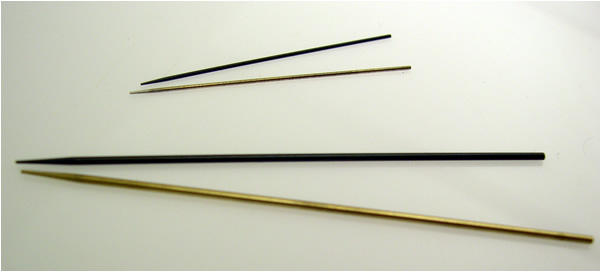 For years, technicians have been struggling with the inadequacy of blued steel springs that break when tension is put on them. However, many of us continue to struggle with these springs because we just don't like the feel stainless springs on woodwind instruments. MusicMedic.com has solved the problem. Soon, we'll have our great new blued steel springs available on the site. These springs are excellent, hold a bend, don't break, are evenly tempered, and have an excellent machined point. Much like, or better than, those that manufacturers are/were using on new instruments.
When we gave these springs to the Sax ProShop, the guys and gals in the shop not only loved them but found a way to make them even better. They started working to gold plate the springs in house. Gold plating resists rust and give the springs a super high class look.
The gold plating that we were able to do in the shop is not as thick or nice as they can do at the platers. So, we're thinking of sending a batch out to be plated. Since MusicMedic.com's job is to use the coolest new stuff and then get these things in your hands, we're all wondering if you would like us to offer these on our website for you. Of course, they will be more expensive than their blued counterparts, but they will be gold!
For all you players: Would you like gold plated springs on your horn if you were having springs replaced?
For all you Techs out there: Are gold-plated needle springs an upgrade you would like to offer your customers?
Let me know your thoughts!
-Curt
Curt@MusicMedic.com