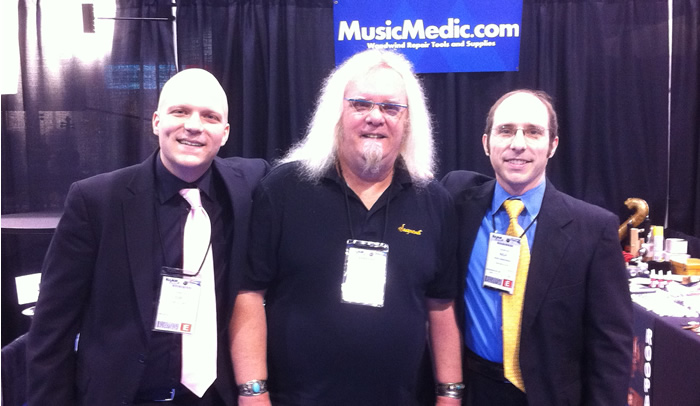 Curt Altarac, Steve Goodson, Rich Zimmerman at the NAMM show in California.
Earlier this week, I received an Email from a technician asking about our swedging pliers and the new sizes we have. He said that he heard about our new pliers on Steve Goodson's forum. I checked it out and what a great review Steve wrote about them!
For those of you that don't know Steve, he is/was my repair mentor while I studied at the University of Southern Mississippi. Steve is the guy that made being a repair tech cool! Over the years, Steve has been a great help to the Sax ProShop at MusicMedic.com by offering suggestions and techniques and suppliers regularly. Thanks for the excellent review, Steve, and thanks again for all you do!
Since all woodwinds need to be swedged sooner or later, the search for the perfect technique and tool has been a problem for technicians since right after the Earth cooled. A continuing problem has been that most swedging pliers left scars on the tube which had to be buffed out. Finally, a solution has been found.
Earlier this week, I received a beautiful, matched set of swedging
pliers from my friends at MusicMedic.com. Not only are the pliers
beautifully machined, but they have very long handles which allow the appliction of plenty of leverage for the swedging process. Each plier in the set (there are six different ones) has a different diameter which allows it to be closely matched to the tubing being extended. The very best feature is the width: these pliers (except of a couple of narrow ones for use in tight spots) are all nice and wide, so the tube can be swedged with one stroke, making it easy to avoid the lines caused by multiple application of the tool to the tube. This extra width has changed my life! You need to get this set of pliers if you do any woodwind repair at all.
STEVE GOODSON
"Saxophone Designer to the Stars"