Here at the Sax ProShop, we always try to come up with ways to improve our efficiency and precision in an effort to provide our customers with the best service possible. If a task seems too tedious, the technician performing the task on a daily basis will sit down with our tool designer and find a solution to the problem. This is exactly how the Spring Bending Lever came into existence. The technicians felt that adjusting spring tension on the stacks was more time consuming than it needed to be, simply because there was no tool that could reach and give consistent, controlled results. The technician would have to remove an entire stack of keys just to make an adjustment to a single spring. With the keys off, the technician bent the spring and re-assembled the stack keys. If the spring tension still needed adjustment after that, the technician had to remove all the keys yet again, make the adjustment, and reassemble. Talk about time consuming!
Not anymore! After prototyping and testing for a few weeks, we have created the Spring Bending Lever. It's a compact tool that can reach the stack springs without taking the keys off or sacrificing control and precision. The Spring Bending Lever comes in three sizes to accommodate all types of saxophones and even some clarinets. Each side of the tool is curved for clearance in opposing directions, allowing the technician to approach the spring from different angles. The curved end is slid into place and grips the spring, allowing it to be bent in the desired direction. The hardened tips and protective finish on the Spring Bending Lever will ensure that this tool saves you time and energy for many years to come.
This tool is now available to you through MusicMedic.com. Check it out below; we are sure you will benefit from it as much as we do.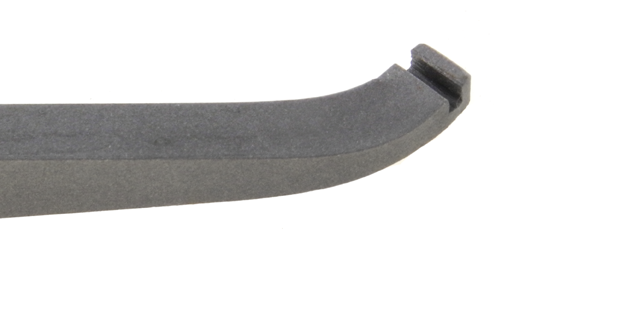 For more information, don't hesitate to contact us:
Phone: 910-667-0270
Email: Questions@MusicMedic.com