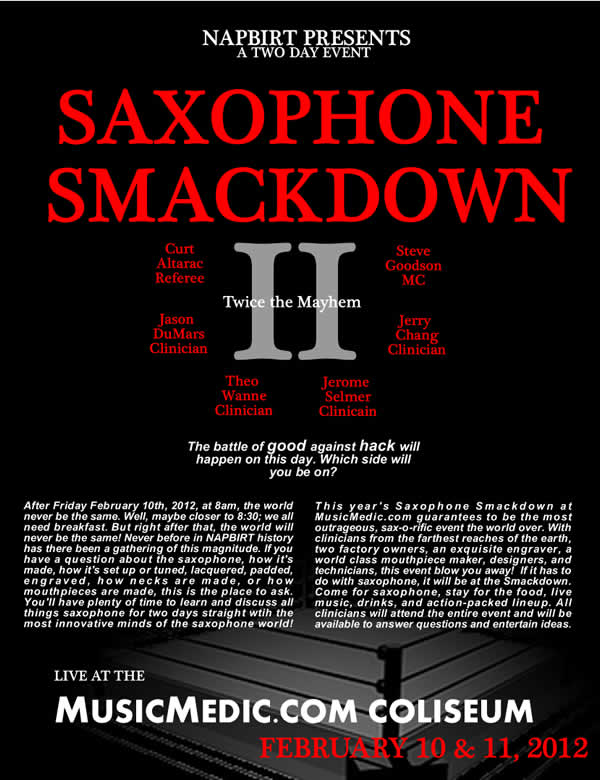 Save the dates and join us for the Saxophone SmackdownII! 
On February 10th and 11th, when you come to the Smackdown, you're going to enjoy the following:
-Free Breakfast
(including the famous MusicMedic.com Coffee)
-Free Lunch
(Oh Yes, Flaming Amy's is stand by...)
-Live Music
(Wally West Trio and The North Carolina saxophone Ensemble)
-Clinics from 4 of the most amazing innovators in our industry.
(Jerome Selmer, Jerry Chang, Theo Wanne, Jason DuMars)
-A facility tour of MusicMedic.com and it's unique Assembly-line ProShop.
-Product demonstrations.
(see the cool tools at MusicMedic.com!)
-Hang out with The SaxGourmet himself Steve Goodson.
-Hang out with Curt Altarac owner of MusicMedic.com
-Try instruments and mouthpieces.
-Be near and enjoy all things saxophone.
DO NOT MISS THIS!!!
You will learn how saxophones are made by 2 people who make saxophones and are the leaders in our industry; Jerry Chang and Jerome Selmer. How to reface mouthpieces from Theo Wanne and how to Engrave Saxophones from Jason DuMars! It will be a party you will not soon forget. We're all going out for Dinner each night too.
Jason will have a table set up to engrave Saxophones on site (when he's not teaching a clinic) and Theo Wanne will be refacing mouthpieces for players, a service very few are able get from Theo. This is truly a rare opportunity!
Jason and Theo are scheduling times during the Smackdown in advance and those slots are filling up fast. So, contactKellie@MusicMedic.com if you would like to bring a horn or mouthpiece to have Jason or Theo do some work.
You don't need to be a NAPBIRT member to come and you need not be a technician to enjoy the 2 day event. Of course NAPBIRT members and technicians are welcome!
Register now, although the MusicMedic.com facility is huge, space is limited.