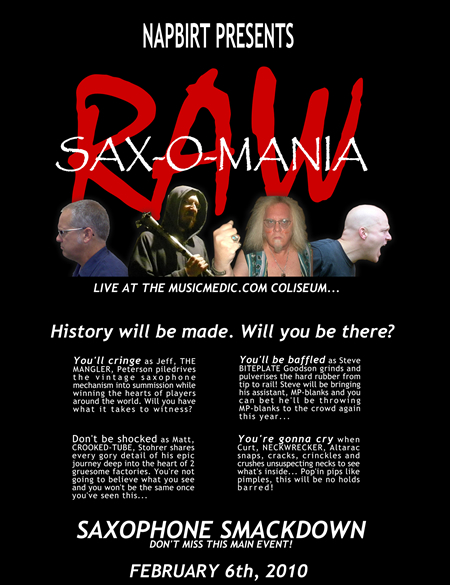 SAXORAMA, SAXOMANIA, SAXFEST, SAXESGALORE
No matter what you call it, it's happening here at MusicMedic.com and it's gonna be outrageous!
What's this all about? MusicMedic.com has been asked to host a regional clinic for our favorite trade organization, the National Association of Professional Band Instrument Repair Technicians (NAPBIRT). Every year, there are regional NAPBIRT clinics happening around the US and some abroad. This year, one of those clinics will be hosted right here at MusicMedic.com. But you know us, it ain't gonna'be no regular thing....
The Regional NAPBIRT clinic held at MusicMedic.com will be all about Saxophones, sax parts, sax mouthpieces, sax construction, sax intonation, sax modification, sax regulation -you name it! There will be live (sax) music performed by RooPads endorsing artist Benny Hill. MusicMedic.com is sponsoring a "coffee breakfast" a "Wine and Cheese" brunch and a lunch with live music. Saxophone repair product demonstrations will be given at lunch time. All this will happen in the new MusicMedic.com facility in Wilmington NC.
OH yeah, we have also invited the finest saxophone technicians from around the US to come and share their knowledge with you! Jeff Peterson -Yamaha's big-dog saxophone repair tech from California, Matt Stohrer -NYC's newest and greatest sax-tech, Steve Goodson -N'awlins famous SaxGourmet, and Curt Altarac -of the MusicMedic.com fame will all be present to give a clinic.
Come early and plan to stay late. After the clinics, we're all going to Historic Downtown Wilmington for more food and libations. Seats at the clinic are limited so hurry, sign up, and reserve a spot.
Contact us regarding hotel options and register for the clinics atwww.NAPBIRT.org.
UPDATE!!!
Just after posting this blog, I got a call from my very good friend Lee Kramka of Saxworx. Lee's one, if not thee, finest sax techs in the country. Lee said he's planning to jump on a plane and show up for the clinic. -You know he'll spice up the conversation!