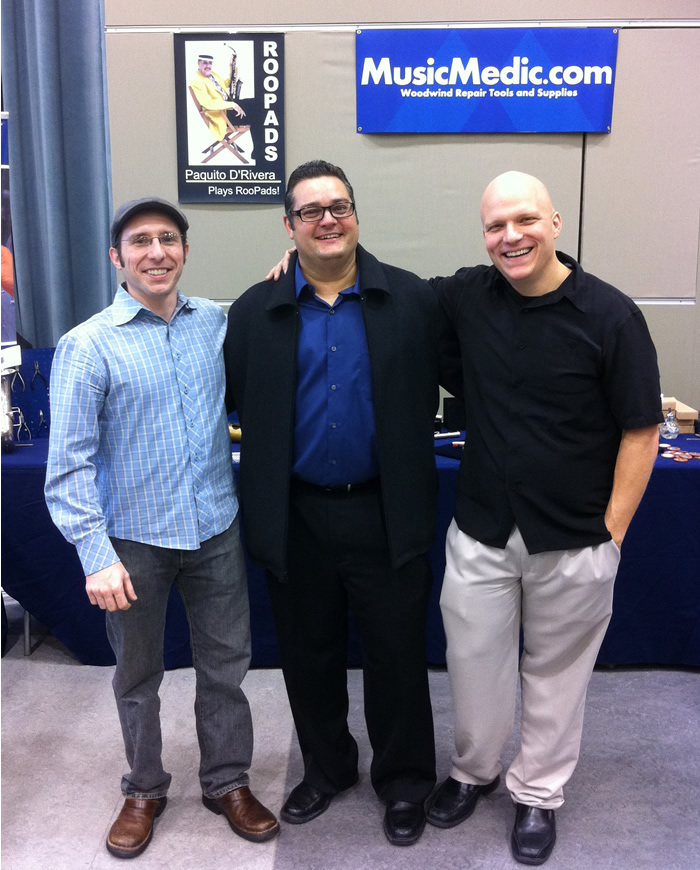 Rich Zimmmermam, Wayne Leechford, Curt Altarac
Next week we're expecting a cool visit from RooPad endorsing Artist Wayne Leechford. You might remember that Wayne had his Keilworth Bari tricked out by the ProShop a couple of years ago. We like to believe that this had something to do with Wayne's decision to give a solo Bari Recital! No matter why he's doing it we're all glad he is. Wayne is pushing the limits on the Baritone Sax and working to make life better for the rest of us Bari players out there by spreading the word and commissioning new works for the instrument!
Way to go Wayne! We're all proud of you and looking forward to great night of Music!


Saxophonist Wayne Leechford presents a program of premieres for the baritone saxophone.
Although the saxophone is largely recognized as an instrument of jazz and pop music, it also has a rich history in the classical genre. Not so much for the baritone saxophone. In an attempt to help create a viable literature for his primary sax, Wayne commissioned six composers to create new works that showcase the legitimate and lyrical potential of the bari sax as a solo concert instrument.
The composers represented are all notable and prize winning writers of classical music from North America. Elizabeth Raum from Toronto, Canada, Richard Faith from Tucson, Arizona, Adrienne Albert from Santa Monica, California, Thomas Massella from Pittsburgh, Pennsylvania, and Raleigh's own J. Mark Scearce and Lanette Lind.
The pieces to be performed pair the saxophone with the piano, harp, and marimba, each creating a unique sound of its own. Most of the pieces were inspired by works of art. "Chagallian Suite" is inspired by famous paintings of Marc Chagall, "Poetry" is inspired by Edgar Allan Poe's Annabel Lee, and "The Infernal Path" is based on illustrations by Gustave Doré for Dante's Inferno.
Featured performers include Wayne Leechford, baritone saxophone, Lanette Lind, piano, Winifred Garrett, harp, and Scott Pollard, marimba.
Monday, Feb. 7, 2011, 7pm. Kennedy-McIlwee Studio Theatre in Thompson Hall - located on the North Carolina State University campus.
There will be an Arts Village post-concert discussion.
$10 Public, $8 Senior Citizens/NCSU Faculty & Staff/Non-NCSU Student (w/ID), $5 NCSU Student (w/ID), Children under 12 free. You can order tickets in advance at Ticket Central Box Office, Talley Student Center 2nd floor, 2610 Cates Ave. M-F 10-6p. By phone at 919-515-1100, or online at ].
For more information, contact Wayne Leechford at 919-612-4199 orwayne.leechford@gmail.com. Online at www.ncsu.edu/ticketcentral