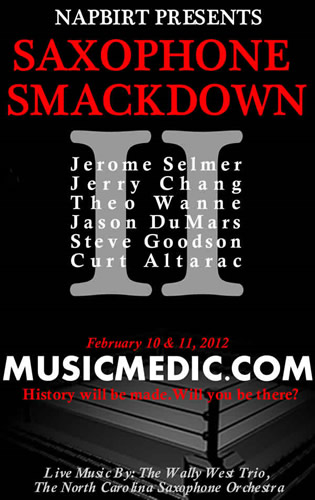 Come one, come all! Registration is open now on NAPBIRT's website:
MusicMedic.com and NAPBIRT are pleased to announce the saxophone event of this century!
Your SMACKDOWN clinicians are:
Jerome Selmer, Selmer Paris
Theo Wanne, Wanne Mouthpieces
Jason DuMars, DuMars Engraving
Jerry Chang, Tenon
Referee:
Curt Altarac, MusicMedic.com
Master of Ceremonies:
Steve Goodson, Steve Goodson Woodwinds
2012's SMACKDOWN is going to be an event you cant miss! Register now because space is limited! This SMACKDOWN will be an amazing gathering of repair technicians, players, craftsman, and manufacturers.
Two full days! Last year's SMACKDOWN was a huge success but everyone agreed that we needed more time!
Free. Well the SMACKDOWN itself is not free (almost, at $110) but you do get free breakfasts, free snacks, free drinks (bring your ID!), free lunches, more free drinks... that's a lotta free no matter who ya are!
More time with the clinicians. All of the clinicians at the 2012 SMACKDOWN are staying for the entire event. Take advantage of learning from the clinicians, your hosts, and other technicians during the whole two-day event. There will be plenty time to sip your drink and discuss your favorite techniques!
Dinner! Although you have to pay for your own dinner, MusicMedic.com has arranged restaurants for the entire gang to go out and eat. Dinners will set up in panel-style discussion seating with all four clinicians, Steve Goodson, and Curt Altarac answering questions and moderating the informal dinner discussions.
Watch the work as it happens! Talk is cheap. Theo Wanne and Jason DuMars are doing more than talking, they're working. Bring your mouthpiece or pick one up from Theo at the SMACKDOWN. Theo will have his tools and is prepared to put a custom face on your new Theo Wanne Mouthpiece or do work to your older pieces. Jason will be offering engraving right here at the SMACKDOWN (be sure to let us know you're interested ahead of time as his time is limited!)
Exhibits! Many of the clincians this year have products that they want you to see! After you hear their ideas, you can see their work! Check out this small, personal, and pertinent group of exhibits.
MusicMedic.com Sax ProShop Tour We've been busy since the last SMACKDOWN and there are a lot of exciting changes! We'll take you through the shop and show how the world's only assembly-line woodwind repair shop functions. The Sax ProShop has been compared to "standing inside an exploded saxophone overhaul". Curt will walk you through the shop, stopping at each of the 10 stations and explaining what we do and how we do it. There is no better way to understand the saxophone overhaul than walking through it!
Live Music by Wally West and the North Carolina Saxophone Ensemble! You're going to love the Music this year! During Friday lunch, you can relax and chat as you hear the cool tunes provided by RooPad endorser Wally West and his fabulous trio! Rumor has it that our own Rich Zimmerman may sit in and play a tune or two! On Saturday you're going to love having lunch with the North Carolina Saxophone Ensemble. If you look in the back row of this massive saxophone collaboration, you'll see MusicMedic.com's founder Curt Altarac playing the Bass!
So relax, grab a drink, and have a talk with a factory owner. Tap your toes to a cool solo and catch a glimpse of Jason cutting a flower or Theo teaching a refacing technique. Just be sure you don't miss it because there will be only one SMACKDOWN II, and it will be RAW!