The Saxophone Smackdown II at MusicMedic.com was a raving success! Technicians from around the US gathered to experience an event that was truly historic and monumental! Comments we received at the Smackdown were overwhelmingly excited and pleased. Folks were coming to the staff at MusicMedic.com commenting, "I really feel like I'm a part of history here" and "this is the greatest clinic/event I've ever attended".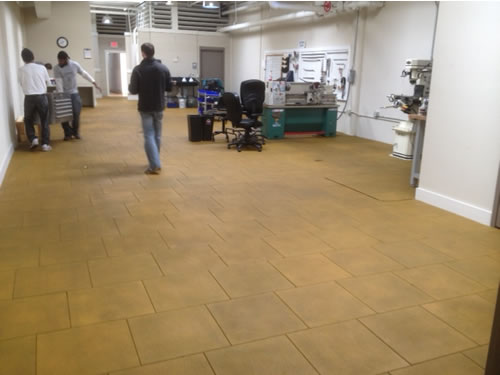 An event of this size required a lot of preparation. We did some deep cleaning, which involved moving a lot of equipment and shelving!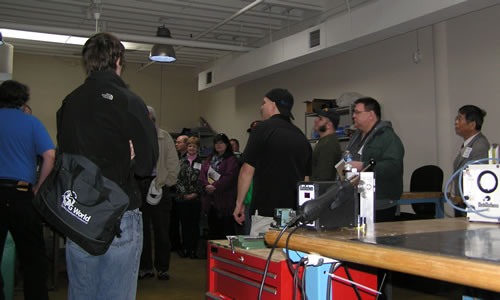 Day One started with a tour of the MusicMedic.com facility, including the future house on premises and a discussion of the green building techniques that Curt is designing for the space. The new lacquer booth and buffing room were visited, along with a trip through the Sax ProShop and the MusicMedic.com shipping area.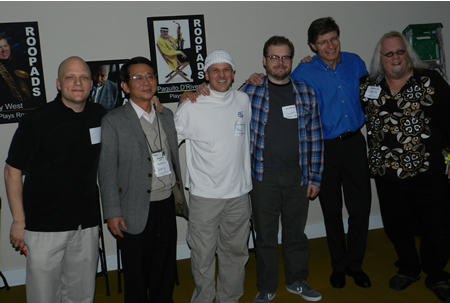 One thing that every clinician at the Smackdown had in common was that they were not clinicians. The "Clinicians" were all very successful people with an amazing passion for what they do and a willingness to share ideas. That feeling of being in a room with someone that may only talk about what they do and share their secrets this one time, was simply amazing. The excitement could be plucked from the air it was so apparent. Steve Goodson introduced the clinicians in a way that only the Great Steve Goodson can. Everyone was drawn into the day with coffee and bagels in hand.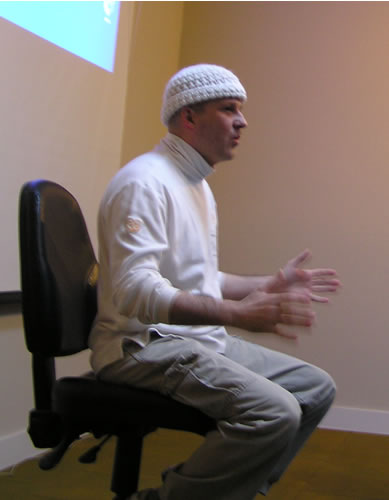 Theo Wanne started the event. Theo talked about his life as a saxophonist, mouthpiece refacer, mouthpiece manufacturer and now saxophone maker. Theo's ideas and approach are bar-none the most advanced in the world of mouthpiece making. Theo openly shared his amazing five axis CNC machining techniques and even showed a video of the software he was using. Theo's down-to- earth attitude combined with his other-worldy calm and creativity drew everyone into the event. Everyone was enchanted, including Jerry Chang from Tennon who started a business deal with Theo in the clinic. It was amazing to see two great business men talking about working together openly in front of all the attendees. Two people who are striving for greatness in what they do are now working together and know each other because the Saxophone Smackdown exists. Seeing this exchange alone made coming to the Smackdown worth it for most attendees.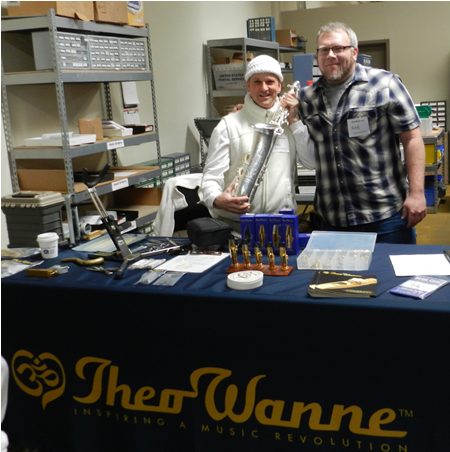 The amazingly talented Wally West Trio performed while attendees were treated to Flaming Amy's Burritos. MusicMedic.com's own Rich Zimmerman and clinician Jason DuMars were invited up to play a few tunes as well.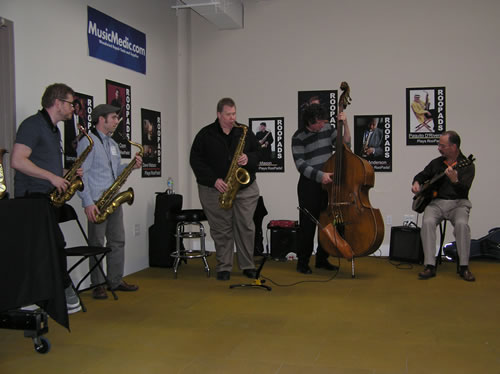 Next up was Jerry Chang. Jerry is one of the senior Asian manufacturers and it is well known that Jerry makes some of the finest saxophones in the world.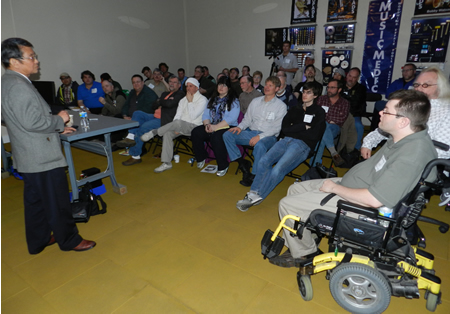 Jerry walked us through his factory virtually, sharing pictures starting at the outskirts of town and advanced into the inner working of his factory. This tour was eye opening for many of us. Jerry shared what he has learned about manufacturing, metal composition, saxophone making and improvements. Jerry and his company's attention to detail and down right brilliant business sense put many of us at ease knowing that the future of the Saxophone is safe in this man's hands. After the factory tour, Jerry talked openly about manufacturing in Asian countries. Jerry talked about the difference between manufacturing techniques in countries like China, Japan, Taiwan, Vietnam and even India and Bangladesh. The information given at the Smackdown by Jerry also made this trip more than worth while for many of the attendees. Truly information that one could not find elsewhere.
The clinic ended for the day with drinks, conversation, and product demonstrations, but the night was still young!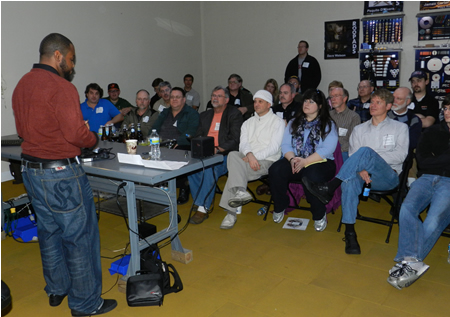 Darrel Brown giving a presentation on MusicMedic.com Swedging Pliers.
The clinicians and attendees headed to dinner at Hell's Kitchen. Here, the talk about saxophone didn't stop, but allowed the attendees and clinicians the chance to speak candidly with one another in an informal setting.
On Day 2, new friends chatted over breakfast pastries and the famous MusicMedic.com coffee. Jason DuMars stepped up next with an awesome and honest recount of how he got into engraving. With frankness and honesty, he explained the long road that one must take to become truly great at a craft. Jason talked about every technique, every cut, every stroke that goes into engraving. Jason also shared some great ideas dealing with the inevitable injuries that ensue when one is engraving.
Jason's clinic was especially interesting because he talked about the artistry of what he does and the dedication his work demands. Truly inspiring! In addition to his clinic, Jason did custom engraving work for attendees in addition to showing engraving techniques and talking about the different tools he uses.
The North Carolina Saxophone Ensemble wowed the audience, and so did the giant party subs from Taste of Italy!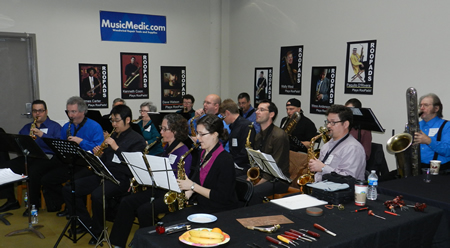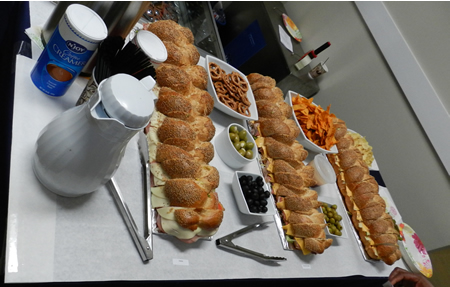 Finally, Jerome Selmer came to the floor.
We all wanted to hear what Mr. Selmer would say. Almost anything that comes from this man can be taken as gospel. Knowing that Jerome Selmer might have some secrets to share, we were all conscious not to ask questions that would pry or force Mr. Selmer to give up any secrets. Those notions were quickly set aside as Jerome started to freely share any and all information relevant to his company. Questions started flying and the attendees gained knowledge previously only shared in private rooms between industry leaders.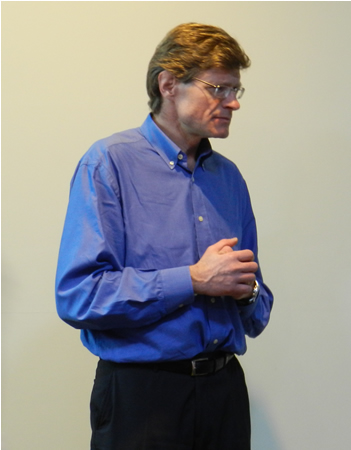 Topics like, manufacturing techniques, metal choice (including the exact composition of the metal in each type of Selmer including the MKVI!), bore taper, neck taper, differences between the various models old and new, how the reference models are made and how they are similar to their vintage counterparts.... it goes on and on.
Nights were filled with more drinking, eating and sharing ideas. Imagine a dinner table with: Steve Goodson, Jerry Chang, Jerome Selmer, Theo Wanne, Jason Dumars and Curt Altarac all coming at the saxophone from a different angle. It was truly amazing!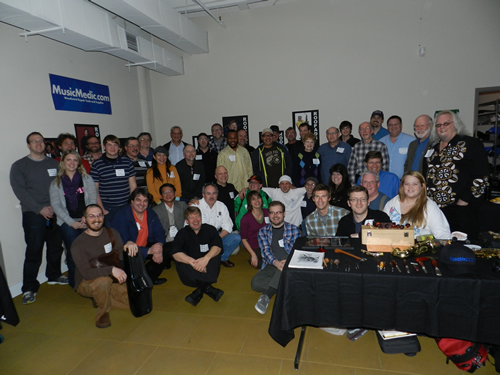 If you missed the Smackdown, you are likely full of regret for squandering an amazing opportunity! Don't worry, though- you'll get a chance to attend the next one, which will be even bigger and better! The only time when any disapproval was shown was when someone asked Curt, in front of the group, "when will the next Smackdown be?" Curt's reply of "two years" got him boo's all around. This group was pumped and ready for the next Smackdown. The crew at MusicMedic.com is looking into making the Saxophone Smackdown an annual event but we need your help! The next one will be better and you better get to Wilmington for it.
And finally, thanks to some handy engraving work, it's easy to remember the MusicMedic.com offers Free Shipping!!