Curt's Sax repair clinic 11:00- 12:30. October 16th. UNCG.
My friend Dr. Steve Stusek has asked me to talk to participants of the UNC Greensboro Sax Day. I am going use this time to dispel some myths about saxophone intonation and tone, give participants a clear understanding of why the saxophone is designed the way it is, and teach participants to do some tuning work of their own.
In a short hour and a half clinic, I hope to demonstrate what it means to tune and tone the saxophone, give practical solutions to some common saxophone problems and provide some of the techniques necessary to make a saxophone play more in tune and with a more even tone. After the clinic, I will be around to answer questions and do some one-on-one tuning assessments. This clinic and the entire Sax Day are free and open to the public. I hope you will take advantage of this opportunity to learn more about your instrument! See you there!
-Curt
Here is an Email that was forwarded to my by Dr. Stusek.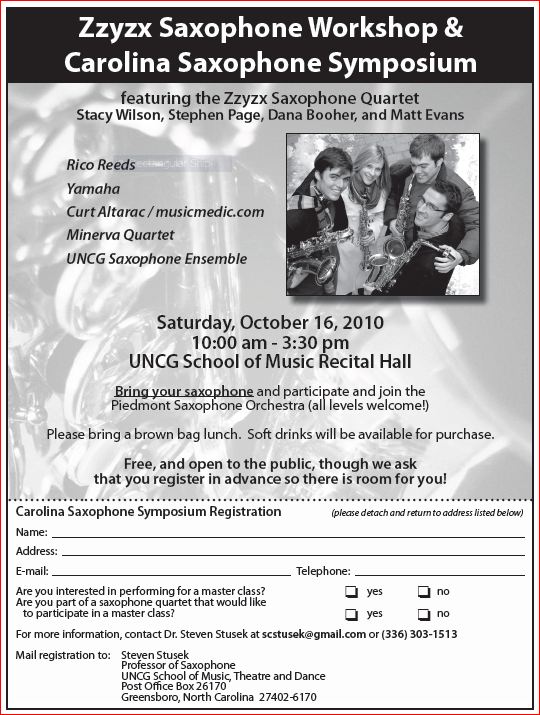 Dear Friends,
On Saturday, October 16, UNCG will once again host the Carolina Saxophone Symposium. This year our guests will be the award winning Zzyzx Saxophone Quartet, Curt Altarac of MusicMedic.com, Rico Reeds, Minerva Quartet, and Yamaha Corporation of America. Join us for a day of performances, masterclasses, presentations, and exhibits. Bring your saxophone and play in the open saxophone ensemble. The Carolina Saxophone Symposium is free and open to all saxophone lovers. Bring a bag lunch (the day will be continuous). Soft drinks and water will be available for purchase at the event. Please encourage your saxophone students or your student quartets to attend and consider participating in a master class. I've attached a flyer for the event, or you can visit the link below, join the UNCG Saxophone Studio on Facebook. Please share this note with anyone whom you think may be interested in our event.
I look forward to seeing you on October 16!
Steven Stusek
Professor of Saxophone
School of Music, Theatre and Dance
University of North Carolina-Greensboro
100 McIver Street
Greensboro, NC 27402
www.SteveStusek.com
http://www.uncg.edu/~scstusek
wk/hm phone: (336) 303-1513