When I got into Phoenix, Arizona, the first thing I did was take a trip to visit Mark Stephens and Charles Ofenloch Jr. at the Mesa Public Schools repair shop. Their shop is state of the art and full of all the high tech stuff like an ultrasonic, great tools, separate places to work on different instruments (kind of like what we have at the Sax ProShop!), and they work on everything from strings to piccolos to tubas. The Mesa School District is lucky to have such a great repair shop with dynamic technicians. There were only 3 of us, so we took two separate pictures. From those photos, though, you can really get an idea of what a great big shop it is-- that's only half of it!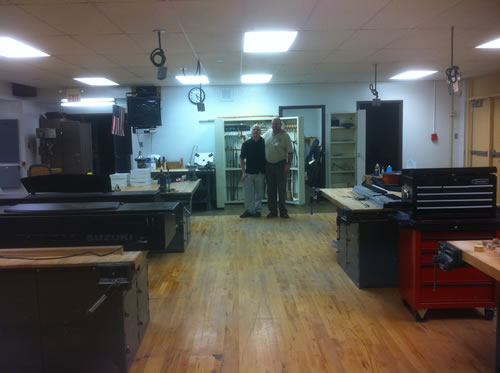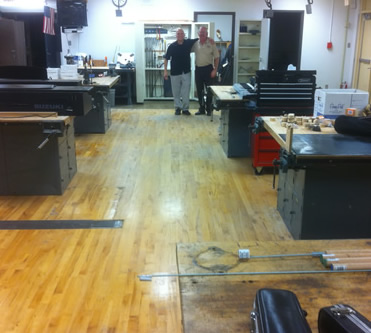 The next morning, I went to Flagstaff and it was really snowy in the mountains. Fortunately, The clinic was for Dr. Bergeron's saxophone studio at Northern Arizona University. I was taken aback by the quality of students at NAU! Clearly their teacher is doing a great job because the kids were inquisitive and knowledgeable, and we had a productive clinic about Tuning and Toning. I overheard some students in the practice room and they have great sound.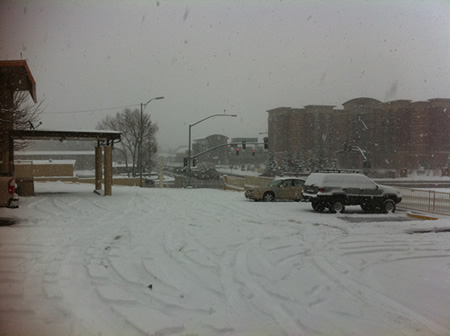 I was hoping to meet up with some other technicians and friends while in Arizona, but the blizzard kept me from traveling freely. I did get to stop in Sedona on my way back from Flagstaff and had fun acting like a tourist for a little while!
Next week was a trip to Normal, IL. The clinic was at the NAPBIRT Technical Training Center (NTTC). The facility was well-equipped with tons of tools and the latest and greatest-- perfect place for an all-day clinic. They asked me if I needed anything and I had brought most everything I needed for Tuning and Toning with me, but I did request jelly beans with the red ones taken out, which I got, so it's good to see they read the contract!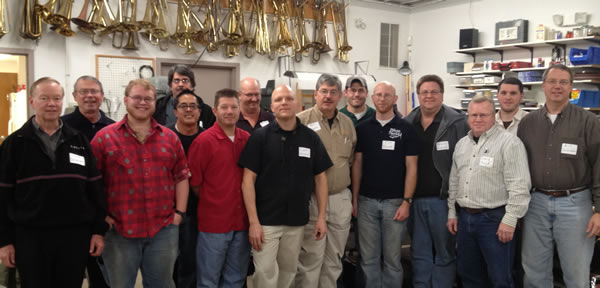 The Sax Magic clinic was packed with top notch technicians from all over the midwest. Lots of great questions and a full day of learning. We got through almost all of the information I wanted to cover on Tuning and Toning (even a full day clinic is sometimes not enough!). I felt like it was successful because the technicians were able to play an instrument, diagnose the issues, and consider all of the different scenarios and steps that would be involved and their corresponding results before actually doing any work to the instrument.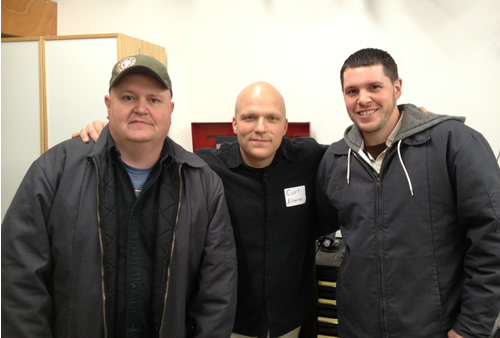 While I was in Normal, I got a chance to visit Carl's Pro Band shop and got to see the work they are doing. We see the work of technicians from all over the world and have seen the best and the worst from the best and the worst, so I can tell you that the work coming from Carl's Pro Band is truly world class. After knowing Carl and Travis for many years and understanding their philosophy of repair and then finally seeing their work, I would recommend them to anyone.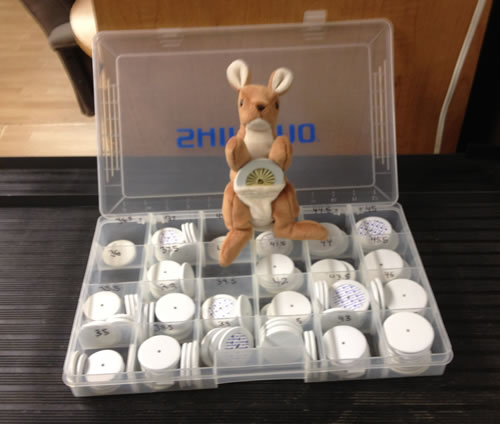 No clinic is complete without seeing the town for a bit, and it was great to go out with everyone. I drank some of the best beer I've had in a long time! So if you're ever in Bloomington, make sure you stop by the NAPBIRT Technical Training Center, and if your horn needs work, take it to Carl's Pro Band, and if you need a good drink, stop by Distill.
--Curt