Every year, we head off to the Messe in Frankfurt and follow the hard working week with a short vacation somewhere in Europe. I always look forward to the trip and it's always a lot of fun! This year is a little different in that the vacation is preceding the trip to the Messe. So, I'm writing this from 'vacation' to tell you about my adventures so far...
What a great trip it has been! Aside from the regular tourist things, which alone are very cool, such as Notre Dame, Coffee, The Louve, more coffee, The Eiffel Tower, Coffee etc.. etc... I had some really great Saxophone experiences so far.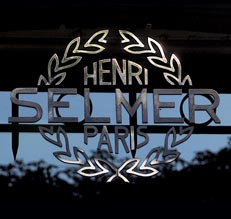 First, we visited the Selmer Factory and what a great place it was! Florent Milhaud took us around the factory and explained every step of the process that Selmer implements when making their saxophones. Watching keys being made, bells stamped and some still hammered, tone holes cut, ohh my. What a truly wonderful experience.
One really interesting thing was the cleanliness of the factory. It was truly spotless. Also, the people working at each area were exceptionally kind and thoughtful. They stopped what they were doing to show us and explain. If there was something that was not being done that day, for example neck making, the workers stopped what they were doing, set up that machine and ran a couple parts, when possible, just so that we could see the process. Florent, your kindness and that of the people in the factory was overwhelming. Thank you!
Understandably, we were asked not to take any pictures, so you will have to go there and see it for yourself. Get on a plane, then a train, then walk 5 minutes, and just past the Buffet factory is Selmer is on the Left. Tell Florent I said hello!
While at the factory, I saw Jerome Selmer, whom I had met previously, and he invited me to stop at the Paris headquarters and talk with him about the work we do on Saxophones at the Sax ProShop. So, the next morning I took the Train to Rue de Fontaine and went to the Selmer headquarters. After a truly wonderful factory visit, I expected a lot from this stop. What I found was even better. I was greeted by a very kind receptionist and enjoyed another good coffee and conversation with Florent until Jerome was able to join us.
Jerome pushed me to tell him about myself, which I love to do anyway, and we talked about my Sax ProShop in Wilmington. We compared the station set-up at the MusicMedic.com Sax ProShop to the final assembly at the Selmer Factory. It was confirmed that we spend more time overhauling a saxophone than the factory spends building one (twice as much time actually!).
We talked about the differences between our shops and how we do things. Soon, the conversation advanced to set-up. I explained to Jerome some of my techniques like the "Balanced Venting Method" and the way I "Balance" a saxophone. The really great part of the visit was Jerome's openness and desire to learn what I know. He listened intently and came back at me with very good input. Of course, not all of my observations about the Selmer saxophones were positive; some were critical and these are the comments that Jerome seemed to enjoy hearing the most. Clearly, he is someone with an open mind and tons of humility. It was wonderful to talk to such a passionate and hard working person.
Finally, we discussed the possibility of having the Sax ProShop set up a new Selmer in our unique way and send it back to them for evaluation. I really hope that happens. I believe I would take as much from the feedback I would receive from Selmer's evaluation as they would take from seeing and hearing my work.
Now, we're headed to see Carina Rascher in Basel where I will be picking up an original Adolphe Sax Alto with the most amazing history you could imagine. I'll take some photos of this horn when I have it and tell you all about it. You're not going to believe this....