Day two of the Messe was somehow even busier than day one! For those of you that go to trade shows, you can appreciate the fun and excitement of a busy day on the trade show floor. In Frankfurt at the Messe, the excitement can be even more for us. One never knows what will happen. For instance, as I'm writing this blog, I'm sitting in a station wagon on the Autobahn traveling at about 180kph, headed to a Rascher Saxophone Quartet concert with an advisor to a musical instrument maker and the tuba player with the Beijing Phil.
I'm sure Rich had no idea coming to the show that he would be giving demonstrations in the morning to 10 Japanese repair students, none of which spoke English! What a day!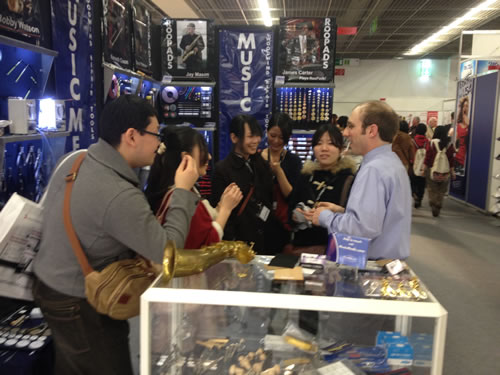 I said goodbye today to my good friends from Holland and talked repair to so many technicians I can't count. Getting ideas from other repairers is total geek joy for me, and even more so, talking with repairers from other countries who have dealt with odd problems and found completely unique solutions. It was really something. I was approached by a couple manufacturers to help improve their instruments and I believe I might get on board.
Speaking of great improvements, I was really happy to see that many of the ideas that Theo and I talked about had been implemented on his saxophone, the Mantra. Gone are the days when only a large volume manufacturer can make a difference. Theo is really trying to do something great with these horns and I'm really anxious to help him do it. It's great when things fall in place: the assembly line style Sax ProShop is a perfect place to set up and perfect a horn from a factory. Better, in fact, than the factory.
So I'm really looking forward to this concert! We're running late and the speeds are getting high. Luckily I'm not the one driving! I didn't take too many pictures today, it was just too busy at the booth. Ok, we're here. I will try and check out some new products tomorrow and let you guys know who's making the finest widgets.
-Curt