The Musikmesse in Frankfurt is a four day event with it's own life and development. For me, it goes like this:
Day one: Excitement and introductions. Excitement and hustle abound..
Day two: is day one light. People are very excited and the weekend Messe-goers are coming in. It's a great day to meet people.
Day three: This is the deal day. We've all met. Things have died down and everyone is ready to talk and relax. You hear people saying, "want to get a coffee?" much more.
Day four: is the public day. It's day one all over again but the flood of people are not established business people. There are a lot of people who are new to the trade, students or young musicians. This is also the day I leave the booth and explore; a day filled with greetings and meetings.
So, day three was no surprise this year. It was a day of talking and getting into some great debates with technicians, musicians and other vendors. I tried to learn where the industry is going and what people are interested in today. Conversations were filled with talk about making instruments and modifying existing instruments. Without exception, the technicians that I talked to were hypothesizing about what the next great innovation would be or what a certain material would do to the sound. From a conversation I had with a technician named Arthur about firing electrons through brass and levitating large objects with sound to discussions about material differences with Pete Thomas, the conversations were lively and exciting. There was a lot of speculation, guessing and wisdom shared.
Through it all, I could not help but notice how all this speculation and intrigue parallel the nature of the industry. Last year, folks were talking about how bad things were and how the major manufacturers were struggling. This year is so much more exciting. I think people are getting over financial difficulties and they are beginning to explore again. Their minds are open to new ideas and they are adventuresome. It's a great time in the music industry and believe this will be a year of huge innovation and growth for many of my friends, customers and colleagues. I really can't wait to get back to my own shop and implement some of the new ideas I obtained before and during the Messe!
My coffee is nearly gone now and day four at the Messe is going to begin in 40 minutes. So, here are some pictures of the day: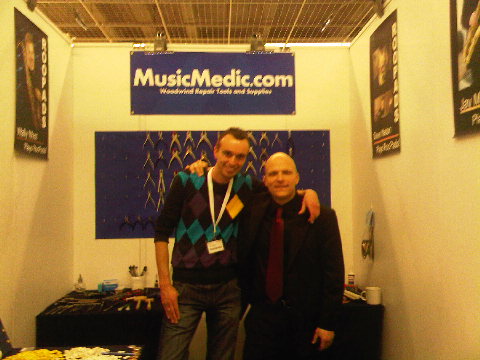 I had a wonderful conversation with Jurjen de Quelerij ofwww.hetreparatieatelier.nl (which translates to "The Repair Shop" in Dutch) about key mechanism, springs, mouthpiece refacing and all things saxophone!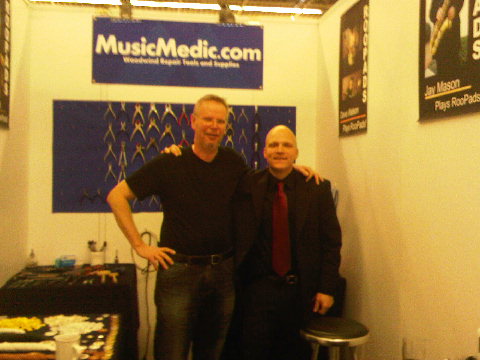 Marco Schaap and I talked about repairing flutes and the tools we are working on do this. Marco is really interesting to talk to and started his flourishing repair business by purchasing a MusicMedic.com Flute repair kit years ago! Warms my heart!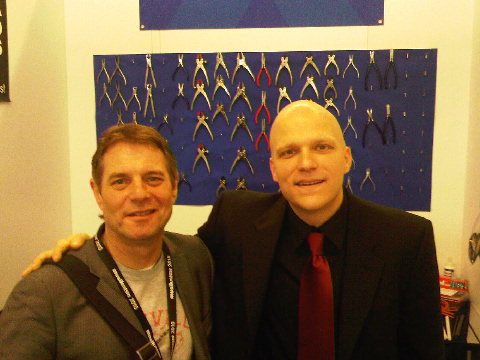 Peter Brinksby is the kind of dude that you know is cool when you shake his hand. We're friends on Facebook and now we're friends in real life!

Darren Anderson is a technician working as a repairer for American students in Germany. Darren has a huge shop and repairs more instruments than you can shake a schniszel at.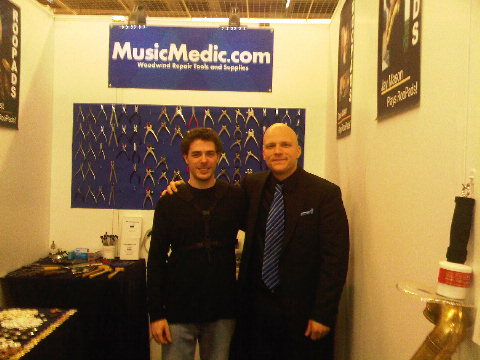 My friend Nitai Levi and I. We met on SOTW and then here at the Messe a few years ago.
Learn more about Nitai here. www.Nitailevi.com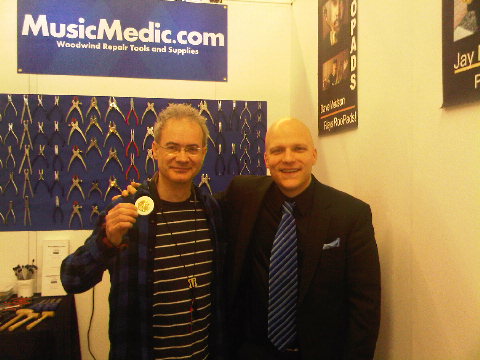 Pete Thomas. I think that's a RooPad Pete is holding there. I don't know why he picked the gold one... maybe for the sound of the material. -Just kidding Pete.
OK folks time to go to day 4! I'll do a lot of exploring today so I'll have more pictures and a lot of new things, I hope, to tell you about.
Auf Wiedersehen!
-Curt