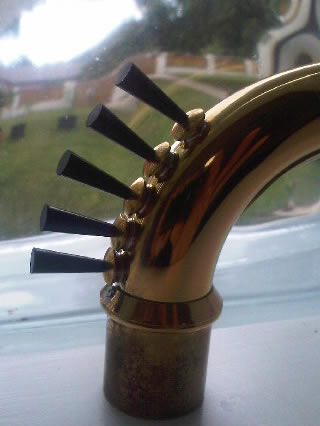 In a traditional musical instrument repair shop, one technician works on an instrument from start to finish. For a shop to be great, each technician must be an expert in every aspect of repair. The only way a shop can grow is to retain more technicians with the required level of expertise.
The problem with this system is that every technician is not an expert in every task. Each person has strengths and weaknesses that are reflected in their work. The quality of the repair will vary greatly depending on which technician did the work. As a shop gets larger, this problem will be magnified as more technicians will inevitably produce greater variations in quality.
As the MusicMedic.com repair shop grew, we made solving this problem a priority. The solution required a complete change in all aspects of our shop. Our overhauls had to be divided into tasks, requiring each technician to become an expert in one aspect of saxophone repair.
Walking through the re-designed shop from end to end is like walking through a saxophone overhaul. The shop is set up in stations from start to finish, and each station is the next step of an overhaul. There is a station for leveling tone holes, one to straighten bodies and align posts, one for key fitting, etc. All told, there are 10 stations where ultra-specialized work is taking place. Stations are manned by a specialist in that discipline.
The key to keeping these stations organized is the procedure list that we have developed. With this comprehensive and thorough list, nothing is overlooked. I often wonder how we ever managed to do this whole job alone! I think the answer is that we just did the best we could and tried not to skip anything or leave anything out. Now that each technician has a procedure list and jobs done at the previous stations are double, triple and quadruple checked, the "best we can do" is a whole new level of instrument repair.
Because each specialist works closely with the other technicians in the shop, the end result is the finest repairs imaginable. With a specialized station to perform each task, members of the ProShop team have only the tools they need and every tool they need at their disposal.
Now, let's take a look at various areas a horn must visit before the mechanical overhaul is complete at the ProShop. Keep in mind that most stations are manned by a technician who specializes in this one area. Each specialist takes their job very seriously and understands that without near perfection, the rest of the job will suffer. That is quite a goal and it is the secret to our continued success.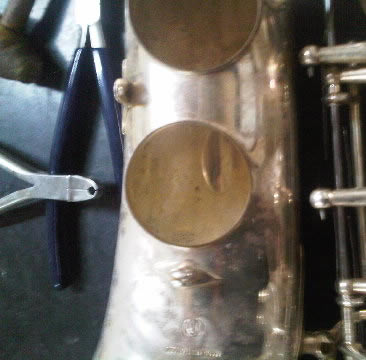 Estimating and inspection.
Every saxophone that comes into the shop is torn down completely for estimating. Nothing is left to chance and nothing goes unnoticed. Problems with the instrument are noted and both non-optional and optional modifications are quoted. Before any work begins the player receives a comprehensive and itemized quote.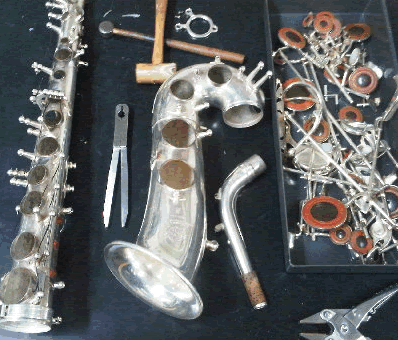 Tear Down
At the tear down station every pad is removed. Every lever, post, cup, rod, tube and key is checked and set up for the overhaul.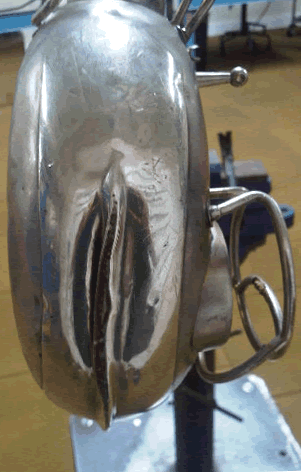 Dent work/Body straightening
Everything that happens to a saxophone during an overhaul is affected by this step. Body work and straightening prepares the foundation of the instrument for the repairs to come.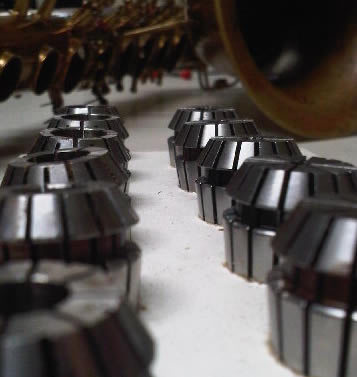 Fabrication
While a saxophone is being overhauled, it's normal for parts of it to visit the fabrication station. When the question is, "can you guys....". The answer is always "yes we'd love to." Then the horn ends up in the fabrication area.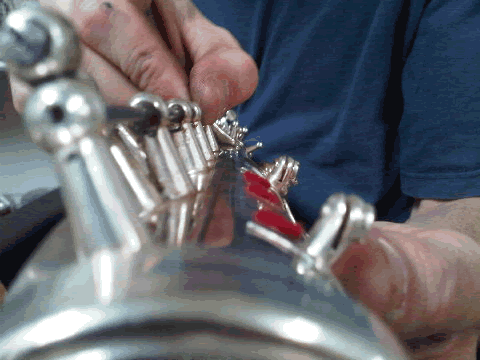 Key Fitting
With everything now straight and wonderfully true, the instrument visits the key fitting station. All modifications are done and the horn is ready to be made into a super fast and efficient machine. Many instruments spend a great deal of time at this station. No matter what condition the instrument arrives in, it will leave the key fitting area far better than it left the factory.
Unlike some stations at the ProShop, the key fitting station is not a place for improvisation, it is a place for perfection. Key fitting must be done to an extremely high level if the rest of the overhaul is to be a success.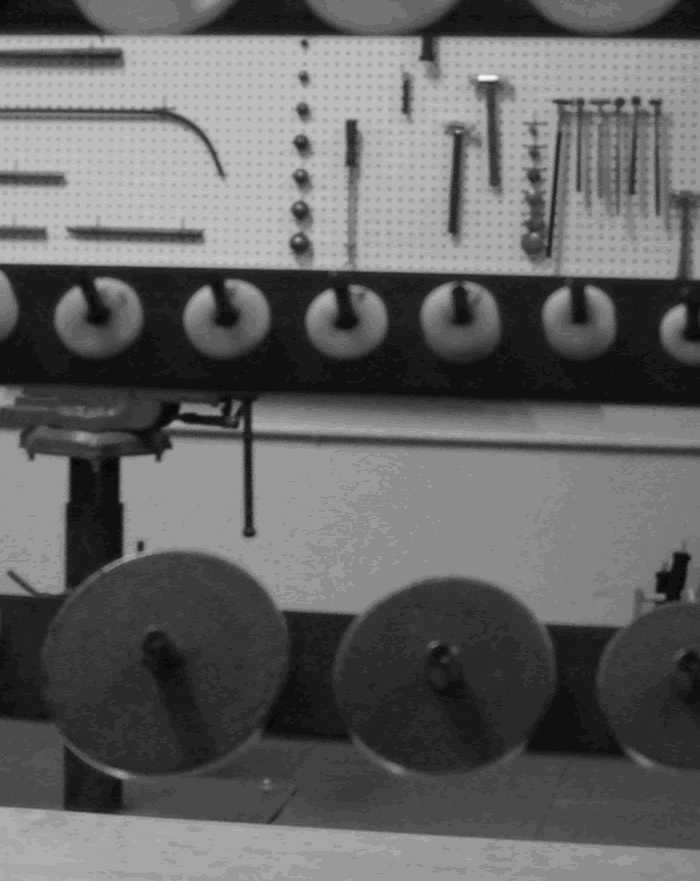 Tone holes/pad cups
This job involves removing a small amount of metal from the instrument, so the job of resurfacing tone holes is one that is treated with great respect. Every tone hole that is resurfaced must be perfectly flat, free of defects and perfectly level. Material is only removed as needed and great care is taken to level and de-bur each tone hole. With this done, the pad cups are checked and meticulously leveled.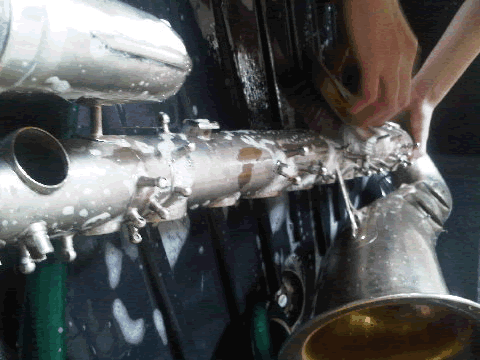 Cleaning
Here the body and keys are washed removing any compounds and oils or metal shavings left on the instrument from previous stations. Plated horns are polished and lacquered horns are degreased and cleaned. When a saxophone leaves the cleaning station, the mechanical work is complete, all major metal moving is done. Mechanically it is in far better than new condition, it shines and it's ready to receive synthetic materials and the finest pads available anywhere.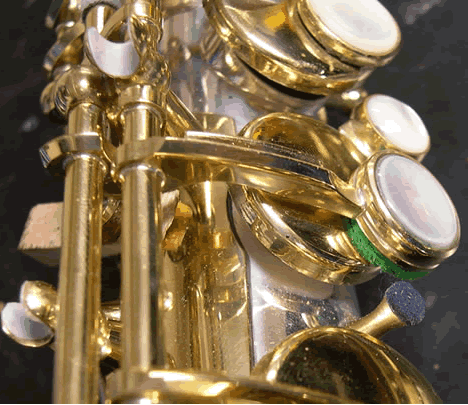 Materials.
At the materials station, appropriate materials are added to the now clean, tight and perfect key work. All materials are chosen for their specific qualities given their specific function. Natural cork is seldom used and synthetics are very common.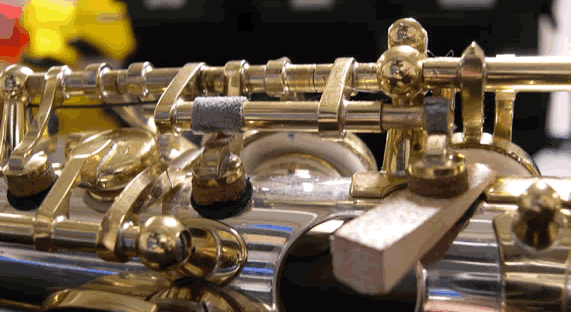 Dry Fitting/assembly
Dry fitting is a process that we developed in the ProShop to ensure that every pad would have a perfect home to live in while it does its job of sealing the tone hole. During this stage, the pads and resonators are chosen, the key cups are aligned to work perfectly and the horn is set up "dry" without the pads glued in. All keys are brought into line over their tone holes and the horn is a perfect place for the 24+ pads that are about to be glued in, the pads are glued in place with a synthetic shellac that we developed here at the MusicMedic.com ProShop specifically for Pro Saxophone Overhauls.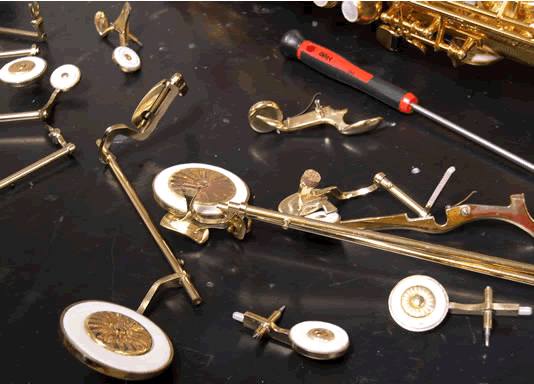 Padding 1.
Once glued in, and with all the pad cups true and level to their tone holes, the pads must be leveled. In the Sax ProShop pads are leveled to a degree that very few will understand. To accomplish this, we created an entirely dark room where even the smallest leaks in the most obscure locations can be found and removed at all hours of the day. No leaks go unnoticed during the padding process.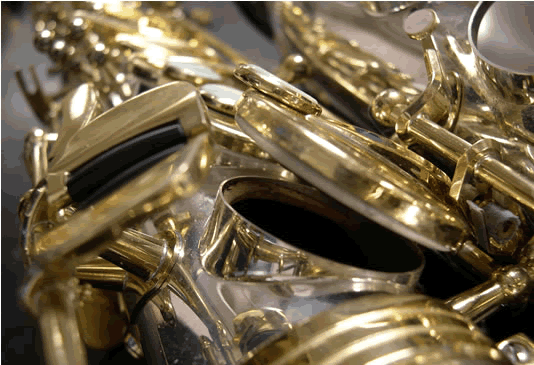 Padding/set up.
Once all the leaks are taken out and the pads are as perfectly level as you might imagine they could be, we go through the horn again. The most minute leaks are re-checked and the pad work is brought even closer to perfection.
With the pads level, the timing is set on the horn and the key heights are left very open. Now, the horn is amazingly tight and true, the materials are perfect, the pads fit perfectly, everything is sealed clean and far better then new. The instrument it quiet and perfect. Anyone would be very happy at this point to play the saxophone. At the ProShop however, there is more work to be done and improvements to be made. This instrument is now ready for it's Aural overhaul.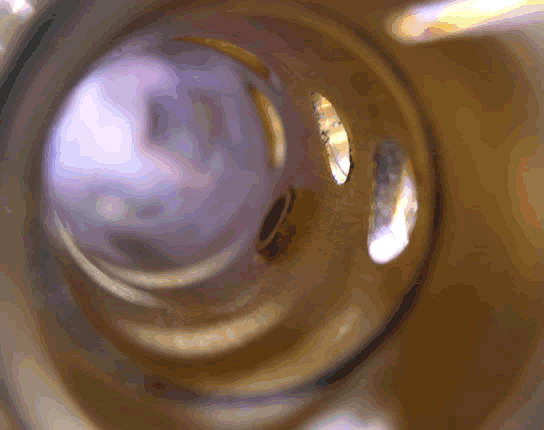 Aural Overhaul
Every time an instrument it adjusted, aspects of the instrument's tone, intonation and response change. These changes are made unwittingly and often go unnoticed by the player. As the instrument is played, tuning problems and tonal issues are noticed and sometimes fixed. At the Aural Overhaul portion of the ProShop overhaul, the instrument starts fresh. The layers of repairs have been stripped away and instrument can now be set up as a whole new instrument.
During an Aural overhaul the instrument is "tuned and toned." It is brought into tune and made to play with a full and even voice. Key heights are set, notes and scales are set for even timbre, intonation and general playability are set. The instrument is play tested extensively by professional saxophonists in the repair shop as well as the customer before the overhaul is considered complete.
Through this meticulous and well organized process, the MusicMedic.com Sax ProShop is providing a service unparalleled to any saxophone shop or factory in the world.
Thank you for taking the time to read about our new shop at MusicMedic.com! When you think you need an overhaul, you're probably well overdue for one. So contact us now for scheduling and pricing.
If you would like to see pictures and details of some projects we are working on in the repair shop, "Friend Me" on Facebook! I'm trying to post pictures and info on various saxophones and saxophone related projects there!
Thanks again for reading my blog!
-Curt