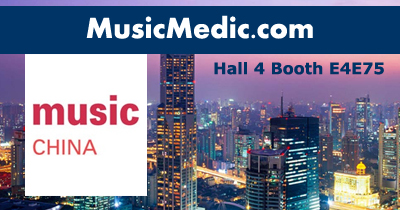 Music China in Shanghai, one of the world's major music-related trade shows, is quickly approaching and MusicMedic.com is proud to attend for a second year. With Curt's travel visa on the way, the booth design complete, and the tools ready to be shipped, everyone is starting to get excited about the event, which takes place from October 10-13, 2013.
Not only will Curt be there to exhibit next to our friends from Tenon Music, but he will also be giving several 30 minute long repair clinics throughout the days of the show right there at the booth. Everyone is welcome to attend at any time and we'll even have a Chinese translator there to make sure any language gaps are bridged. Our booth is number E4E75 and it is located in Hall 4.
MusicMedic.com has been working closely with the owners, designers, and technicians at Tenon Music. Not only will we be offering their outstanding Chateau saxophone line on our website shortly, but they will also be involved in the opening of a MusicMedic.com warehouse in China, from which we will distribute orders to customers in Asia in the near future. This has been a huge goal of Curt's for the past few years and we are happy to say that it will come to fruition shortly.
In order to promote the new venture, meet saxophone repair technicians in China, and to encourage current students, Curt and Jerry from Tenon Music will visit schools and give clinics after the trade show. They will be in Shanghai on Monday, October 14, in QiangDao on Wednesday, October 16, and in ZhengZhou on Friday, October 18.
Stop by the booth or attend one of Curt's clinics if you are in the area! Also, if you need to place an order for supplies or tools and would like to save on shipping, we will take orders until September 27th, 2013 to be picked up at the booth at Music China. Email Leah atOrders@MusicMedic.com for more details.