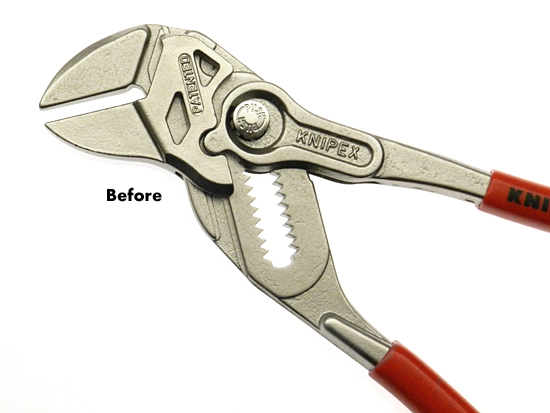 One of the many great benefits of having an assembly-line saxophone repair shop is that each technician does the same job for 8 hours a day, 40 hours a week, and they get really good at it.
Key fitting is one of our jobs that takes the longest, so especially at the key fitting station we are always trying to find ways to speed things up. We recently created a new pair of swedging pliers by modifying a pair of imported Knipex pliers.
The length and quality of the pliers add leverage and swedging becomes faster with less stress on the technician's hands. The quality of the jaws with a nice cut appears to decrease the possibility of marring. We're modifying the profile now to give more clearance and we'll keep you posted on the process.
For all you techs that are thinking "I had that same idea!" Maybe great minds really do think alike. Drop us a line at the shop atQuestions@MusicMedic.com if you have any ideas for this tool as we work on improving it!