If you've ever lugged a Bass Sax around you know two things: 1. Bass Sax gigs are the most fun and lowest pay a saxophonist can get and 2. The bass, in it's case, is a heavy beast!
Even with the scarcity of Bass gigs out there, when someone asks me to play I find myself thinking, "Man, I'm going to have to drag the Bass out in that huge coffin case." Don't get me wrong, lately I've been practicing Bass everyday but putting the Bass in some huge case and carrying it is a real bummer. Until now!
My Old Friend, mentor, business associate and inventor of cool things saxophone (who, by the way, loves long introductions) Steve Goodson of www.NationofMusic.com called me 2 weeks ago and said, Curt you gotta have one of these....
Later in the week, I received thee COOLEST Bass Sax case on the planet. I love it. It's got room, it's got style it's super-great! Did I mention that I love this case? It's huge and has all the glory that a Bass Sax Case should.
My Vintage Conn slips right into the case and fits like a glove. My old case (which is also brand new) was way too heavy. This case has wheels. Yep Wheels. It's contoured, it's got 2 handles a nice zipper and is well padded. I put my Bass in the case during work a few days ago and couldn't help but stroll around. The guys in the shop had to stop working to check it out. I mean, playing the Bass Sax is Uber Cool but carrying it around in this baby ROCKS! Run, don't walk to the nearest www.NationofMusic.com and get a Bass Sax Case.
Incidentally, my old Bass case (which is still basically brand new, is for sale... : )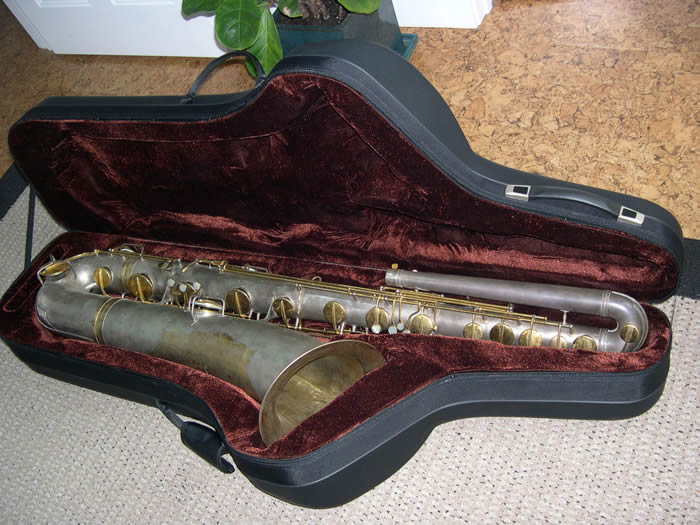 Here you can see my Old Conn Bass inside the case. Fits like a glove. -A big honk'in glove.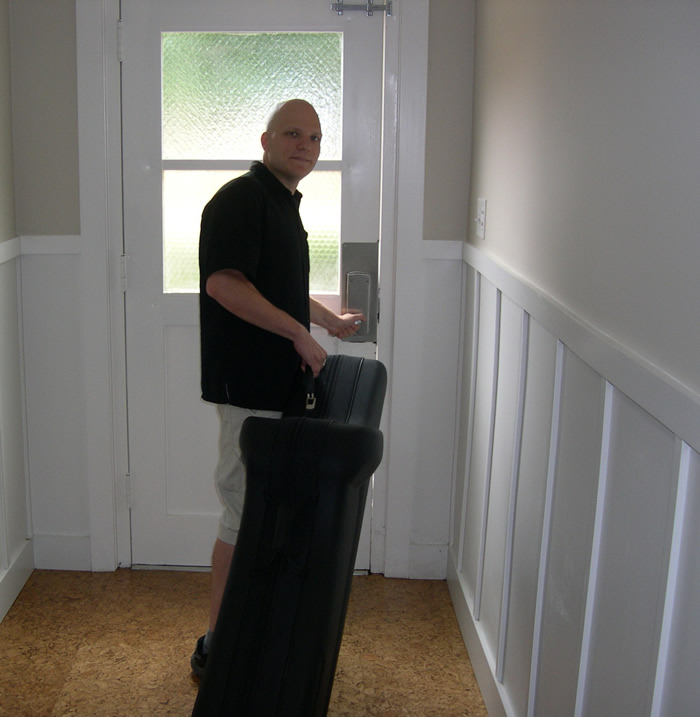 This is what I'll look like when I'm leaving for my Bass gig. Of course, this is a reenactment of a Bass Gig (we looked for a real gig and couldn't find any) but the case is for real!
Steve, I love ya Man! I seldom get things I like and I really like your new Case! Way to go!
-Curt