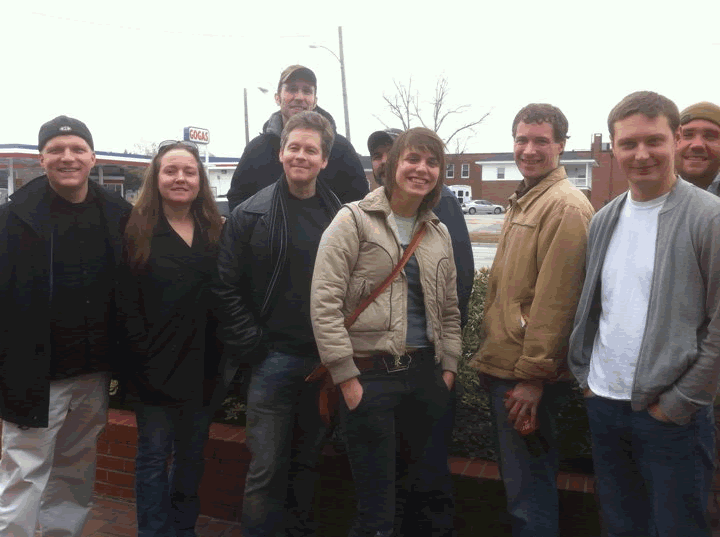 Lunch with Ken and the MusicMedic.com gang.
From Left to Right:
Curt, Jen, Rich (in the back), Ken, Mitch (peeking around Kellie),Kellie, Matt, Buck, Dan... Marvin is around the corner and missed the photo op!
Almost every year around Christmas time we get a visit in the shop from our good friend Kenneth Coon of the Rascher Saxophone Quartet. One great thing about our visits with Ken is that he has been with us, nearly from the start. I started doing work on Ken's baritone when I was a one man shop. Ken has seen my plans and eventually "our plans" grow and change through the years. So, it's always great to have Ken in town to remind us that we are growing!
Back in the day, Ken and I would slave away in the garage of my house where I would work on his horns. Ken's ability to know when something great is happening, helped me to identify some of the things I should keep doing in my repairs and cast off other ideas that didn't pan out. Beyond the amazing work he does with the RSQ, Ken has really helped our Sax ProShop grow by becoming a proud RooPad endorser! At the time of this writing, we have overhauled 2 Buescher Baris, a Buescher Alto and a Conn Tenor: All with RooPads, for Ken.
Thanks for all you do, Ken! Every one of us in the ProShop is honored to have the opportunity to help you bring such great music to world!
So, what are we doing on Ken's horn this time?
Ken is premiering and recording a new Double Concerto baritone and percussion by Mathew Rosenblum next month with percussionist Lisa Pegher and the Boston Modern Orchestra Project. The concert takes place in Jordan Hall on the 22nd of January. Since the piece is written with percussion, our first order of business is to get all the clicks and ticks out of Kens Bari. One percussionist is plenty for that gig.
So, we're tearing the bari down, replacing a few pads, making adjustments, modifying a palm key to make things easier and that's about it for this trip. Basically we're doing a Clean Oil and Adjust on Ken's horn but we have to narrow the scope of the repair due to a lack of time.
Last Christmas when Ken was in the shop we added an X-style braceto his bell to secure the bell to body connection. There has been some talk in the shop that this brace allows the lower tones to speak more freely and with a full voice. I'm interested in that and will be adding a similar brace to my own bari this February when I get my own overhaul!
In addition to this work, Matt has made a really nice extension on Ken's palm Eb key. Over the years, Ken has mentioned this key and how it can be difficult to reach in fast passages, so that is fixed now too.
It's great to see you in the shop Ken and we all look forward to your visits!
Happy Holiday from all of us at MusicMedic.com!