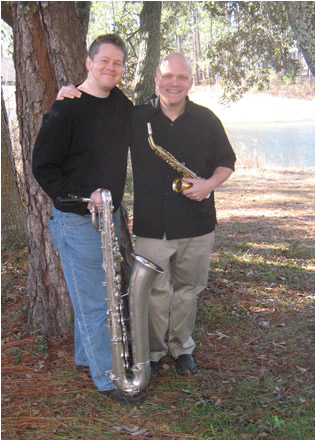 There are a lot of reasons that I love my job. Repairing saxophones is a wonderfully fun and challenging sport were I am constantly pressured to outdo my previous work and solve new problems. It can be hard work but it is not without rewards. Sometimes these rewards come in the form of gratitude, occasionally money, and on rare occasions the rewards are nearly indescribable. This week, it was the latter. The shop was honored with the presence of Kenneth Coon of the Rascher Saxophone Quartet. For me, as a classical baritone saxophonist, Ken's visits are the greatest reward and the highest honor I can imagine.
As a student studying classical saxophone, I used to listen to recordings of Ken and the Rascher Quartet over and over. Ken's huge sound, musical style and amazing control of his instrument, well into the altissimo range, are nothing short of inspiring. In the past I have driven hundreds of miles, stayed in hotels (or my car during the lean times), and saved my pennies, to hear Ken play with the Rascher Quartet. This week I had the pleasure of having Ken in the shop and as a house guest for several days. Of course, I ask Ken for a lesson when he comes to town and his musical insights are amazing. Needless to say, a great time was had by all!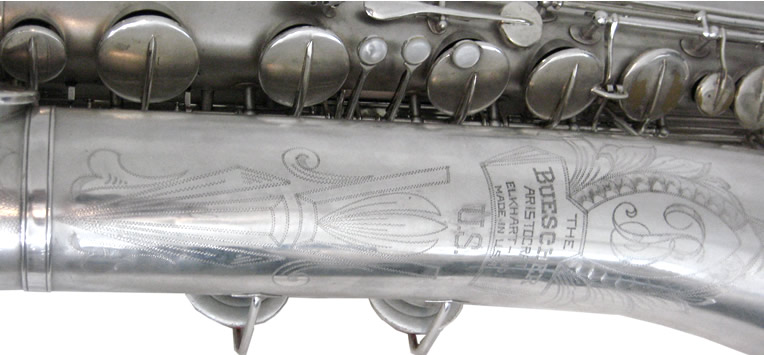 Ken's horns
Ken has been to the shop several times, but every visit is inspiring. This particular visit had a number of cool facets. First, it was great to see Ken and my horn (legally it's Kens horn but we both agree, it's my horn emotionally) after over a year without maintenance. The horn was in GREAT shape and that really makes a father proud. Another great part of this visit was handing over Carina Rascher's Beautiful Buescher Soprano to Ken. Matt and I did a full overhaul on Carina's Horn with RooPads but more about that later.
The first saxophone that I overhauled for Ken was his back-up Bari. I think Ken was testing me with this instrument. It was a good horn with a good soul but it was really quirky. After a lot of finishing work, pulling out all the stops, Ken came in from Germany to play the horn and pick it up. I had done a lot of modifications to his horn to get it to play with a more even tone and fix-up the intonation. It worked but it was a lot of work. Ken played it and asked me to do his primary horn. -later admitting that he knew this instrument needed an exceptional amount of love.
Later, when I overhauled his primary Baritone (the instrument he brought on this visit) I found out why it's his primary horn. Wow, what a nice instrument but it was in poor condition mechanically. Later we overhauled Ken's alto and now his Tenor is here in the shop waiting for an overhaul. This visit was to go through the primary Baritone. It's been about a year and half since we saw this instrument and since that time, it has performed in virtually every major city in the world. It literally traveled around the world in the past year and it was time for a bit of leak work.
Curious what type of work is done on a demanding players horn?
Since this is a saxophone repair blog, I should tell you some of the things that we've done to Ken's saxophones. We try and approach each overhaul from the players perspective; that is, what does the player want? Ken's horn already offered him a lot of what he wanted and I think his main goal was just to get the horn playing tip-top. I knew that Ken would appreciate smooth action, near perfect intonation and most of all a consistent tone from top to bottom.
That said, most of the truly creative work we did this Baritone was in the tuning and toning. Although we do a few modifications on the instrument.
Modifications to we did: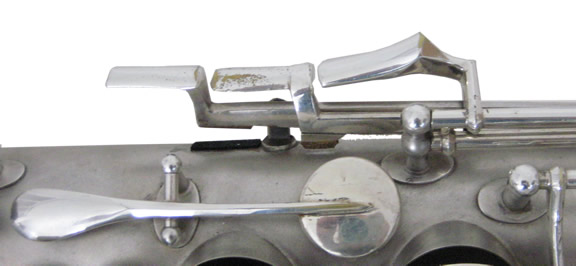 -Side key contacts installed under the side keys to give the key work a more positive feel and keep the keys from bending over time. (pic above)

-Modified Bb guide which keeps the unusually long side Bb under control (pic above)
-It's difficult to see but there are engage-able tabs installed on the G# lever. This keeps the feel of the C# Key the same under normal playing but allows the player to flip down a tab when it's time to play in keys like E, F# C# etc.. (pic above)
-We also added some palm keys risers and adjusted the configuration of the LH table to make travel from C# to B and B to Bb easier.
-In this picture you can also see an elevated Bis pearl intended to make going from B to Bis Bb easier and more comfy.
I'm sure there are some other mods that we did but we overhauled this horn years ago.
Ken's Buescher Big B Baritone was always a great horn with a huge sound. Even with this wonderful instrument to work with, there were a number of improvements that I made during the overhaul to allow it to play evenly and in tune. These adjustments and modifications are more difficult to picture and describe but to a player like Ken, they are huge improvements.
Starting at the top of the horn here are some of the improvements I made while tuning and toning the horn.
-Crescents were installed in the palm keys to lower some of the pitches.
-Very few Crescents were installed in the body of the instrument. You can actually see one or two in the pic below if you peer into the tone holes.

-All cork was removed and more appropriate synthetic materials were installed on key contact points. This keeps our now-crucial key heights and adjustments from changing.
-On this baritone, the Octave A tone was fuzzy, this was completely corrected by modifying the octave pip and adding a webbing to disperse the air traveling out of it. A portion of what I did is described here:
- Some tones such as, high C, alternate F#, side C, forked Eb, and low B were not as clear as other notes on the instrument. To bring these notes into 'tone' we added a sandpaper liner to the tone holes. This process is described here:
The results are excellent and most of the once difficult notes on the horn now play with a full and even voice.
I'm sure there are other modifications that did to Kens horn but again, it was years ago that we overhauled it. Kens Gold plated Conn Tenor will soon get a full overhaul and I'll try and post some pics and info about that horn too when I have it done. Of course this instrument will be lovingly overhauled with full tuning work and any needed modifications. I don't know what resonators we will put on this horn yet but Ken insists that we use RooPads! Ken will now have RooPads on all of his horns.
On Kens next visit we may add a second bell to body brace, a clothing guard on the back of the horn and a low C guide designed to keep the low C pad from falling out of adjustment when bumped.
About Carina Rascher's saxophone.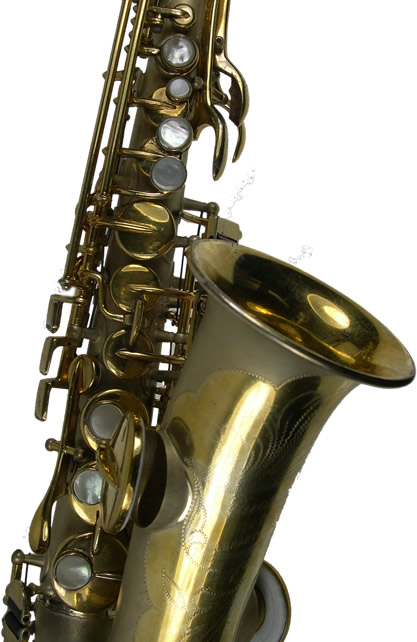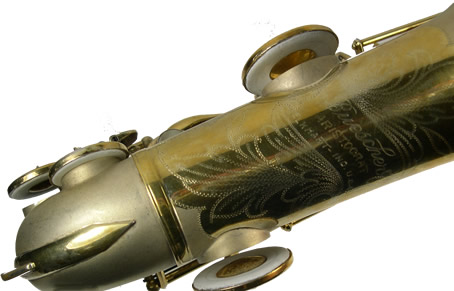 What can I say, it's such an honor to do this work. Carinas soprano was a diamond in the rough when it came in. Carina seemed to like her horn the way it was, the way she played it so wonderfully her whole life, and we respected that. There was a real temptation to do some great mods on this horn and make some improvements but we resisted. Carina wanted an instrument that would have a positive feel in her hands with a firm spring tension and the lowest key heights possible. We stuck with this and did all we would to get the instrument playing it's best. This instrument is now on a plane headed back to Carina in Germany and I really think she is going to enjoy playing it. In the pictures below you can see an image of Kenneth Coon's Baritone Supporting Carina's wonderful soprano.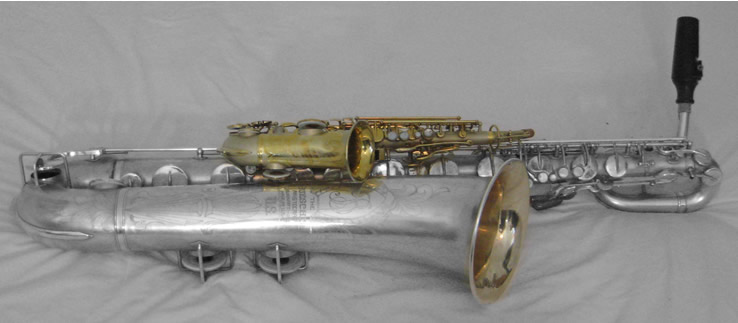 Thanks for reading!
-Curt