I had a great time during my trip to USM and to New Orleans last week. I avoided the fury of Hurricane Irene, and everyone at MusicMedic.com and the Sax ProShop weathered the storm with no problems. Thanks to all the kind folks who sent emails and called to make sure we were all okay!
It was excellent to be back at my alma mater, USM, to speak with the students and my former teacher Dr. Lawrence Gwozdz. Dr. G. is truly a great teacher! I've given clinics at schools around the world, and the students at USM showed an aptitude and interest in learning that can only come from having an involved and insightful professor like Dr. Gwozdz.
After I give clinics, when I offer to individually assess tuning and toning issues with clinic attendees, it is not unusual for many of the players to line up outside the door to meet with me. What was unusual about this time was that when I met with the first student, all of the rest of the students wanted to be there as well, so they could learn about their colleagues' saxophones in addition to their own! Very impressive.
The trip to USM was great and too short, but I also wanted to make sure I got the chance to visit Steve Goodson, my mentor. I once again made the 2 hour trip south that I had made so many times while I was in grad school.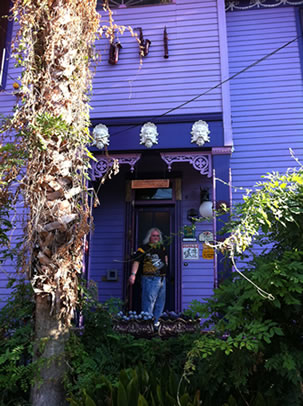 I was really interested to see how Steve's house made it. I knew that during the hurricane (Katrina), he had as much as a foot of water on the main floor, and one wall ripped off the side of his giant house in downtown New Orleans. They restored the house beautifully and even improved on it; it's absolutely gorgeous!! Steve and his lovely wife Sharon, in their usual flamboyant style, added iron grills, huge mosaics, and wonderful shades of purple; it's possibly the coolest house I have ever been in!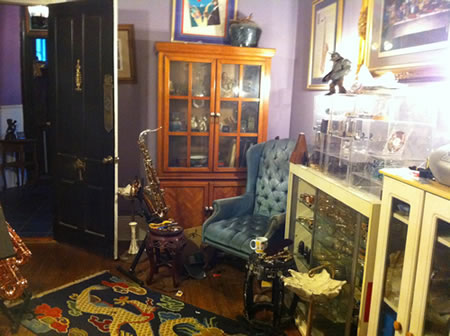 But aside from that, what's even cooler is what Steve is doing inside the house. He's always talking about his innovations and his latest projects, but going there and actually seeing it first hand really brings to life how outrageous the work actually is. Imagine one complete room of the house with just mouthpieces laid out from wall to wall. Steve is cutting them with dremels, files, on glass, refacing them, and modifying them in all sorts of ways. He's got mouthpieces made out of wood, hard rubber, metal, plastic, anything you can imagine, and he's got bins and bins of necks so he can experiment with different neck and mouthpiece combinations.
Anything that you can imagine that has to do with Saxophones, Steve has done it, is doing it, or will be doing it. Seeing this and seeing my former teacher still pushing the limits of what can be done is really inspiring. Specifically, his new wood mouthpiece, the Jack of Spades, was really interesting.
I also got to see Steve's showroom, which used to be all vintage horns. It still has vintage horns of course, but it's also got all of the horns he designed there too, for anyone to try. Some of the modifications Steve is making on his horns are simply outrageous! Many of them, however, make you wonder why every manufacturer is not doing what Steve Goodson is doing on his saxophones?!
After getting the opportunity to see all the cool things Steve was doing, we went to a Thai restaurant to eat. But in true New Orleans style, it was Creole Thai. It was particularly interesting to see Sharon's order of Red Curry Crawfish!
Thanks to Dr G, the USM sax studio, and Steve and Sharon Goodson for the memorable trip!