As we enter the design phase of our project, I'd like to share a few pictures so you can have the before and after experience. This is quite a project and the end result will be impressive, especially if you see what we are starting with.
For pictures I'm going to show you an aerial view first, then the street level pics will make some sense.
So, below is an aerial view of the building. Notice that we're right on the tracks? Should we need it, I can request that a train stop right outside the back loading dock. As the building is only 9 blocks from a major port, this may be useful.
I left the building next door in the shot for perspective. There is a tractor trailer parked there. It amazes me how small the tractor trailer is compared to the building!
So, here's the tour.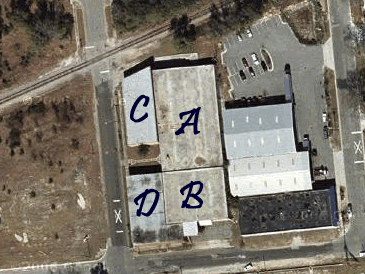 Section A: The Shop.
This is all MusicMedic.com's new shop. At nearly 20'000 sq feet, it will surely provide ample room for us. There will be more room in section D should we want to expanded further. This part of the building is the one we are most excited about. I am in the process of designing the offices and and shop portions of the building now. The offices and shop will be partitioned off from the rest of section A, leaving room for manufacturing and a warehouse space.
Section B. The Parking Deck.
Notice in the picture that there is very little room for parking? This was a huge consideration when we bought this building. There is a lot of building but only a few on-site and street side parking spots. To solve this we are going to take section B and turn it into a parking deck. It's about 8500 sq. feet and will hold plenty of cars. Right now Section B is just like the rest of the place. It's a huge open concrete room with concrete pillars. We have a great architect working on the plans to make this part of the building a parking deck. It's going to take a lot of work including building a ramp, fire exits, some major ventilation and the addition of a few large, fireproof bay doors. When it's done, it will be a real convenient space for everyone to park indoors.
Section C: Home sweet Home
I'm going to take this portion of the property and live in it! Section C is the original building, it was built first and differently than the rest. This building is free standing, it shares no walls with any other buildings on the property. Like the other parts of the building, it's got a concrete floor, is an open room with pillars and is one story. Unlike the rest however, the walls are block, the roof is wood and the pillars are made from wood, not concrete. There are windows along one long side which provide plenty of natural light. We will add glass block windows along the other side for more light. The rafters inside Section C are very cool and totally exposed. It has the feel of an old mill right now. I've seen some very nice homes in our area where this exposed wood look was integrated with a steel frame. The steel beams were covered with wood to make it look like the wood held up the place. Our home will have the real thing and will most likely have an urban loft feel to it.
Section D: The future:
I've had many conversations with various music related entrepreneurs who are considering section D. Eventually we may want to expand into this section but I think we have plenty of room in the rest of the building for now. We will have over 7000 sq ft of indestructible lease space with outside and indoor parking and a loading dock outside. There is also a large Bay door that opens into the parking deck. I am always open to hearing your ideas if you need warehouse space for your products.
OK back to my repairs... more on the Headquarters later.
-Curt