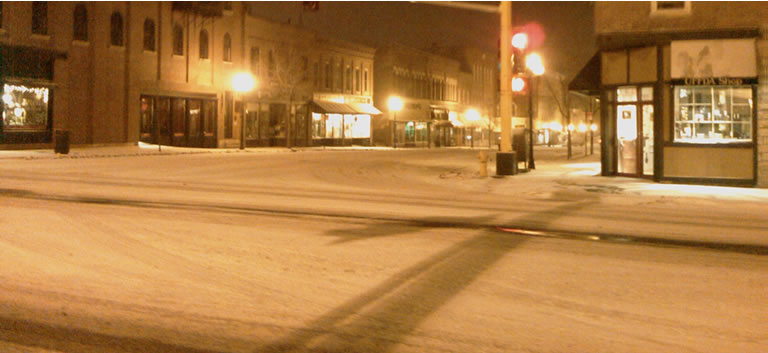 Downtown Red Wing on a snowy night
One of my favorite things to do is go see other repair shops. As a tech, it's very cool when another tech lets you into their world, giving insight into how they do things and how they set up shop. This week I was able visit on of the most 'bling-bling' shops in the country and I want to share it with you. This experience was extra special for me as I'm on the advisory committee for this place and not only do I get to experience the latest and greatest in repair, I get to give my opinions on how to make it better!
The shop I went to is more than just a shop really, it's a mecca of learning and growth. If you ever happen to be near Red Wing Minnesota, you have to stop at Minnesota State College Southeast Technical, home of the Red Wing repair School. Visit with the guys at Red Wing, and you will quickly see what an outstanding bunch of people and bright future there is there. The only thing I regret from my visit is not staying longer in Minnesota, but alas, there is work to be done here in Wilmington.
Of course the facilities at Red Wing are awesome, and I have pictures to prove it, but the most exciting aspect of the shop and the Band Instrument Repair program are the students and the professors. As I was sitting in this super cool mega classroom filled with more tools than you could shake a contra-bass sarousaphone at, I couldn't help but think, what a great vibe there is here in the repair school. Lucas Pemberton, Greg Beckwith and John Huth are some some the most upbeat and straight forward guys I know. The whole trip, the meetings and the conversations at the local pub continued to be steered toward "how can we improve" and "What do we need to do differently to better serve our students and our industry". The students I was fortunate enough to chat with were amazingly on point. In fact, just talking with the students at Red Wing makes me think I wish I were hiring! Soon...
I really can't say enough about the atmosphere and the vibe at Red Wing, it truly is a learning environment where positive attitudes abide a desire to improve rages on. Bravo Greg, Lucas, John and all the students at Red Wing.
OK enough sentimentality. Lets talk about the shop! This place is repair tech's dream. Talk about tooling. I wish I had time to open every drawer and look in every closet.
Let's talk shop from one side of this multi-room mega shop that they have to the other.


The Brass repair shop. This place is so big I had to use the panoramic function on my camera! In this picture you can see a good part of the shot. In the picture is Nicole Roberts who lead the tour of the shop. Nicole has also taken it upon herself to organize and categorize parts, horns and repairs in the shop. Great job Nicole!


Starting on the far end of the shop is a buffing room to die for. When I took this picture, Greg said, "oh no the buffing room is a mess I hate to have people see it like this..." Man, if that's messy I wonder what clean looks like?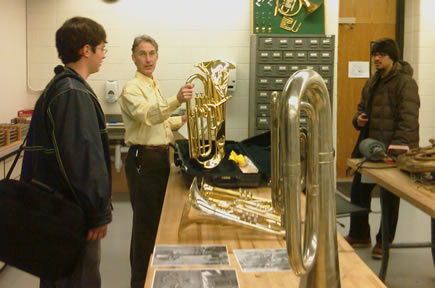 Here is the super organized and talented Greg Beckwith in his Brass repair shop. Greg is showing off a Baritone that they are about to repair. That's some job!


With so many horns to work on and so much work happening at Red Wing, I guess the ceiling is the only place to store the huge array of instruments they have. This is just one small section of what looks like trumpet bells which hang from the shop ceiling. Pretty cool to see really.
That's all the pictures of the brass shop I took. I wish I took more. There are soldering stations, dent tools, drawers and drawers of tools. It's a repairman's dream come true!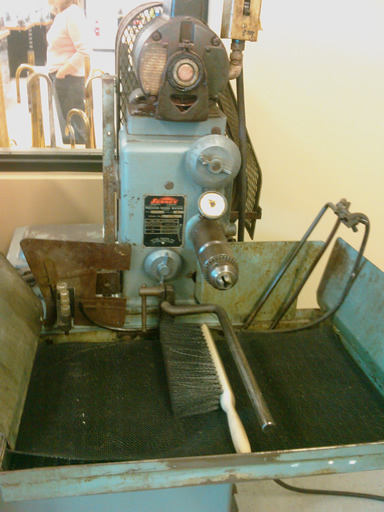 Leaving the Brass shop, there is an area in between the brass and woodwind repair shops that house several wonderful tools and supplies. Only a few of which I took pictures of. The picture above is a Hone used for brass valve casings. This picture does not do this piece of equipment justice.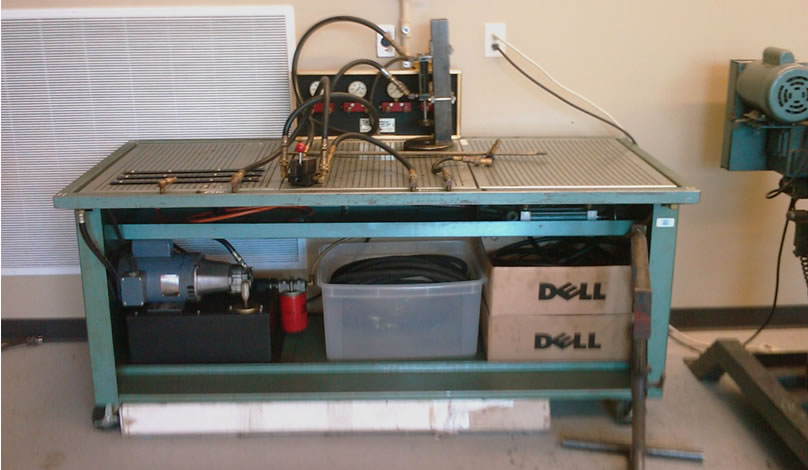 For the shop that has everything... this is a hydrolic table. Someday I think those guys are going to be drawing tubing and making lead pipes on that. Wow.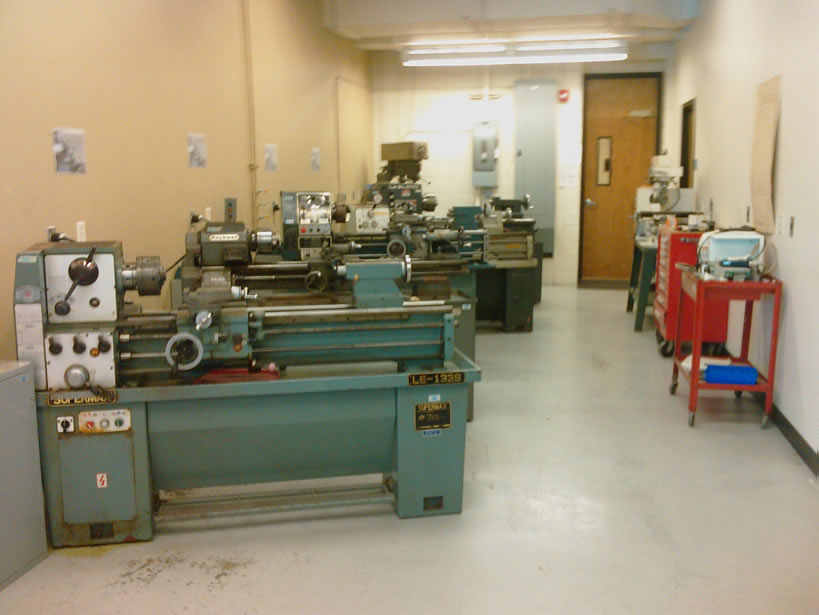 Look at the tooling. Students that leave Red Wing know how to use these tools including the lathes pictured. I think that skill is invaluable in a world where repair parts are getting harder and harder to find.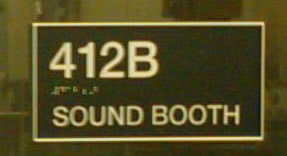 Yep, they even have practice rooms.
OK, so even though I'm a woodwind tech, I didn't get any pictures of the woodwind shop. Sorry Lucas! You will have to go to Red Wing to see the super-cool woodwind shop complete with every tool under the sun, supplies and even an overhead camera on a remote where the profs can show the whole class a close-up shot of damage on a 3-48 thread from across the room!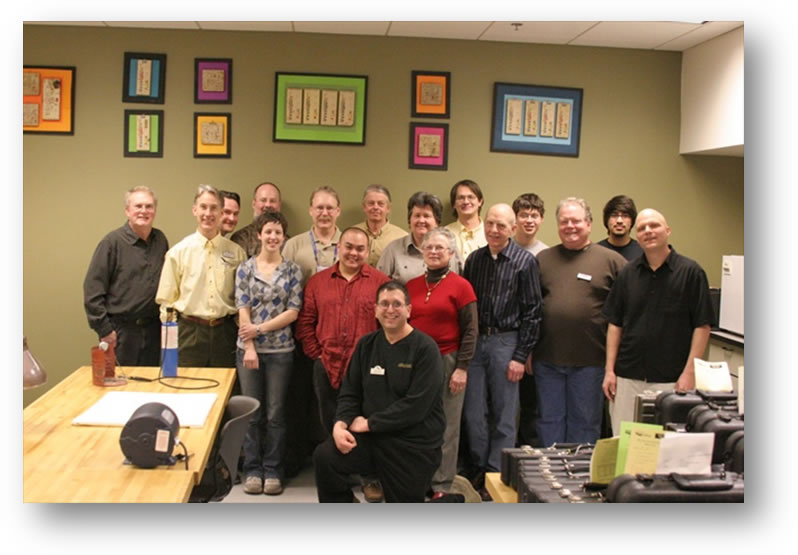 After the advisory committee meeting, we took a picture. Note that The students Frankie Rodriguez and Nicole Roberts are in the picture. These two students are a shining example of the greatness that is happening at Red Wing. These two ran the tours of the shop attended the meetings and have absolute involvement in their education. Bravo you two, some employer is going to get a real treat when she hires you!
To all my friends at Red Wing:
Thank you so much for allowing me to visit. Being on the Advisory Committee of such a outstanding organization means a great deal to me and I look forward to watching, and helping you grow!
Bravo!
-Curt
If you want to learn more about the Repair program at Red Wing contact Greg, Lucas or John. You can find their info here:
http://www.redwingmusicrepair.org/