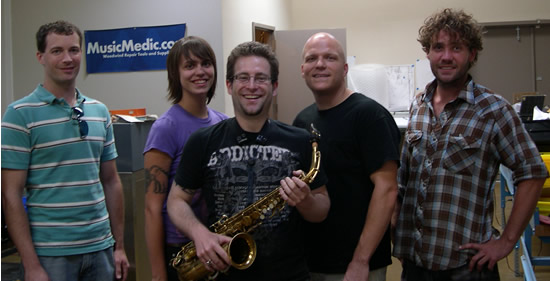 Today, we had a visit from classical saxophone superstar, Elliot Riley, alto player with the Rascher saxophone quartet! It is a true honor when one of the finest classical saxophonists in the world trusts you to overhaul (Überhaul, really) his instrument. When our friend Elliot comes to the shop, the whole place lights up. Of course you know that Elliot is an amazing player, but some of you don't know how wonderfully down to earth guy he is. It's great to work with such cool people. I'm really proud of the guys and girl in the ProShop! You folks, simply by doing the same thing you do everyday, made Elliot's horn great! You guys are awesome!
I've posted pictures of Elliot's Überhaul on my Facebook page. If you're curious what kind of things a superstar has done to his saxophone, friend me there and check it out!www.facebook.com/CurtAltarac
Also, Check out the Rascher Quartet's upcoming concerts at:http://www.rsq-sax.com/
Of course, no trip all the way from Germany would be complete, without, you guessed it! A trip to Flaming Amy's!!
Thanks Elliot, we all look forward to your next visit!
-Curt