Shortly after the Saxophone Day in Atlanta, there will be another fantastic event for saxophonists in the area: The Carolina Saxophone Day, hosted by our friend Steve Stusek and the University of North Carolina at Greensboro. Curt will not only attend the event, but also give a saxophone repair seminar.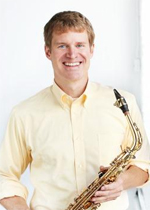 The Carolina Saxophone Day will take place on Saturday, September 28th from 8am-6pm. Join Curt for his repair clinic at 11:30am, participate in focus sessions and master classes, check out the exhibits and recitals, and share your love for all things saxophone with old and new friends from all over the country.
The event is open to participants of all levels. Aside from Curt, other guests that day will include The Oasis Saxophone Quartet, jazz soprano saxophonist Sam Newsom, The North Carolina Saxophone Ensemble, the UNCG Saxophone Ensemble, Laurent Estoppey, Jason Wallace, and a mass saxophone orchestra. For more information and to register, check out Steve Stusek's website at
http://stevestusek.com/carolina-saxophone-day-info/.