Nearly two years ago we started to make all of our Saxophone pads right here in Wilmington NC. Almost instantly, our customers noticed that the quality of our pads greatly improved. With absolute control over production, the thoughtful folks in the PadCompany, along with the help of the ProShop, are now able to make what we believe are the finest pads in the world. But don't worry about us stopping there. We are working on some amazing new pads that you will love and we believe will revolutionize the woodwind industry. But, for now, we're covering our bases.
You have always asked us for more lines of pads. Now, we are able to deliver and deliver in great time. We have all the pads you need in stock and can make any pad you need. Recently we added a line of Softer, easier to work with pads called "soft feel." These pads are not overly soft or pillowy they are just a little softer and easier to install than our very firm standard line. The "Soft Feel" pads are quickly becoming a favorite among MusicMedic.com customers. Now, we have a thicker "Soft Feel" pad to save you time and money when working on various student and many Pro saxophones.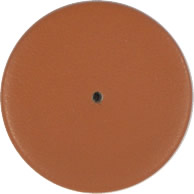 For a free sample of our "Soft Feel" in either the original 4.0mm thickness or the new 4.5mm thickness, write to Questions@MusicMedic.com and ask for a sample. We'll get those right out to you. If you have used our pads, you know they are well made, in the USA, from the finest European materials.
To order some of our new 4.5mm Soft Feel pads, click here.