Issue #6 - March 2010
Saxophone Smack Down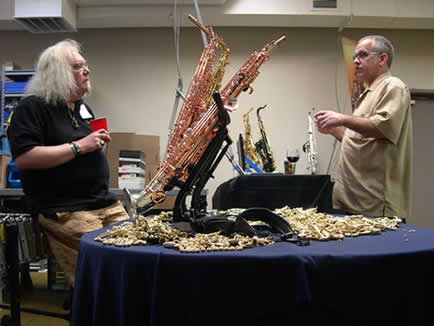 This year MusicMedic.com was the host of the first ever Saxophone Smackdown! The Smackdown is series of clinics aimed at addressing advanced repair procedures of the saxophone. It's also a rock'in good time where techs come from all over the world to party down and enjoy a great time with fellow NAPBIRT members; MusicMedic style.
Saxophone Octave Pips
What happens when you change the length, size, shape or location of a saxophone octave pip? If you've ever wondered, you'll enjoy reading the results of MusicMedic.com's octave pip experiments.
Spring Events!
Red Wing Instrument Repair School - February 2010
Every year I make a pilgrimage to Red Wing Minnesota, home of the Red Wing Repair School and the location of a NAPBIRT Regional clinic. Every year it's snowy and beautiful and I'm caught off guard by the program and the people in Red Wing.
North Amercian Saxophone Alliance - March 3-6 - Athens, GA
There is a thriving Classical saxophone scene and MusicMedic.com is in on it! Come visit Curt and Matt at the NASA convention in Athens GA. We'll have a repair booth set up to do some on the spot repairs as well as a display where you can see our tools and accessories. Bring your horn for a free intonation assessment!
MusikMesse - March 24-27 - Frankfurt, Germany
For those of you in Europe and those that want to go to Europe, use us as an excuse to get away. Come visit us at the Frankfurt MusikMesse in Germany!
NAPBIRT Convention - April 9-12 - Tampa, FL
The National Association of Band Instrument Repair Technicians convention is just around the corner. Curt, Matt and Rich will all be there this year sharing ideas, tools, and throwing back a brew or two. We'll see you there!
New Products!



Mouthpiece Tip Gauge

Measuring Plate




Feeler Gauges




Glass Work Plate




Vortex Air Torch™