Issue #3 - July 2008 
Free Gas with every MusicMedic.com Purchase!
Well, sort of... As gas prices rise, many shippers are adding surcharges to every package. Not when you order from MusicMedic.com. Our shipping prices are NOT going up. As always, we ship free shipping in the US and Canada with reasonable international rates. Use the money you save at MusicMedic.com to fill your tank with gas!
All Pads are In Stock
Reducing back orders is a major priority for us, and orders are now shipping same day with no back orders on pads. Order Flute, Clarinet and Saxophone Pads with confidence, knowing that we have what you need. In response to customer demand, we're now offering quantity discounts on Plastic Resonator Sax Pads. Before you buy another woodwind pad, you owe it to yourself to try our pads and benefit from our good stock, great prices, free shipping and no minimum quantity orders!
Pressed Felt Clarinet Pads
After much research and development we are proud to offer a professional quality Pressed Felt Clarinet Pad. The firm, flat pressed felt in these pads was designed exclusively for MusicMedic.com specifically to hold its shape very well, yet take an impression. Unlike other pressed felts used for making woodwind pads, the fibers in our felt are made parallel during manufacturing. This deep alignment of fibers allows for consistency with little or no expansion and exceptional rebound control. Thanks to all of the pro clarinet techs who tested these pads before production.
Leak Work. The Secret to High End Overhauls - Part II
In the first part of this series, we dicussed the different types of leaks involved in woodwind repair, and particularly saxophone repair. In this installment, we will explore the Four Variables of Pad Installation. more...
In the next issue of Bench Notes, we will discuss the process of installing a pad once these 4 variables addressed.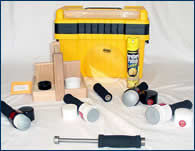 Magnetic Dent Removal Systems
Save time and money while doing great work with Magnetic Dent Tools. If you already have the MDRS tools, check out our new Ball Sets with Free Shipping - Yes, even the heavy MDRS Ball Sets ship free! If you need help choosing a set-up, email Questions@MusicMedic.com and we'll help you get the right tools for your shop.
New Products!



Nylon Jaw Pliers



Parallel Pliers




Pad Cup Pliers




Beveled Head Cork




File Driver




Cross Lock Tweezers