Issue #2 - March 2008
Shows Shows Shows!
Dear Friends, Over the past four months MusicMedic.com has attended more trade shows, music education fairs, instrument repair clinics and conferences than ever before. This seemingly endless line of shows has put our new products into the hands of many new customers! The popularity of the RooPads is growing exponentially, and we will soon be adding European and Asian distribution.
At the Midwest Clinic in Chicago I had the opportunity to talk with my close friends in the industry as well as band directors from nearly every major university. We had a wonderful time discussing the latest trends in the music industry.
At the NAMM show in Los Angeles I had the pleasure of bringing my right hand man Rich Zimmerman. He not only made the entire experience a breeze for me, he finally had the opportunity to meet some of our customers in person. When we returned home Rich had this to say: "I can see from meeting so many people in just a short period of time that not only is our company growing fast, but gaining a lot of respect. It was a pleasure to see our friends from Precision Pad, David Temby from Melbourne Australia and the venerable Steve Goodson. I can't wait to do it again next year!"
At IAJE in Toronto, I saw many old and new Canadian friends and it was great to hear Paquito D'Rivera play on his RooPads! Several of our Canadian customers came to see us at the booth and told us how they appreciate our free shipping to Canada.
During the month of February at TMEA in San Antonio I had the pleasure of meeting with my good friend and clarinet specialist Tom Ridenour. We discussed some exciting new projects that I can't wait to get started on.
A week later I found myself on a plane again! Only this time my key work specialist Matt Scott and I were headed to Minnesota to the Red Wing Repair School. We gave a two days of clinics to the students at the school and regional NAPBIRT members. Matt also gave his second clinic on tone hole work and is really shining as a professional key work specialist and Clinician.
Now it's time for the Musik Messe in Frankfurt Germany. For all of my good friends in Europe, I am truly excited to see you! This year at the Messe we will be showing off our new RooPad endorsers, our Magnehelic Leak Tester, the Magnetic Dent Tools, new pliers and many other new products we have developed over the past few months. Our booth and hall number at the Messe are: Hall 1.1 Booth A22
RooPads are in Stock
There has been so much discussion of the superior quality of the RooPads that I am proud to say we have all of the white RooPads in stock. I have a new method of processing Kangaroo leather that makes it stronger and smoother than ever before. This method is totally unique to us and completely proprietary! As soon as this development is completed for the SaxGourmet pads you will be informed! For now enjoy all the benefits of the RooPads with our Free shipping and excellent quantity discounts!
Leak Work. The Secret to High End Overhauls - Part I
Fixing leaks is a passion of mine and I have spent much time at the bench practicing. Before a technician attempts to remove leaks, he must figure out which of the two basic types of leaks he is dealing with, a pad leak or a timing leak.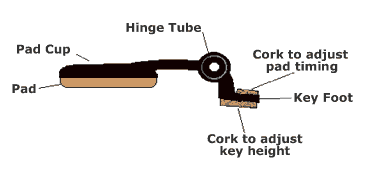 Pad leaks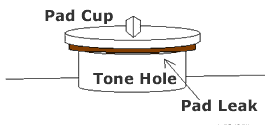 Pad leaks are the first leaks that we need to address when repairing woodwinds. It is impossible to repair any timing leaks before leaks in the pads are under control. As with many problems Pad leaks can only be addressed one pad at a time.
A pad leak occurs when one part of the pad touches the tone-hole before another part of the pad. When the pad closes, the entire circumference of the pad should come in contact with the tone-hole at the same time.
All saxophones leak because it is impossible to get a piece of leather-wrapped-felt and a ring of metal to make contact at the EXACT same moment around the diameter of the pad. As a repairer you have to decide how exacting you want to be. The more exact you are the better the instrument will respond and the easier it will be to set the pad timing. It is not uncommon for me to spend several days play testing and removing leaks on my professional overhauls so that every pad has settled and seals 'perfectly'.
Timing Leaks

Pad Timing is the ability of two or more pads on a mechanism to close at the same time. When the pad timing on an instrument is not properly set, a Timing Leak results. More specifically, pad timing is the ability of one pad to close against the tone-hole while operating a linkage that lowers another pad at the same time.
Although pad timing can sometimes involve many pads, it is best to only concern yourself with 2 pads at a time. Often pad "A" will close pad "B" and pad "B" will close pad "C". In this case make sure that Pad "A" will close pad "B" at the proper time and then, check the timing between Pads "B" and "C". If there is not too much give in the mechanism pad "A" and pad "C" will close at the same time.
Because Pad Timing is set by adjustments in spacing material between keys, it is best to use a material that will hold an adjustment. The traditional material for this has been natural sheet cork. Cork is decent silencer, is easy to adjust and produces an aesthetically pleasing result when properly cut. Because of its ease of use I would recommend natural cork to any technician who is just starting to learn the trade of repair or for student work. However, there is one large draw back to using natural cork for this purpose; cork compresses over time. Because of this flaw I have found that adjustments in natural cork are not permanent. TechCork is a much more effective material for timing issues. Although it is not as easy to sand as natural cork, the results are more permanent because this material does not compress over time. TechCork also offers good silencing properties. Using Tech Cork in the adjustment areas of your woodwind instrument will allow for a more solid and permanent repair and fewer leaks over a longer period of time.
In the next installment I will outline my specific tools and techniques for high end leak work on professional saxophones. If you have questions about this current article you can contact me at: Curt@MusicMedic.com