---
Happy Holidays!
Happy holidays and a successful new year from all of us at MusicMedic.com!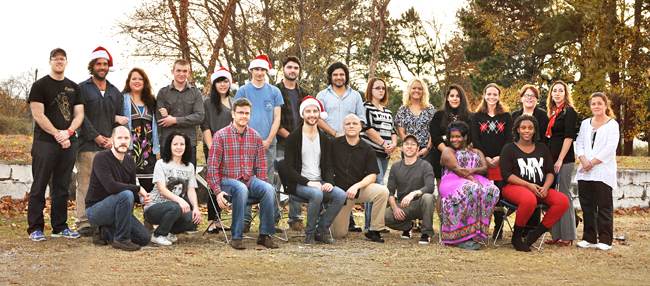 ---
Repairing a Split Seam
At the Sax ProShop we sometimes come across saxophones with a split seam. The damage is often hidden by the bow guard or a skilfully applied patch, neither of which properly seal a split seam. We've found damaged areas even on bows that have a bow guard in excellent shape and that therefore appear intact, so it's a good idea to inspect the inside of the bow to spot a split seam or other damage, especially on Vintage horns. Repairing the hole is easy enough with the help of hard solder, but requires practice for consistent and esthetically appealing results. At the ProShop, we follow 4 simple steps every time we fix a split seam.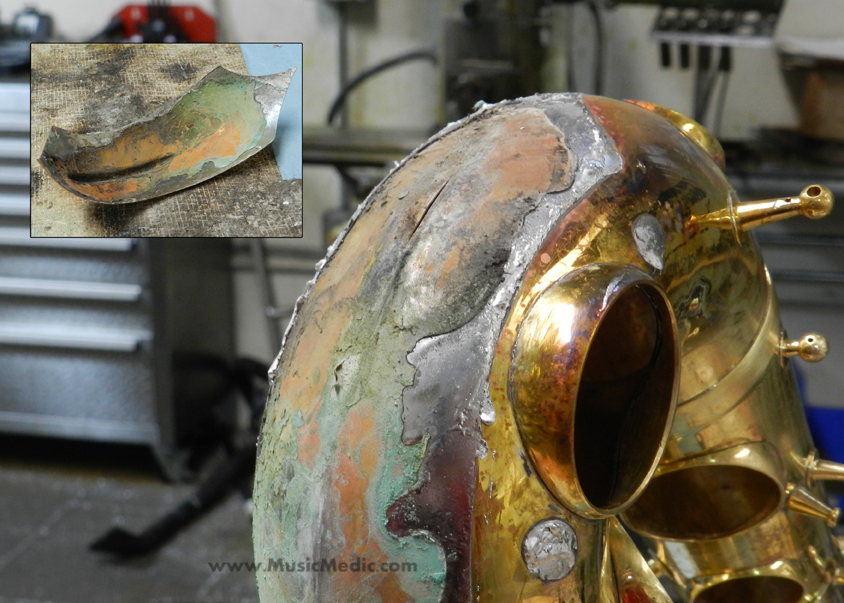 1. Dent Work
It is important to complete all dent work before attempting to fix a damaged horn. Once the area that needs to be patched is dent-free and straight, the actual damage can be assessed more accurately and you can repair the hole knowing no further bending and stretching is required. A fixed seam that needs to undergo further dent work might split again, forcing you to start the repair all over.
2. Cleaning
Cleaning is another step that is necessary for high quality results. The damaged area of the horn has to be stripped to bare brass, grease and dirt need to be removed, and all nearby scratches have to be double-checked. Hard solder does not take to dirt, so any remains near the split seam will mean that the solder will go anywhere but the area you are trying to fix.
3. Hard Soldering
Now that the part of the saxophone with the split seam is dent-free and clean, it is time to hard solder the hole. We use the easy flow silver solder available on our website. You may want to practice this step if you are inexperienced. It is important to know how to concentrate the heat. You only want to flow enough solder in to repair the hole without getting it all over the saxophone.
4. Filing
Once you have repaired the hole, it's time to file the newly soldered area and give it a smooth and even surface. Start off with a fine abrasive and carefully file the soldered area only. Switch to even finer abrasives until the newly repaired spot matches the surrounding area in smoothness.
Proper dent work and cleaning are the basis for high quality results, so we recommend never to skip those steps when repairing a split seam. Unless you plan to silver/gold plate the entire saxophone, the repaired area will always be slightly discolored, even after staining and re-lacquering. Make sure you pour the least amount of hard-solder required to fix the split seam and avoid any excess.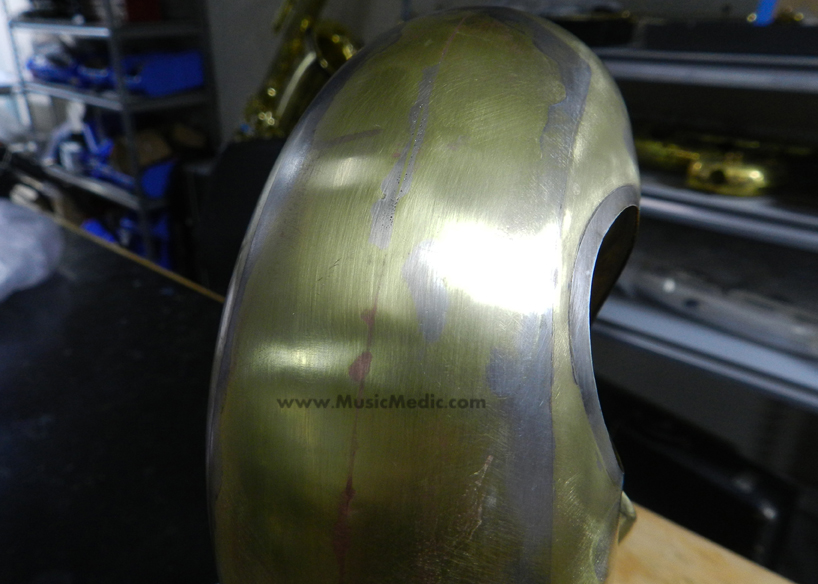 If you have any questions about this process, you can email us any time atSaxProShop@MusicMedic.com. To find out more about soldering, check out our previous article.
---
NAMM 2014
It's that time of the year again - we're preparing for the NAMM show in Anaheim, California! You will be able to visit us in our new location at Booth #4420 in Hall C. We're easy to find, right next to Cannonball and near P. Mauriat and Antigua Winds. And you definitely don't want to miss MusicMedic.com's booth!

Over the past year, we have moved our entire pad production to Wilmington, NC. All of our pads, including RooPads and Saxgourmet Pads, are now manufactured in the same warehouse as our shipping facility. This means increased quality and quality control, reduced back-order times, more lines of Woodwind pads, the ability to make custom pads, and improved production procedures. At the NAMM show 2014 you will be able to see, feel, and test our pads first hand. We are sure you will love them!
Also, Rich has worked hard in 2013, bringing dozens of exciting new products to MusicMedic.com. Some of these are completely unique and were designed with the help of the Sax ProShop techs. Come visit our booth and check out all of the new tools, supplies, and accessories we have to offer.
---
Saxophone Today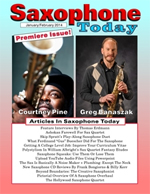 If you have been longing for a fresh and modern saxophone publication, the wait is finally over! David Gibson, the long-term editor of the late Saxophone Journal, has put matters into his own hands and launched Saxophone Today, an online digital flipbook magazine featuring a variety of writers with an even larger variety of topics. If you love saxophones, this is just the thing for you! A subscription makes a great gift for players and techs alike.
Curt is looking forward to be a regular contributor to Saxophone Today and will share articles, pictures, and videos in this new bi-monthly publication. For more information or to subscribe, check out the Saxophone Today website.
---
Saxophones for Sale
With MusicMedic.com, the Sax ProShop, and the new PadCompany working together every day in the same building, it is only natural that we would take the next step and offer saxophones for sale in addition to the repair tools, supplies, and services. Not just any horns, though: We wanted to offer Vintage saxophones fully Uberhauled and not only restored to their former glory, but upgraded to better than new by the Sax ProShop.
Once that idea was formed, Curt began to look for Vintage horns ready to be rescued. We now have a nice variety of finished and in-progress horns on our website! The selection changes constantly, with every sale and purchase, so if we don't have what you are looking for now, we might have it shortly!
Aside from the mechanical and cosmetic restoration and upgrade, each Vintage horn purchased through our website is eligible for an annual Clean, Oil, and Adjust, a process that returns the saxophone to its Uberhauled state at a fraction of the cost and keeps it at the same level for years to come.
Here are a few of the Vintage horns we have here right now. To view them all, check out the Sax ProShop website.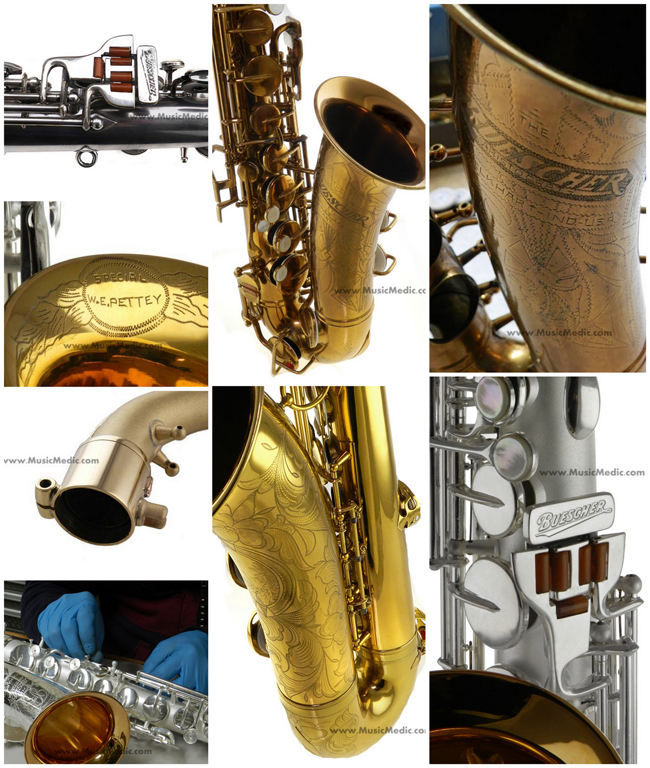 And if Vintage isn't for you, we recently added the Chateau line of saxophones to our website as well. Made by Curt's good friend Jerry Chang from Tenon, these modern saxophones are excellent and have options for pros and students alike.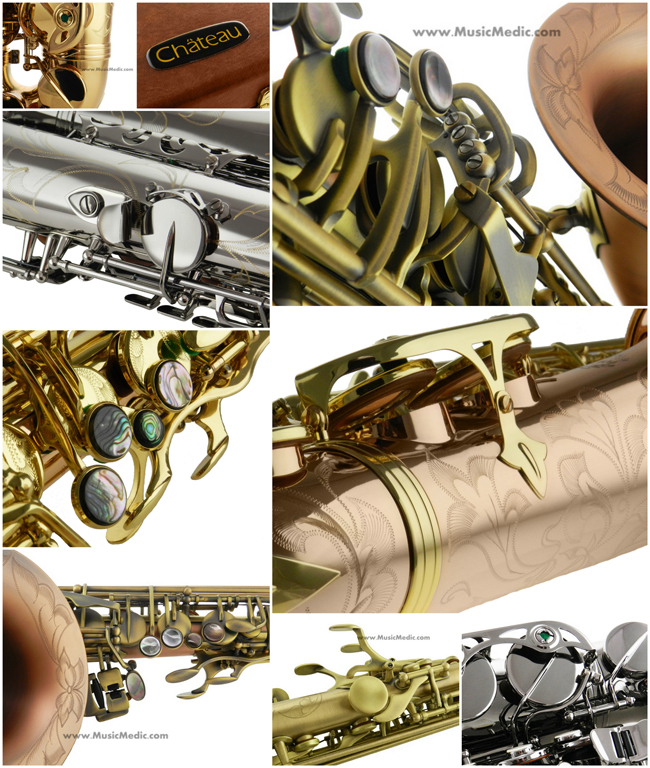 Email us at SaxProShop@MusicMedic.com for more information or to purchase.
---
NEW PRODUCTS