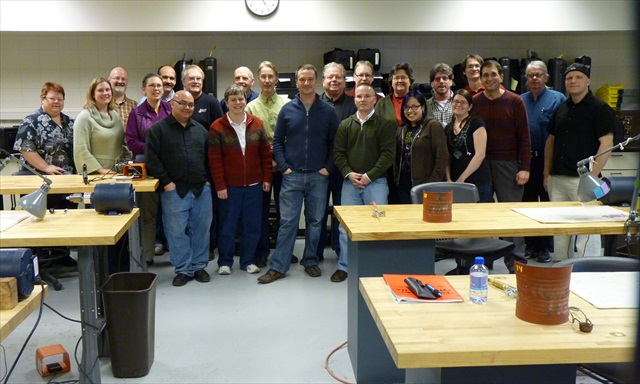 Red Wing Advisory Committee
I just got back from a great time at the Red Wing Repair School, the NAPBIRT regional clinics, and the advisory committee meeting, of which I am a member. As usual, it was a jam packed 4 days with lots of learning, discussions, and new ideas. Being part of a connection between NAPBIRT and Red Wing is really an amazing experience!
On Thursday, I talked to the students about setting shop standards and the students designed their own versions of overhaul stations. I always enjoy meeting the students each year and seeing their excitement and passion for repair being fostered by the school's great instructors- Lucas, Greg, and John.
Following the clinic, this time I used a bridge to get across the Mississippi River and once we were on the Wisconsin shore, I went with the night owls to The Harbor. Lots of great conversation went on well into the night, thanks everyone!
On Friday, I enjoyed a presentation about saxophone repair given to the students by saxophonist Carl Thacker: RooPad endorser, top notch technician, clinician and owner of Carl's Pro Band. His son, Travis, then spoke to the class about removing play from French Horn rotary valves and some other set-up procedures. What an amazingly, kind, talented and knowledgeable father son combo these two are. Great Job Carl and Travis!
The next day, I attended the all-day lathe clinic taught by Lucas Pemberton, John Huth, and NAPBIRT's own Bill Mathews. No matter how many lathe clinics I attend, I always learn a new technique or idea that I can apply to my own work.
Later, some of the clinicians, instructors, and myself, went to one of my favorite restaurants in Red Wing, Norton's Lucky Cat Lounge. This time it was the older crown (not old, just older), Bill Mathews, Craig Anderson, Lucas Pemberton, Carl and Travis Thacker, with Mark Sorlie in earshot...
As I was ready to fly out on Sunday, I narrowly escaped from the impending blizzard! The snow had really begun to fall, and my plane was the last one to depart before they closed the airport. I hope everyone else was able to get back safe before all of the snow hit.
Thanks to my friends at NAPBIRT and the staff and students for another great time in Red Wing. See you again next year!
Now we're all getting ready for the upcoming trips, clinics and shows at UNT, Reno, Frankfurt and Paris. See you next time!
-Curt