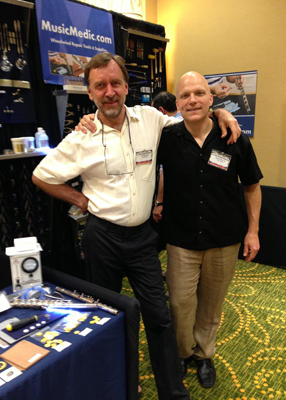 Curt is back from the NFA and had a fantastic time exchanging ideas with old and new friends, talking about all things flute, and enjoying the exciting city of New Orleans.
Three different prototypes of our future product, the Flute Post Aligning Tool, were on display at the MusicMedic.com booth. Visitors tended to prefer the lever over the pliers, so we are now working on perfecting the lever and beginning production. Getting the feedback directly from experts working on flutes was a great and invaluable opportunity.
Curt enjoyed spending time with his friends Steve Goodson and Jim Schmidt as well as Jerry from Tenon Music, the manufacturer of the Chateau Saxophone line. Curt and the Sax ProShop have been working with and advising Jerry on improvements to his line of saxophones, and we're so excited and pleased with the results that we will add them to our catalog soon. They are good, solid saxophones and will be a great asset for any player.
Another announcement we made at the NFA was that black RooPads for Clarinet will be available very shortly! We are extremely excited about this and can't wait to offer them to everyone. Check for updates on this in the near future.