Today is the first day back from Music China! I'm going to miss all the really great people and the wonderful food that China has to offer, but I'm also really glad to be home! Rich and I worked the booth every day of the show and learned a lot about the state of band instrument repair in China.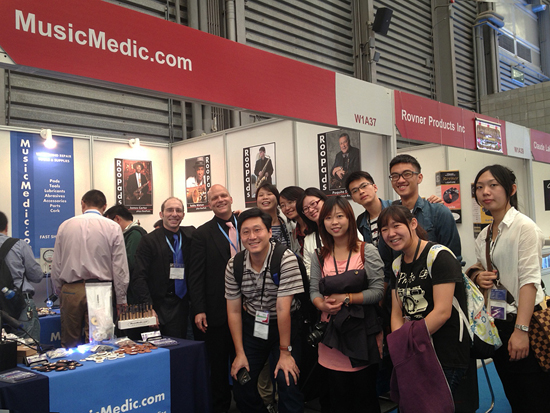 There were many technicians that came to the booth and many of the tools were new to them. It appears that much of the repair that is happening in China is non standard to the extent that sharpened steel rods are being used as screw drivers. It's obvious that China is ready for MusicMedic.com and we're very excited to help. The first thing I believe we need to do is educate repair technicians there. We are spoiled in the US with the existence of NAPBIRT and the general sharing of ideas in and out of the the trade organizations.
As we talked to people at the show, it became very apparent that we can help by offering easier access to tools and supplies as well as education. This is our project now, we had a great talk with a friend in China that is interested in distributing tools and supplies and this will help greatly. Also, I was asked to give clinics on instrument repair many times. I'm going to see how possible this is and work to promote a higher level of instrument repair in China. Clearly the technicians there are smart and crafty, now I believe that we can help by teaching standard repair procedures so wheels need not be reinvented.
I'll let you know how it goes. It's good to be home.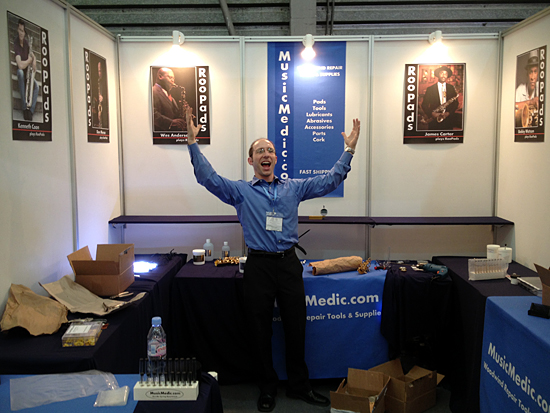 On the last day, there was a crowd of people waiting at the booth in the morning to purchase the last tools we had. What a great feeling of acceptance we got from all the trade show attendees!
Nearly every minute of every day the Booth was packed with people wanting demonstrations, tools and supplies. By the last day of the show we were sold out of product and had very little to take home. You can see it made Rich really happy!