Curt returned from China only a few days ago and he's already packing up for another trip, this time to New Hampshire for the Keene State Woodwind Festhosted by Craig Sylvern. He can be found in the band room from 3-4pm this Saturday, November 2nd, and will talk about innovative Woodwind repair techniques. Bring your saxophones and come prepared for a question and answer session if you are in the area! You also don't want to miss the master classes, lecture recitals, and clinics covering Woodwind instruments, including saxophones, bassoons, oboes, clarinets, and flutes.

Music China in Shanghai was a huge success for Curt and MusicMedic.com. He had a great time at the show, working closely with Jerry Chang from Tenon and meeting famous technician Shinji Ishimori. Curt also spent the week after the trade show traveling from Shanghai to Zhengzhou, Qingdao, and finally Beijing for various all-day clinics at instrument repair schools. He was accompanied by Jerry, Ron, and Tim from Tenon, the makers of the Château line of saxophones, as well as Jefferey and David Guo, owners of Guo Musical Instrument CO. Between all the traveling, they were able to work on a prototype neck to further improve the tone and intonation of the Château saxophones.
As you may have heard, MusicMedic.com is expanding and opening a warehouse in China. This exciting new venture will have Curt working closely with Jerry, Ron, and Tim Chang and be a huge benefit to customers in Asia. Same great service, same great products, but everyone ordering from Asia will be able to save on shipping, get their items faster due to reduced shipping times, and order online on the nearly translated MusicMedic.com website!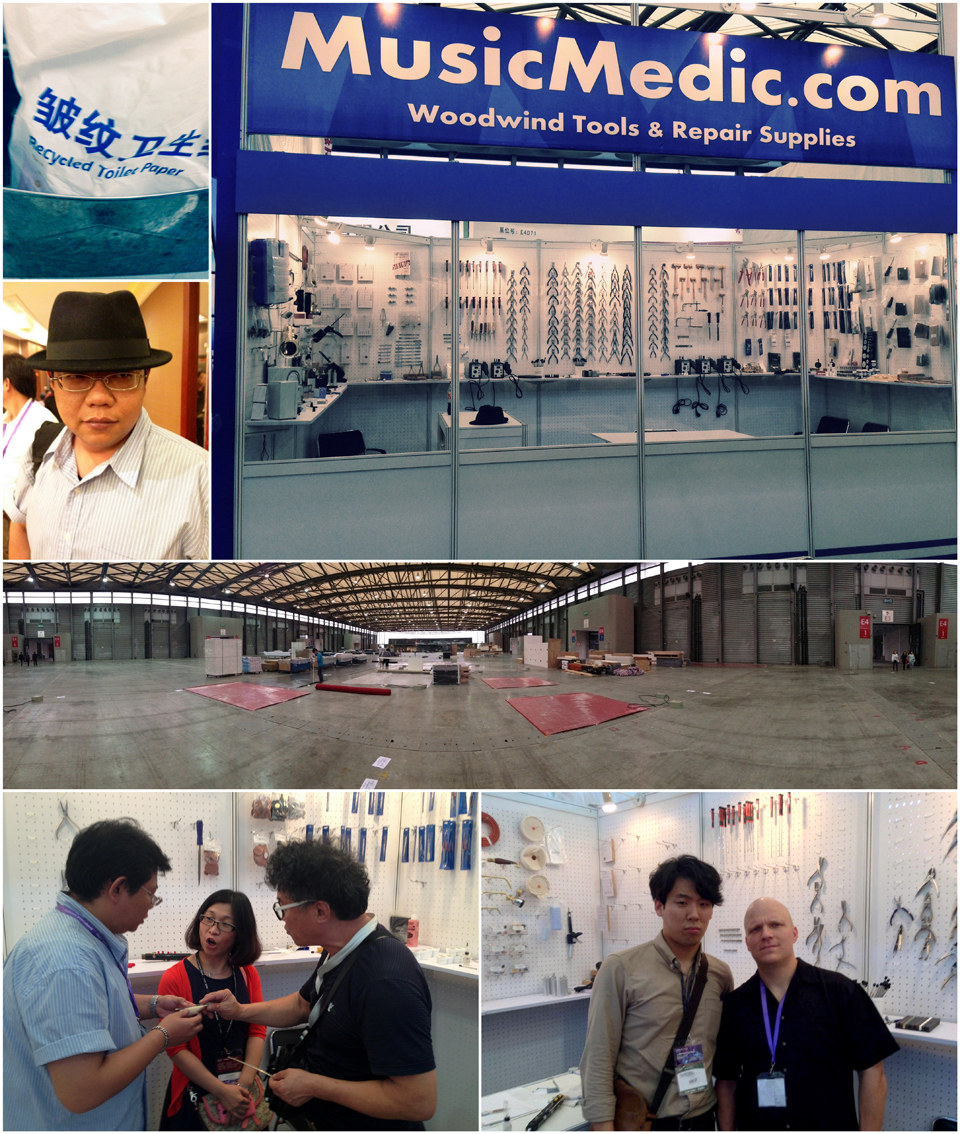 Curt also spent 3 days in Beijing simply vacationing and enjoying the city. He went on a little adventure viewing the Great Wall of China, spent a night in a farm house, and hung out with a group of amazing locals he met on a train. Rumor has it that the local police is still searching for him.
And as a typical tourist, Curt took a couple of videos. One of the yummyfood available from street vendors.
And another one of the bathroom facilities in one of the buildings.
As you can imagine, Curt can't wait for his 3 scheduled trips to China in 2014!