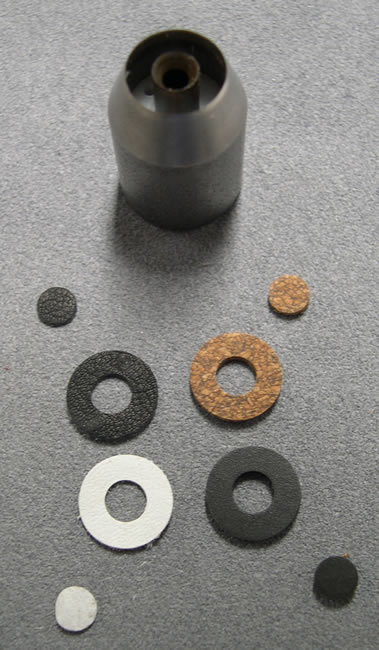 The die cutter that we use in the Sax ProShop to cut out Aperture pads for modern soprano saxophones (the ones with a hole in the center) broke the other day and we made a new one.
After going for a couple weeks without this tool, we all wondered how we ever got along without it! Using this, we can cut any base material and any surface material that we like for our aperture pads. The end result is a pad with a perfectly placed center hole, and it affords us the opportunity to easily make the pads different thicknesses and densities. Different players and pads get a slightly different material. For super stability, I like Tech Cork with a RooPad leather surface, but one downside is that it can be a little noisy. For slightly less stability but a much quieter pad, a foam base with a RooPad leather surface works great.
So, I have a question for you Techs out there...
Do you want MusicMedic.com to sell this tool? Consider that it will cost about $45.00 (free shipping of course). It's a very well-made tool and should work for a few different manufacturers' sopranos.
If you're reading this on Facebook, I look forward to your comments there. If you're reading on my blog, drop me a line at:
Curt@MusicMedic.com and/or friend me on Facebook!