When Wally West comes to town, everything stops and the MusicMedic.com Sax-Pro Shop becomes Wally-World. Everyone comes out of the woodwork, office doors open and stations where folks were working become quiet and empty. If you know Wally, you know what I'm talking about. Wally West is not only an inspiring saxophonist, and RooPad endorsing artist, but he is a wonderful wealth of knowledge in so many areas and Wally is as blast to hang out with!

Matt Scott, Wally West, Curt Altarac
This week we had the honor of having Wally in our shop.Every year Wally shows up, usually with his trusty sidekick Cathy, for a Clean Oil and Adjust. When he showed up, Wally had taken the time to consider what type of music each of us in the shop might enjoy and burned us each a CD. It that classy or what?
Over the years, and since the overhaul we did on Wally's horn, I have become good friends with Wally and Cathy. For those of you that are not familiar with the music of Wally West, let me brag about my friend a little. Wally has played with everyone you've ever heard of including, Aretha Franklin, Ray Charles, The Four Tops, The Temptations and Natalie Cole, as well as Arturo Sandoval, Diane Schuur, Tony Bennett, Mercer Ellington and Ellis Marsalis. Basically, if you know their name, they know Wally!
When I met Wally I had already heard of him and had a SaxJournal magazine on my coffee table with face on the cover. I knew Wally was great because everyone in the area (which I was new to) said, "Oh you fix saxophones, you must know Wally West!" And really folks you MUST get to know Wally West.
I remember the first time I met Wally when he came to my shop. His horn was a bit of a mess and needed some love. I spent a good deal of time on it then asked him to play test it. I was not expecting the huge amount of sound control and awesomeness that I heard. I was literally blow away. I remember thinking, "this man is a wonderfully unique individual, and his sound is immense!" I was pretty sure that Wally was in a class all by himself and I was right!
If Wally heard me bragging about him like this he'd tell me to shut up. So, I'll stop that and tell you about Wally's horn. We've done some pretty cool work to Wallys horn:
Wally plays a modified de-lacquered Yamaha.
Some of the modifications include:

Wally had taken his original thumb rest off years before we met him and had a longer one put on. The problem was, the longer thumb rest still didn't fit his hands. The thumb rest was too close to the body of the horn. Wally wanted the thumb rest on his horn to come further from the body, be higher (even though the Alt.F# was in the way) and be more comfortable. So, we added an extension and modified a thumb rest we had here in the Shop. Now, Wally is sporting a custom MusicMedic.com comfort rest. This new thumb rest sits above the alt. F# key.
You can also see some side key contact that we added to Wallys horn in this picture. When a horn is set-up really well, sloppy side keys feel terrible. With the contacts on the side keys, we are able to adjust the opening to our exact specs and they never change. These contacts also stop the side keys from getting bent with time and playing as they so often do.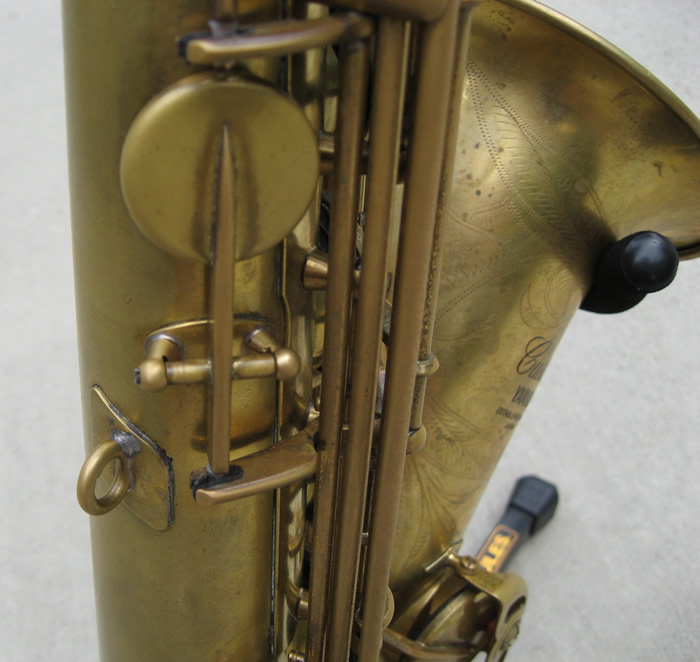 When we did the overhaul for Wally, years ago, the side key connections were really noisy. Rather than mess with that little ball-in-socket system the Yamaha put on these horns we cut that off and replaced the mechanism with this, more apt, mechanism.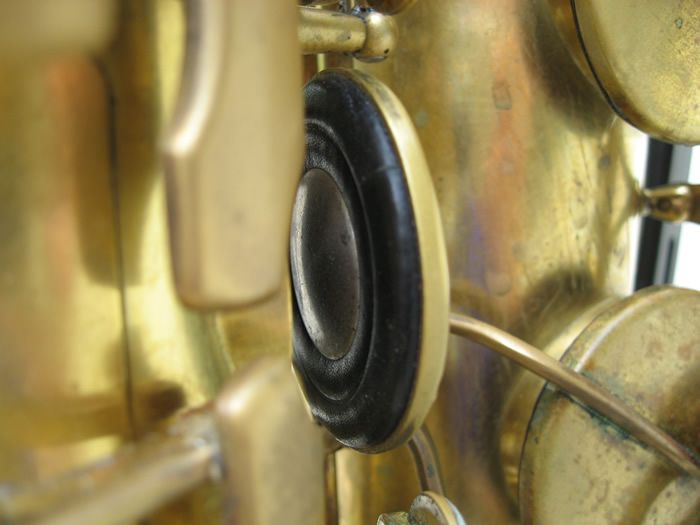 Of course, no self respecting RooPad endorser would be caught dead with Yucky Tan pads! Believe it or not but these pads are over 5 years old! They look and feel great!
Wally plays SaxGourmet pads (RooPads) with Solid Silver Resos.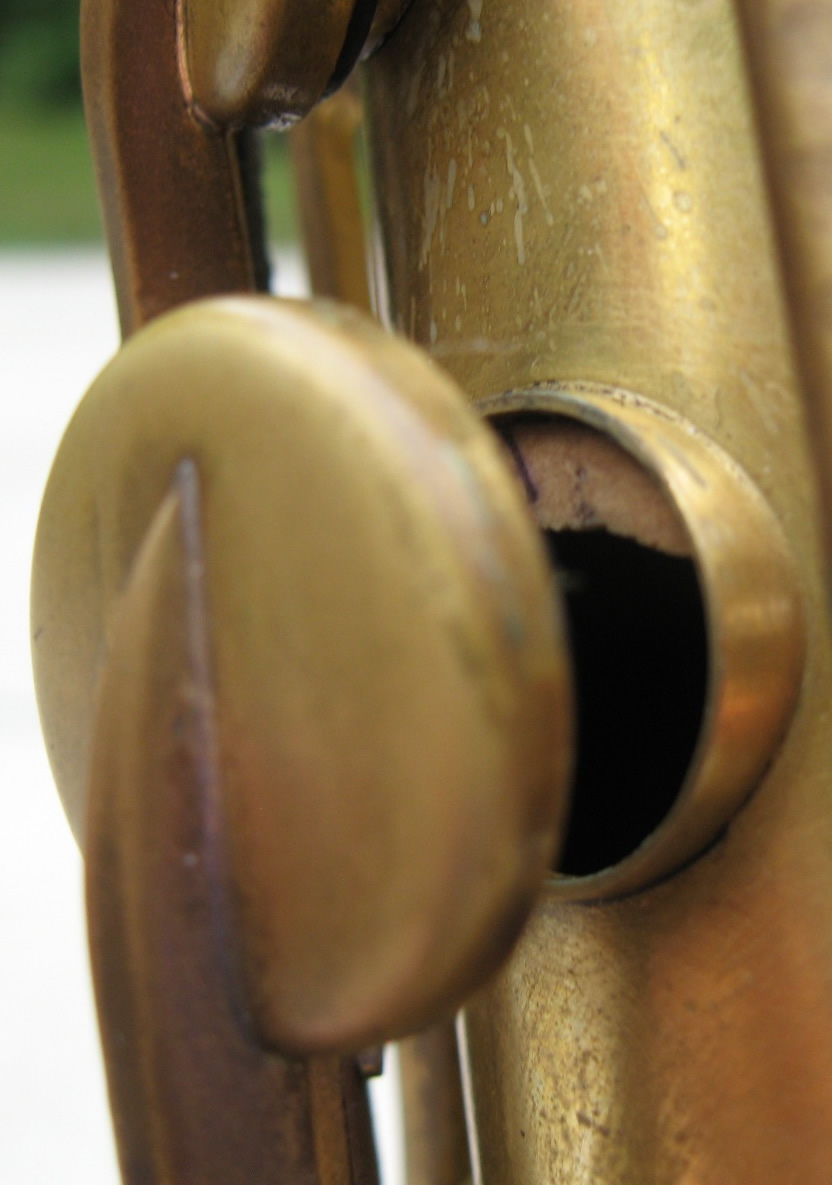 Like every horn that we overhaul in the MusicMedic.com ProShop Wally got his horn back playing in tune and "in-tone". This Tenor was a great horn to begin with but, with a little intonation work it became exceptional.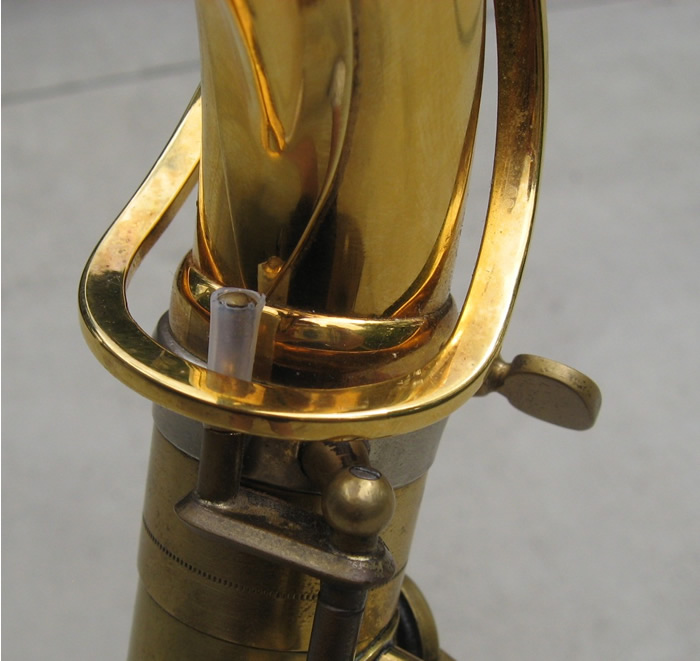 When he came to the shop, Wally was in a bit of a neck quandary. After we all settled on what neck Wally would use, we did some intonation adjustment on the neck and fit it to his horn. We left the gold plating on the neck even though the body is bare brass. -I think it looks killer.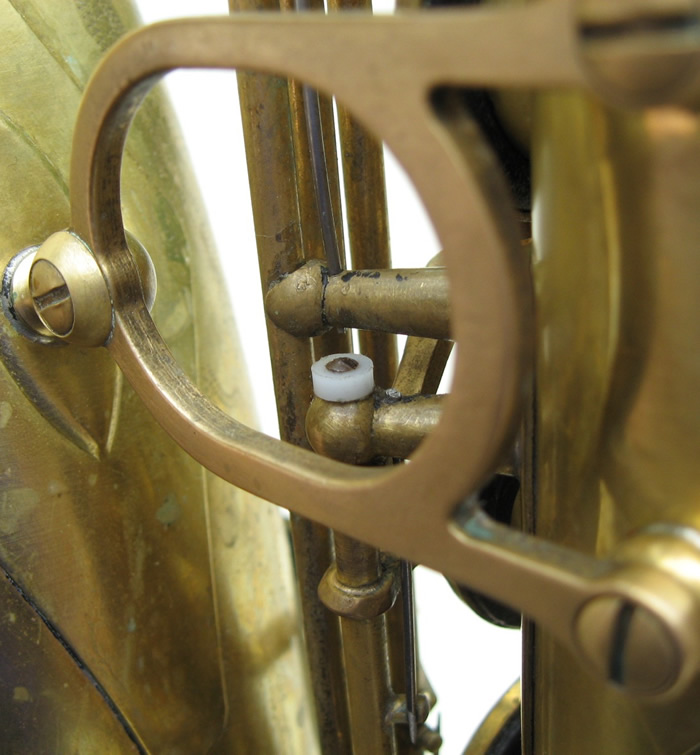 I bet you can't guess what that little Delrin thing is doing at the top of the bottom stack...
Thanks for reading and Wally, thanks for stopping by! We are all looking forward to your next visit!
-Curt