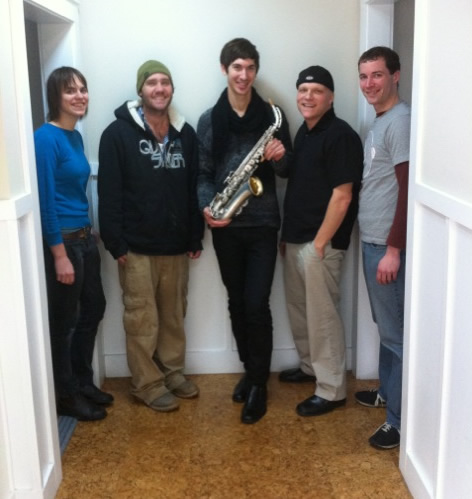 Kellie, Dan, Mike, Curt, Matt
Mana Quartet's alto saxophonist, Michael Mortarotti just visited the repair shop to oversee the finishing touches on his silver Buescher Aristocrat alto. (This instrument is pictured in my January 10 post. Middle.) Michael had just come from giving a loaded concert in Clearwater, FL, including a premiere of a new quartet – NY composer Adam Reifsteck's Earning the Muse – and was prepping for some east-coast concert/residency activities. He shared with me some of their exciting plans for the coming months… and let me tell you, this fantastic ensemble is making moves and putting the saxophone on the chamber music radar in a big way!
Here's a few of Mana's upcoming events – catch them if you can for a real treat!
-January 19-23: The Artist Series – First saxophone quartet to hold this residency.
-May/June: Mana will continue their annual residency at the Hot Springs Music Festival, where they perform as the Artistic Ensemble in Residence and host saxophone chamber music masterclasses.
-June/July: Bravo! Vail Valley Music Festival - Mana will be in residence for 3 weeks this summer (along with the New York Philharmonic, Edgar Meyer, YoYo Ma, and the Calder Quartet) another first for saxophone quartets!
These orchestral festivals continue to provide saxophonists with exciting opportunities to reach larger audiences that still might be unfamiliar with the capabilities of the saxophone!
Thanks for all of your hard work Mana Quartet! It's always a pleasure to work you Mike, we all look forward to your next visit!
-Kellie, Dan, Curt and Matt.