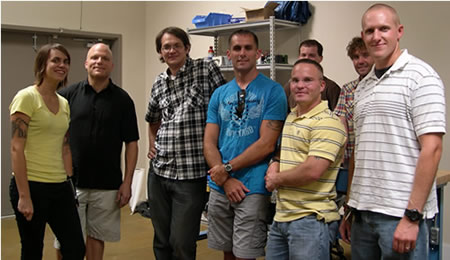 Just the other day, we received a visit from a bunch of old friends! We were thrilled when we found out that Lucas Pemberton would be paying a visit to our shop. He had been in Jacksonville, NC, working on base at Camp LeJeune with former student and technician Staff Sergeant Michael Pratt of 2nd Marine Division Band in Camp LeJeune, NC, his assistant Staff Sergeant Steve Baltzer, and Gunnery Sergeant Robert Trenum from the Second Marine Aircraft Wing Band in Cherry Point, NC. They took time out of their busy schedules to visit our shop and we had a great time! Some of you may know that Lucas is doing work as a tool maker for MusicMedic.com. Of course when he showed up, Lucas had a bunch of tools and ideas for us to check out! There is never a shortage of cool tools and ideas when a crew like this gets together!
Guys, it went by all too quickly, but I'm glad we made time for lunch at Flaming Amys!
Robert and Steve, keep up the great work and come back anytime! Michael, can't wait to hear how it goes with Ozzy! Lucas You Rock, I'll see you in Red Wing!
Thanks for visiting, everyone!
-Curt