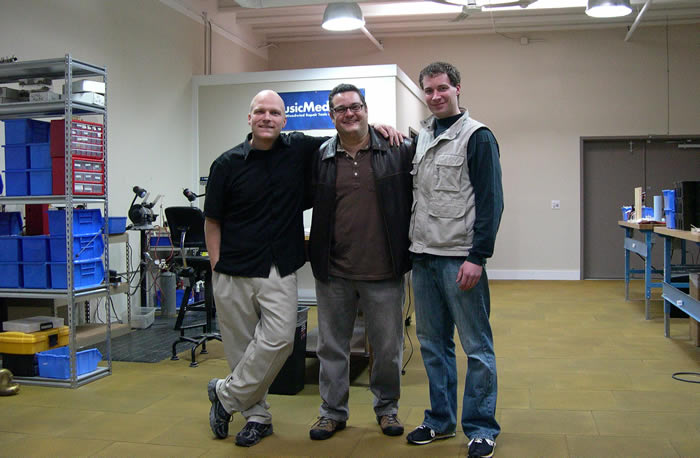 Curt Altarac, Wayne Leechford, Matt Scott
The other day, I had a talk with a player while I was working on his horn. After a few hours of sitting there talking, the player said to me, "You should be taking notes on this..." Of course he was joking but it got me thinking. Maybe I should be taking notes. I mean people, like you, might want to know who comes into the shop and what they think about this or that. So, I promised myself that next time I have an interesting conversation with a customer/client/player or teacher, that others might like to hear about, I would make a blog entry.
Here's that blog entry and the first ever (drum roll) Benchside Interview.
-Note that a Bench side interview differs from a regular interview in that it is the result of a discussion that happened during some repair work. For this interview, no notes were taken and these thoughts are just from my memory of a great discussion I had with Saxophonist and teacher Wayne Leechford.
Aside from having the opportunity to work on the coolest saxophones anywhere, one of the great pleasures of having a pro-shop is that we get to talk with many of the worlds finest players and teachers. The even cooler thing is when these players are right here in our area. Wayne is both in our area and a superstar. Today Wayne came in to have a few leaks taken out and let us have a look at some instruments that we have not worked on. Knowing this area of North Carolina, I started talking with Wayne about what it is to be a full time musician and teacher. Wayne plays woodwinds for a living and maintains the largest teaching studio of anyone I know. Wayne's gigs are far reaching and many of his students go on to study music at the university level.
One of the reasons that hWayne's successful career as a musician and teacher is so fascinating to me is that Wayne is a lot like me. I mean to say that Wayne is a Bari player, he takes gigs on classical and Jazz saxophone, teaches saxophone and Wayne seems to love all things saxophone. Of course, one way that Wayne is a lot different than me is that Wayne is a full time musician with no day job.
Speaking with Wayne about the decision to become a full time musician has opened my eyes to an interesting concept. When I asked Wayne what made him consider becoming a full time musician, his answer was surprising. He couldn't quite put his finger on it. He told me a story about hearing his mentor James Houlik play for the first time and how that opened his eyes to the classical saxophone. Wayne also talked about his first musical influence, Grover Washington and how at one time, he wanted to sound just like Grover. But he couldn't say that any of these influences lead him directly to giving up his day job and taking on a career as a musician. It's interesting that one could venture into a world so diverse, dangerous, and unclear as that of the professional musician and not have a distinct turning point that forced the player to take that path. After talking to Wayne more, I think I figured out what it is that made him the outstanding player and teacher that he is today... A bachelors degree....
Unlike most musicians that come to my shop, Wayne has a degree in Business. In fact, Wayne Leechford has three degrees; he has the usual Bachelors and Masters in Music Performance but he also has a Bachelors degree in Business. When I discovered this the pieces started to fall into place. Wayne is an outstanding musician because his business sense allows him to be. When it comes to the ever important task of getting gigs, Wayne approaches things from a business standpoint. From talking to him, I don't believe that the prospect of failure was ever really a factor in his decision making. He approaches his music career with all the professionalism that any successful business person would approach any business and, as such he is a huge success!!
To learn more about Wayne Leechford, visit his website:
www.wayneleechford.com