As I sit on the plane returning home from the 2012 NAMM Show, thoughts of the show are buzzing in my head. Every year I'm amazed at the warm and wonderful reception I get at the show, and this year was no exception. I think I have the world wide web and the staff at MusicMedic.com to blame for our warm welcome and kind reception we got at the show this year. It surprises me sometimes because I find myself completely absorbed in the projects that I'm working on and the fires I'm putting out. I try to share things that I'm doing which I believe may somehow result in forward progress in areas that all of us at MusicMedic.com want to advance, such as the trade of Band Instrument Repair...
I remember my first NAMM show when I showed up in a white T-Shirt that I had ironed a "MusicMedic.com" logo onto. I thought I was pretty sporty. As soon as I saw my friend Steve Goodson, he politely said, "hey man, go to the store and buy some decent clothes". So, I ran to the nearest Target and spent some money I didn't have for a new shirt and pants. I wore those cloths for the whole show washing them in a hotel sink. I was poor and MusicMedic.com was me and a garage.
In those days, I would go from booth to booth, trying to meet exhibitors and make friends with those who sought to advance instrument repair. In subsequent trips, I noticed that the vendors were more and more willing to talk to me and look at my products, and most importantly, share ideas. It always amazes and excites me that more and more great people in our industry accept the work we are doing at MusicMedic.com!
This year was even better. This year, I was way too busy to leave the booth. Rich, aka 'The Trade Show Ninja', was showing people all of our new products and many older products that the repair world is catching onto. Meanwhile, I was constantly surprised by how many great people took time out of their day to visit my booth. Many of the great people I used to pine to chat with were coming to us to share their projects with us! What an incredible honor.
There were a number of really great RooPad endorsers at the show including: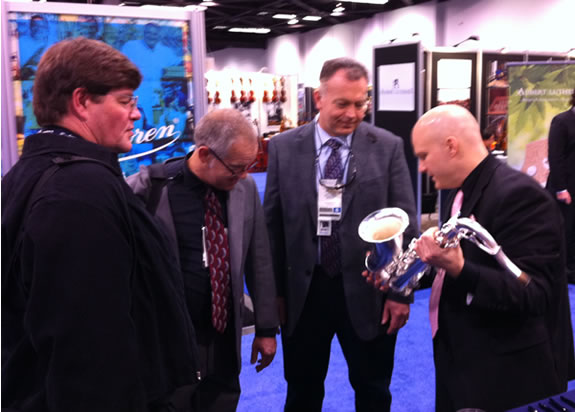 Jay Mason of the Big Phat Band (you rock Jay!), with Jeff Peterson and Scott Mandeville.
Don Menza, with whom it's always a pleasure to talk (photo with him later in the blog).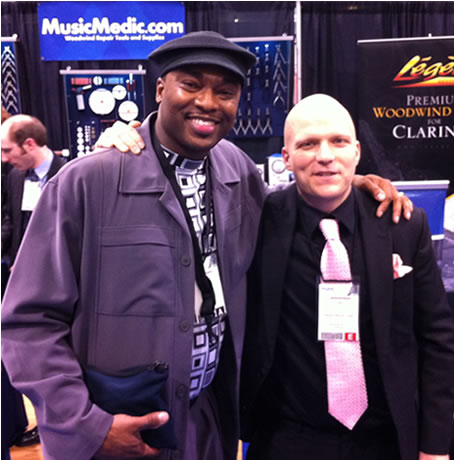 James Carter, who is in the process of installing RooPads in all his horns! Thanks James!
I also ran into Skinny, whom I had randomly heard play recently when I was wandering around Chicago.
Here's me and Lee Kramka.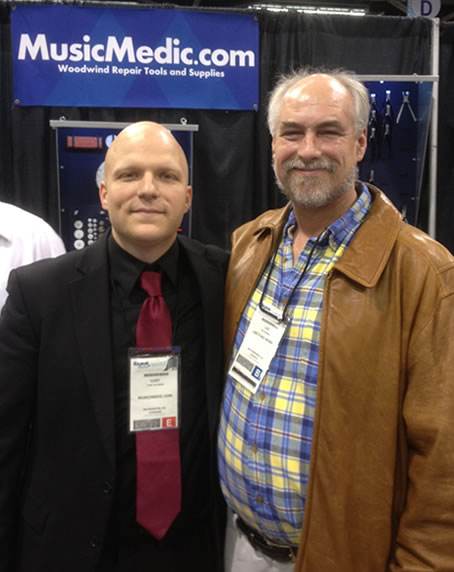 I had a meeting with Jerry Chang from Tenon, who will be giving lectures at the Saxophone Smackdown. Jerry is a great guy and a truly knowledgeable guy... plus he spends his days making saxophones!
Jerry and I talked about the difference in manufacture between the various Asian countries and how that affects us as players and technicians. Jerry promised me that he would share some of his knowledge about theses matters with us at the Saxophone Smackdown. I'm truly honored to know Jerry and Kevin and I really can't wait to get to know them and the others at Tenon better!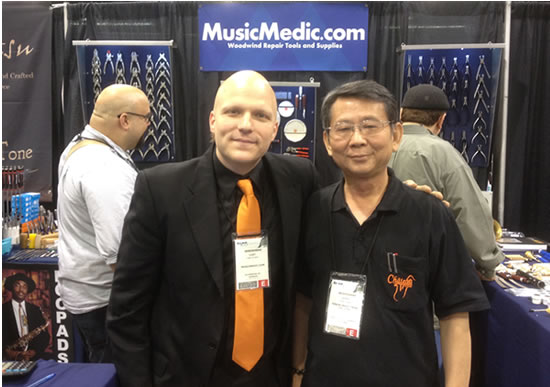 One meeting yielded some very exciting news that is just now public info and I'm excited to share. I've been in on this project for a few years now--sorry I couldn't tell you all sooner!!
MusicMedic.com is working closely with our good friends at Theo Wanne Mouthpieces on their new saxophone, the Mantra. Theo came to me years ago and said, "I want to make the greatest saxophone in the world". After long conversations with Theo in Frankfurt, Germany, I started to realize he was not kidding. Theo is looking to make the world's greatest saxophone and for that we think he needs our help. So the Sax ProShop and I are on the job. We have had many conversations with Theo about design and improvements to his saxophones. After years of R&D, Theo is ready with a prototype. Soon the Sax ProShop and Theo will meet to discuss the improvements that we can implement to make Theo's horns even better. Every technician at the Sax ProShop is committed to continue improvements to Theo's saxophones as he develops it and as we set it up. Oh yeah, the greatest overhaul shop in the world is going to set up every one of Theo's saxophones. The Sax ProShop takes instruments from around the world which are riddled with problems that no one else wants to fix, and we make them great. Can you imagine what we can do with instruments that are already great AND that we can have a major influence on in their manufacture? Wow. One need not have special talent at spotting rare and impacting opportunities to see that this one is really special. I can not imagine a better mix of mechanical know-how, practical skills, creativity, acoustical awesomeness, direction and drive than the collaboration between Theo Wanne and the Sax ProShop. Folks, this is going to be great!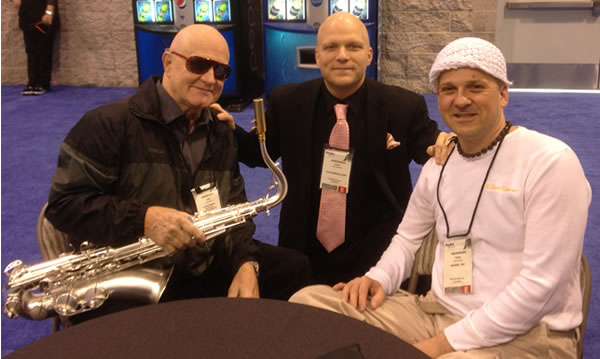 Here's me with RooPads endorsing artist Don Menza and Theo Wanne.
For the repair world, the NAMM show was also a success: we had great meetings with several folks who will be helping us to make and supply parts. We received bags of supplies that were made in Taiwan for us. Keep an eye on the site for more great parts at very reasonable prices. We are working with several manufacturers who will be making parts for us to offer to the repair world. Some parts are replacement and some improvement. Since we are making parts and buying in huge quantity, the music world will once again enjoy parts at reasonable prices!
I brought my mouthpieces with me but didn't have the time to try any horns at the show. However, I was able to get a look at some new instruments. The Keilwerth saxophones that are now owned by Buffet look good as usual. It looks like Buffet is either making a smooth transition to the new factory or they are selling horns that were already made. Either way, the Keilwerth saxophones look good.
I also got to visit with my friend Mike Smith who is now with Powell. Yeah, the Flute People. They are making a sax with Mike and it looks good. The horn I saw looked hand-made, like a prototype. Turns out, it was hand-made. Chris French made it in the factory. The work looked good and the horn looks like a saxophone. It has soldered-on tone holes which are silver, a silver bell, and a silver neck. When they go into production, I'll be interested to see how the saxophones go.
I found a pretty cool neck strap that I might start carrying on the site. I bought one and will try it out. It's more of a 'thing' than a neck strap and it distributes weight differently. If you see it on the site in a few months, you'll know that the folks in the Sax ProShop approved it. We'll have to gig test it!
The show was great and it was great to be in Anaheim once again. Thank you to all the great people that came to the booth to see us -and that came to party with some 5 o'clock wine! Thanks to those that kept us up too late sharing stories and ideas. Mostly thanks to the amazing people at MusicMedic that made going to the show, growth, and good times all possible. You all rock!
Here's me and my buddy Zach with Sexy Sax Man!