If your saxophone is in need of an Uberhaul, COA, or repair, now is a good time to schedule it!
As unbelievable as it may sound, the holidays are just around the corner (where did this year go?!) and the Sax ProShop's schedule is quickly filling up. Contact us at SaxProShop@MusicMedic.com to get your saxophone in tip-top shape over the holidays and start the year off right with an instrument that plays, looks, and feels amazing.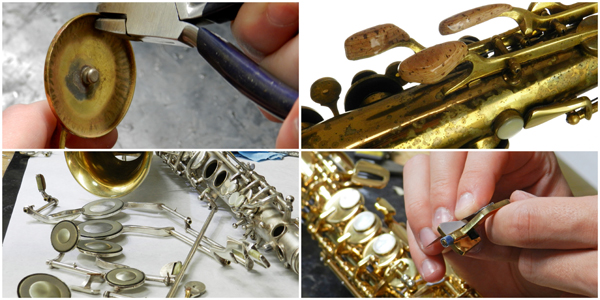 The MusicMedic.com Sax ProShop has been busy with customer horns and various projects, including the restoration of Carina Rascher's Adolphe Sax #36 and the creation of the NeoBass saxophone. Curt and the technicians at the ProShop are on a never-ending mission to improve saxophone repair and optimize the process, the tools, and the results. The techs always go the extra mile to make each saxophone the best it can be. As our techs have continually improved their artistry and craft within their specific portions of the Uberhaul, the time a saxophone spends at each station has slightly increased due to their meticulous work and attention to detail. Since the best just got even better, we had to make the decision to increase prices for our Uberhaul and COA in order to allow our techs to take every single saxophone to a new level of greatness.
In addition to the price increase, we have decided to start off with a different base price for Modern saxophones, which generally require less work, and Vintage saxophones, which usually need a little extra love along the way.
We will honor all current prices if you email us atSaxProShop@MusicMedic.com over the next couple of weeks and schedule your saxophone(s) for an Uberhaul or COA.

It's a no-brainer, really. We're looking forward to hearing from you!